Call me superstitious if you want, but I firmly believe my first sip of coffee is a sign of what kind of day I'm about to have.
Most of the time, my morning coffee is just as straightforward and ordinary as my standing order - one large coffee, one cream, one sugar.
Some days, though, my coffee is bitter and burnt, or the coffee shop gets my order completely wrong.
That's when I know I'm in for a rotten mess of a day.
The only way to rescue the day is to crawl back into bed, but since that's usually not an option, I just take it as a sign that I should stiffen my upper lip and expect the worst.
But when it's just right? On those days, I know the stars have aligned in my favour.
I should probably double-down on my luck by buying a lottery ticket or attempting a particularly tricky recipe (souffle, anyone?), but most of the time I just choose to enjoy my perfect cup of coffee.
Live in the moment and all that.
Most mornings, that coffee is paired with whatever I was able to grab on the run. If I'm organized
On weekends, though, I prefer to indulge in something a little more special. Like, say, a big stack of the plump fruit-filled Danish pancakes known as aebelskivers.
I don't actually make aebelskivers that often, though I probably should.
They look rather complicated, but they're actually relatively easy to make as long as you have the right pan and a long skewer (or knitting needle) that's used to spin the cakes as they cook, creating that distinctive chubby shape.
Traditional aebelskivers are made with a sweet vanilla-scented pancake batter and stuffed with bite-sized pieces of apple, but I've spruced these up for the season by adding lots of warm fall spices to the batter, and nestling sweet cubes of bourbon-soaked pear in the middle.
They're lovely on their own, but a dusting of icing sugar is awfully nice, and makes them just that extra little bit fancier.
I've paired (or is that "peared"?) these little golden cakes with this month's featured Lavazza blend, the Perfetto.
It's a deep, dark espresso roast with a robust flavour and caramel notes balance beautifully against the sweetness of the pears.
I can't promise that these will make up for a bad cup of coffee, but they'll definitely make your ordinary everyday cup just that much more special.
And if you happen to have these with a perfect cup? Sky's the limit, my friend.
//
Disclaimer: I am being compensated for my participation in the Lavazza Passionista blogger program. All opinions, as always, are entirely my own.
You can get more info on Lavazza products at https://www.lavazza-canada.ca/, or by following Lavazza on Facebook.
//
Print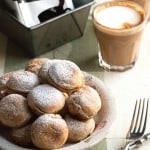 Spiced Pear Aebelskivers
---
Author:

Total Time:

35 mins

Yield:

2

8

1

x
Description
Start your day on a sweet note with these plump Danish pancakes stuffed with bites of boozy bourbon-spiked pear.
---
Pear Filling:
1

medium Bosc pear, cored and cut into

½

" cubes

2 tbsp

brown sugar

2 tsp

bourbon (optional)

1 tsp

lemon juice

½ tsp

ground cinnamon
Pinch salt
Spiced Aebelskiver Batter:
2 ½ cups

flour

2 tbsp

brown sugar

1 tsp

baking powder

1 tsp

ground ginger

½ tsp

ground cardamom

½ tsp

ground cinnamon

½ tsp

fresh ground nutmeg

½ tsp

baking soda

½ tsp

salt

2 cups

milk

2

eggs

2 tbsp

melted butter, cooled to room temp

1 tsp

vanilla extract
---
Instructions
Prepare the Filling:
In a small mixing bowl, toss the pear with brown sugar, bourbon (if using), lemon juice, cinnamon and salt. Set aside to macerate for 10-15 minutes while you prepare the batter.
Prepare the Batter:
In a medium sized bowl, whisk together the flour, brown sugar, baking powder, ginger, cardamom, cinnamon, nutmeg, baking soda, and salt.
In a second mixing bowl, beat the milk, eggs and vanilla until combined. Add the dry ingredients, and whisk together until smooth and lump-free.
Make the Aebelskivers:
Set an aebelskiver pan over medium heat. Drop a ¼ teaspoon of butter into each well. Once the butter is melted and starts to foam, spoon in 2 tbsp of batter, filling each well about ¾ of the way to the top. Gently drop a piece of pear into the centre of each aebelskiver, then spoon in just enough batter to cover the pear and fill the well almost to the top.
Cook for about 2 minutes or until the batter starts to set around the edges, then flip each aebelskiver a quarter of the way around using a long bamboo skewer or a knitting needle. Cook until the batter on the bottom begins to set, about 30 seconds, then use the skewer to turn the aebelskivers over completely to enclose the pear and make a small ball-shaped pancake. Cook for another 30 seconds, or until the aebelskivers are golden brown and crisp all over.
Transfer the finished aebelskivers to a baking sheet lined with paper towel, and place in an oven to keep warm. Repeat the process with the remaining batter and pear.
To serve, arrange the aebelskivers on a pretty platter and sprinkle with powdered sugar.
Prep Time:

15 mins

Cook Time:

20 mins

Category:

Breakfast

Cuisine:

Danish