Last week, on a warm and sunny Thursday afternoon, I dashed out the door with my small rollie suitcase crammed full of Coffee Crisps and ketchup chips, a cooler crammed full of road trip snacks, and a belly crammed full of anxious butterflies.
Five days later, I came home with my rollie suitcase crammed full of swag from generous sponsors, a cooler crammed full of Trader Joe's goodies, a belly crammed full of good food, and a heart crammed full of happy memories.
And in between, there were long hours on the road with Kris, who was kind enough to give me a lift there and back, sleepover parties and market trips and hand-pulled noodle soup and trips to Trader Joe's with Kelly in Philly, and the three-day extravaganza of food and inspiration and community that is the Big Summer Potluck.
The Big Summer Potluck (or #BSP4, if you've been following the fun on Twitter) is a food bloggers retreat in Bucks County, PA where a small group of like-minded folks gather for a weekend of inspiration, community and food. And yes, it's also an honest-to-goodness potluck party.
As I've learned over the past couple of years, the hardest part of BSP is picking just the right dish to bring... food bloggers are kind of a tough audience, after all, seeing as we spend most of our time eating, thinking about eating, or sleeping (during which we dream about eating).
With cherry season in full swing, these balsamic cherries felt like the perfect choice. Unique yet approachable. Impressive yet uncomplicated. Portable enough to stand up to a 10-hour drive between Toronto and Philly. And delicious. Really, really delicious.
After a spending a week or so in a simple brine of balsamic vinegar, sugar, coriander seed, pepper and orange zest, the cherries emerge with a sweet-and-sour quality that makes them surprisingly versatile.
The first jar was served as part of the Friday night dinner, alongside smoky pulled pork tacos by our gracious hostess Pam Anderson on soft corn tortillas from Hot Bread Kitchen, sweet-and-salty Filipino pork skewers by Betty-Ann, and an impressive array of salads including an enormous bowl of green salad tossed with my lovely roomie Christina's prize-winning Musselman's apple butter and basil dressing.
Then again, they could have done just as well on the dessert table that popped up later that evening, because these babies are just as good with sweet as they are with savoury.  Think poundcake, panna cotta or vanilla ice cream, or anything else that you might serve with the more traditional pairing of strawberries and balsamic.
And when they're all gone (which shouldn't take very long at all), don't you dare throw out that brine! It's sweet and sour and a little bit fruity, and can basically be used very much like a shrub - stir it into soda water, shake it into cocktails, whisk it into a vinaigrette, or reduce it to make a sauce for grilled pork or duck.
Considering how amazing these cherries are, I guess it's not surprising that the one thing that I didn't bring home is leftovers.  Good thing the recipe makes two jars!
//
Print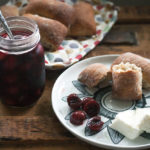 Balsamic Pickled Cherries
---
Author:

Total Time:

30 mins

Yield:

8

1

x
Description
These cherries walk the fine line between sweet and sour - serve them on savoury dishes like cheese plates or grilled meats, spoon them onto sweets like vanilla ice cream or pound cake, or stir them into a Manhattan for a new-school twist on an old-fashioned cocktail.
---
1 ½

lbs firm-ripe sweet cherries

2 cups

water

1 cup

sugar

¾ cup

balsamic vinegar (6% acidity minimum)

2

wide strips of orange peel, 2" long each

1 tsp

coriander seeds

1 tsp

black peppercorns
---
Instructions
Stem and pits from the cherries, then cut in half lengthwise.
In a small saucepan set over medium-high heat, combine the water, sugar and balsamic vinegar. Bring the brine to a boil, then reduce the heat to low and simmer for 5 minutes.
Meanwhile, divide the orange peel, coriander and peppercorns between two sterilized half-pint jars, and then fill with the prepared cherries, packing them in as tightly as possible.
Immediately pour the hot brine into the prepared jars, covering the cherries completely and leaving ½" headspace. Wipe the rims clean with a paper towel, then top with sterilized lids and tighten to finger-tight.
Process the jars in a boiling water bath for 10 minutes, and then store in a cool, dry spot for at least 1 week before eating (or up to 6 months, though it's unlikely they'd actually last that long).
Prep Time:

15 mins

Cook Time:

15 mins

Category:

Condiment