Some things are hard - memorizing the value of Pi to the 25th decimal, learning to play the Theremin, decorating a cake with buttercream on a hot summer day, or watching an entire episode of The New Girl without feeling the urge to slap Zooey Deschanel's character.
(Note: These things might not be hard for everyone, but they certainly are for me.)
My mother's recipe for pot roast, on the other hand, isn't hard at all.
I don't even really have to refer to the the splattered and stained page in my beloved binder of family recipes any more, because it's committed to memory. All you need is a big hunk of beef, a bouillon cube, a metric assload of thinly sliced onions, a scant cup of water and a generous dose of black pepper. Throw it all together in a covered pot, and slowly simmer until tender and saucy.
There's something strangely comforting about the knowledge that even if I'm so frazzled that I can barely my home phone number, at least I can remember how to make pot roast.
I've made it dozens, if not hundreds, of times in the years since then, and the only change I've ever made is to replace the water with a bottle of flavourful dark beer. It's not meant to be fussy or fancy... its beauty lies in its simplicity.
The Secret to Making the Perfect Pot Roast
The key to this dish is the seemingly disproportionate mountain of thinly sliced onions.
It may seem like an absurdly large quantity at first, but the onions will slowly dissolve as they cook, releasing their juices into the braising liquid to form a thin gravy that is reminiscent of a really good bowl of French onion soup (minus the croutons and cheese, obviously).
Because the recipe has so few elements, it's also important to use a good-quality ingredients.
You'll want to start with a beautifully marbled piece of beef that's intended for braising, preferably a blade or rump roast. Save the leaner cuts for another day - that marbling is important, because it keeps the beef tender and flavourful through the long cooking time. You'll also want to make sure to take your time in browning the roast, because those browned bits on the bottom of the pan are the key to a flavourful sauce.
Last but not least, there's the beer. Technically, any beer will do in this recipe, but I find that it works particularly well with intensely-flavoured dark beers, like a a porter or a stout. My current brew of choice is Mill Street's Coffee Porter, though Guinness is a mighty fine alternative.
Add a few hours of low and slow braising, and you'll discover your humble ingredients have magically melded together into a piece of comfort food heaven that transcends its humble origins.
What to Serve with Pot Roast
All you need to turn this pot roast into a complete meal is a pile of creamy mashed potatoes to soak up all the sauce, a simple green salad, and a hunk of crusty bread to mop up what the mash leaves behind.
Oh, and perhaps another bottle of fine dark beer, chilled to frosty deliciousness while the beef simmered away... assuming you haven't used up your last bottle to make the roast, that is.
It's a perfect antidote to a day of long, hard, difficult things... like brain surgery, negotiating a peace treaty in the Middle East, or maybe just chasing down that elusive cute-yet-flattering bathing suit.
//
Print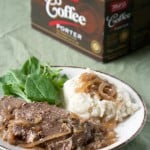 Mom's Pot Roast with Beer and Onions
---
Author:

Total Time:

3 hours 20 mins

Yield:

8

1

x
Description
All you need to make this tender, flavourful pot roast is four ingredients, a big Dutch oven and a little patience. My usual beer of choice for this dish is Mill Street's Coffee Porter, but any dark, flavourful beer (like a porter or stout) will do the trick.
---
3

lb boneless beef chuck, blade or rump roast
Salt and pepper

2 tbsp

canola oil

1

bottle (341ml) dark beer

1

cube beef bouillon, crumbled

2

lbs onions, thinly sliced
---
Instructions
Generously season the roast on all sides with salt and pepper.
In a large, heavy-bottomed Dutch oven, heat the oil on medium-high. Sear the roast until browned on all sides, about 4-5 minutes per side. Transfer to a plate.
Pour beer into the pot, using a wooden spoon to scrape up any browned bits clinging to the bottom. Crumble in the bouillon cube, and stir until dissolved. Add the sliced onions, then gently nestle the browned roast on top (it will probably look as if there isn't nearly enough liquid at this stage, but don't panic - the onions will eventually cook down and release their juices, creating the perfect roast-to-gravy ratio).
Bring to a boil, then reduce heat to low and simmer, covered, for about 3 hours or until the beef is fork-tender, turning the roast over midway through the cooking process. Adjust seasoning with more salt and pepper to taste, then carve into slices across the grain and serve with a big mound of mashed potatoes.
Prep Time:

20 mins

Cook Time:

3 hours

Category:

Main