A few weeks ago, I got a note asking me if I'd like to take part in another Kitchen Crew series for Canadian Tire, this time with holiday-themed missions. Total no-brainer, obviously - I had so much fun with the first round of posts that I jumped at the opportunity right away.
Shortly after that, a Black and Decker 2L Deep Fryer arrived on my doorstep, along with this challenge:
You're having a holiday dinner party or gathering at your house, and you want to impress your friends or families with festive hors d'oeuvres or special holiday meals. Your mission this week is to craft two festive recipes for your holiday party spread!
I knew right away what I'd make as my first dish... a gourmet poutine!  It has all the requirements for a good cocktail party nibble - it's easy to assemble at the last minute, can be scaled down to cocktail-sized portions, and is bound to please even the meat-and-potatoes types.
The only thing that's stopped me from making poutine at home before is my strict no-deep-frying policy.  You see, I'm rather clumsy, which isn't a very good trait when working with a big pot of bubbling hot oil on the stovetop, and while countertop deep fryers are a lot safer, they also tend to be humongous.
The Black & Decker 2L Deep Fryer is no exception.  This thing is a BEAST - even when filled up to its maximum capacity of 2L, the oil only fills the bottom one-third of the receptacle, which means that very little of the deep fryer is used for actual frying.
I do like the fact that it has safety features to deal with the scarier aspects of deep frying - the lid locks down snugly and pops opens with the press of a button, and the electrical plug uses magnetic contacts that automatically cut the current if the unit tips over. Also, the oil receptacle is removable, which makes for really easy cleanup.
There are several elements to the design of this particular model that I find frustrating - the fry basket is raised and lowered using a plastic hinge that looks entirely too flimsy for comfort, there's no audible beep when the oil reaches the target temperature, and the lid design creates an inaccessible pocket around the hinges where spatter drips down and pools whenever the lid is opened, eventually causing hot oil to dribble down the back of the unit (which is incredibly messy, to say the least, not to mention potentially unsafe).
Mind you, none of those things interfere with the Black & Decker's primary purpose in life, which is to fry food. It's actually very good at that part.  The oil heats up quickly, even when going up to the maximum temperature of 375F, and every single batch of fries I made emerged from the fryer perfectly crisp, evenly browned, and not greasy or soggy at all.
And speaking of fries... let's head back to the poutine for a moment, shall we?  I know I've committed a cardinal sin by omitting the squeaky cheese curds that are the hallmark of an authentic poutine, but I found that a crumbly aged cheddar stands up much better to the rich duck confit and its sherry-spiked shallot and garlic jus. So what it lacks in authenticity, it makes up for in flavour.
Because the key to surviving any cocktail party is to avoid as much last-minute effort as possible, I go for dishes that can be prepared mostly in advance and then quickly reheated or assembled shortly before the party gets started. This poutine is a perfect example of that - from beginning to end, it would take approximately an hour to prepare all of the individual components, but making the sauce a day or two ahead and soaking the potatoes in the morning cuts down the last minute work to a breezy 20-minute job. In fact, it's so easy that I might just have to put it on the menu for my annual Christmukkah bash, which happens in just a couple of weeks.
To make life even easier, I've also used prepared duck confit legs from the fancypants butcher shop, but feel free to make your own if that's your preference.  Personally, though, I don't think anyone will notice if you've taken a couple of shortcuts.  They'll be too busy stuffing their faces with delicious poutine, anyways. :)
Disclosure:
I was provided with compensation, including a free Black & Decker 2L Deep Fryer, in exchange for creating this post for the Canadian Tire Kitchen Crew series.
This Christmas Kitchen Crew series highlights my stories, recipes & tips with promotional consideration made possible by Canadian Tire. If you want to uncover your kitchen's true potential, stay tuned to the Kitchen Crew for my weekly missions.
//
Print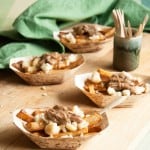 Duck Confit Poutine
---
Author:

Total Time:

1 hour 5 minutes

Yield:

1

2

1

x
Description
A Quebecois greasy spoon classic goes haute cuisine when the usual gravy and curds is replaced with duck confit, garlic-shallot jus, and crumbled aged cheddar. This recipe makes enough for a dozen mini poutines for a cocktail party, or four meal-sized portions.
---
Duck Confit Sauce
2

legs prepared duck confit

3

cloves of garlic, halved

2

shallots, halved

½ cup

dry sherry

2 cups

beef stock

2

sprigs fresh thyme

2 tbsp

olive oil
Salt and Pepper
French Fries
4

large baking potatoes, washed and scrubbed
Vegetable oil (for frying)
Salt (for seasoning)
Toppings
1 ½ cups

crumbled extra-old cheddar cheese

2 tbsp

chopped fresh thyme
---
Instructions
Prepare the Sauce (up to 3 days in advance):
In a large heavy-bottomed saute pan set over medium-high heat, sear the duck confit legs in olive oil, skin side down, for 7-10 minutes or until the skin is crisped and brown. Remove from pan and set aside to cool.
Add garlic and shallots to the pan, and saute for 10 minutes, or until soft and lightly coloured. Reduce the heat to low and continue cooking, stirring occasionally to prevent burning, for 10 minutes or until the shallots are lightly caramelized.
Deglaze the pan with sherry and balsamic vinegar, scraping up any browned bits clinging to the bottom. Return the heat to medium-high, and simmer for 3-5 minutes or until liquid is reduced by about half.
Stir in the stock and thyme, and continue simmering for 10-15 minutes or until reduced to 1 ½ cups of liquid.
Pour the jus through a fine-mesh strainer into a bowl. Discard the solids.
Add butter to the pan, and heat until foamy. Add flour and cook for 2 minutes, stirring constantly. Slowly whisk the jus back into saucepan, and cook until thickened and smooth, about 5 minutes. Remove from heat.
Pull the meat off the cooled duck legs, and coarsely shred, discarding any gristle and fatty bits. Stir into the warm sauce.
Finished sauce will keep for up to 4 days in the refrigerator - simply reheat over low heat when ready to serve. (If using right away, keep the sauce warm over very low heat while you cook the fries)
Prepare the French Fries:
Start on the fries by cutting the potatoes lengthwise into ¼" slices, then cutting the slices into ¼" sticks. Transfer to a large bowl of ice water to soak for at least one hour, or up to 8 hours.
About 15 minutes before serving time, pour oil into the deep-fryer up to the "maximum" fill line (or roughly halfway up the sides), and heat to 325F.
Using paper towels, pat the potatoes completely dry (be as thorough as possible - wet potatoes plus hot oil equals spatter!). Working in small batches, fry the potatoes for 3-4 minutes, or until lightly browned and still very soft. Remove from oil and transfer to a baking sheet lined with paper towel to drain.
Increase the oil temperature to 375F. Still working in batches, return the fries to the fryer for 3-4 minutes longer, or until crispy and golden brown. Remove and set on a fresh layer of paper towels to drain. Sprinkle the fries generously with salt as they come out of the fryer.
Assemble the Poutines:
To serve, divide the hot fries between 12 small serving bowls. Top each poutine with a few crumbles of cheddar cheese, a generous spoonful of shredded duck and jus, and finish with a sprinkling of chopped thyme. Serve immediately.
Prep Time:

15 mins

Cook Time:

50 mins