Well, heck. How is the end of August already?
I know that some people think the end of August is also the end of summer, but I'm not really to give up just yet.
There just haven't been enough of those must-have summer moments.
Not enough long bike rides to nowhere in particular, after-work drinks on streetside patios, or lazy weekends lounging in the backyard while the cicadas buzz in the background. Not enough impromptu watermelon seed spitting contests, or tall glasses filled with iced tea and clinking ice cubes.
And most of all, definitely nowhere near enough barbecuing.
That's not to say that I'm complaining about the awesome meals we've grilled up so far this summer, especially these Moroccan-spiced grilled lamb wraps.
The star of the show is a butterflied boneless leg of locally-raised Ontario lamb, which happens to be one of my favourite cuts for the grill.
The Best Way to Grill a Leg of Lamb
I find the trick for getting the ultimate grilled leg of lamb is to sear the meat over high heat to get the outside nice and crispy, and then finish it over indirect heat until it's a juicy medium-rare.
Prepared this way, the lamb comes out juicy and flavourful and not-at-all gamey, especially when you take the time to marinate it overnight.
Best of all, even a smallish leg of lamb clocks in at three pounds, so you'll have enough to feed a crowd in less time than it takes to watch an episode of The Simpsons.
Once it reaches the desired temperature of 145F, simply pull it off the heat, rest a few minutes, and then slice it across the grain into thin ribbons.
Grilled Lamb Wraps: A Perfect End-of-Summer Meal
I suppose you could serve the sliced lamb just as it is, maybe with some grilled vegetables and a rice pilaf to soak up the juices.
But I much prefer to wrap it all up in a soft fresh pita with crunchy cucumbers, nutty chickpeas and a drizzle with a tangy garlic sauce.
The combination makes for a wonderful contrast of flavours, textures and temperature. It's crunchy, meaty, spicy, nutty, tangy, fresh and garlicky - the seven dwarves of Mediterranean cuisine, all joining forces in each bite for a surprisingly easy end-of-summer meal.
Granted, this deliciousness doesn't come cheap if you're springing for good-quality naturally raised local lamb (which I do when I can), but it's totally worth the splurge in my books. Forget steak... lamb's where it's at.
And since summer's nearly over, think of these wraps as your excuse to invite over a few friends to help send off the summer in style with a casual backyard party, or selfishly keep them all to yourself and coast on the leftovers for a week while you focus on enjoying what's left of the summer before it's gone.
(FYI: if you add the leftover lamb and fillings to a pile of chopped romaine, you get a pretty awesome chopped salad.)
//
Disclosure: I received monetary compensation from the Ontario Sheep Marketing Agency for creating this post. All opinions, as always, are entirely my own.
//
Print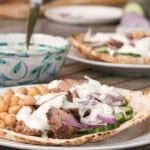 Moroccan-Spiced Grilled Lamb Wraps
---
Author:

Total Time:

12 hours 25 mins

Yield:

6

1

x
Description
These summery pitas have it all - juicy tender grilled lamb, crisp fresh cucumber, sharp red onions, nutty chickpeas and tangy garlic sauce, all bundled in a soft pita wrap. For a quick weeknight meal, marinate the lamb and prepare the garlic-yogurt sauce the night before... all you have to do when you get home is fire up the grill (and warm up your appetite!).
---
Moroccan-Spiced Grilled Lamb
1

butterflied boneless leg of lamb (~

4

lbs)

1 tsp

salt

1 tsp

fresh ground black pepper

2 tbsp

lemon juice

2

cloves garlic, roughly chopped

1 tbsp

paprika

2 tsp

ground cumin

2 tsp

ground coriander

½ tsp

ground ginger

½ tsp

dried thyme
Garlic-Yogurt Sauce:
2

cloves garlic, finely minced

½ tsp

salt

1 cup

plain Balkan-style yogurt

1 tsp

lemon juice

1 tsp

olive oil
Wraps and Toppings:
6

pitas

1

medium English cucumber, thinly sliced

½

red onion, thinly sliced

1

can chickpeas, rinsed and drained
---
Instructions
Marinate the Lamb:
Using a sharp knife, cut several shallow diagonal slashes through the fatty side of the lamb. Season liberally on all sides with salt and pepper.
In a large zip-top plastic bag, combine the lemon juice, garlic, paprika, cumin, coriander, ginger, and thyme. Shake to combine, then add the lamb shoulder and seal the bag. Place in the refrigerator to marinate for at least 6 hours, preferably overnight.
Grill the Lamb:
Prepare your grill for indirect cooking. If using charcoal, mound the coals on one side and leave a thin single layer of coals on the other. If using gas, turn the burners on one side to high, and the other side to low.
Place the lamb fat side down onto the hotter part of the grill and cook over direct heat for 5 minutes or until well browned. Flip over, and grill for 5 minutes longer. (If your lamb is very fatty, you'll want to have a spray bottle of water handy to control flare-ups.)
Once the lamb is seared on both sides, move it to the other side of the grill and finish cooking fat-side down over indirect heat until a meat thermometer inserted into the thickest part of the leg reads 135F, about 15 minutes. Transfer to a platter and tent loosely with aluminum. Let rest for 10-15 minutes, then thinly slice against the grain.
Make the Garlic-Yogurt Sauce:
While the lamb is grilling, whisk together the yogurt, garlic, lemon juice, olive oil, and salt in a small mixing bowl. Cover tightly with plastic wrap and chill until ready to use.
Assemble the Wraps:
Arrange a few slices of lamb in the center of each pita, then top with cucumber, onion, and chickpeas. Drizzle with yogurt sauce, then fold up to enclose the filling. Serve immediately.
Prep Time:

12 hours

Cook Time:

25 mins

Category:

Main