Now that we're well and firmly into September, I know I'm supposed to be turn the page on summer and start thinking about fall things like apples and cinnamon and pumpkins and caramel.
I guess I must be in a contrary mood, though, because I couldn't resist getting one last hit of summer flavours before I close this chapter for one more year.
As we speak, I'm spending my Labour Day long weekend in Rhode Island, filling up on as much of summer as I can.
I'm thinking of it as a farewell tour for summer's greatest hits. Big slices of watermelon, frosty cups of frozen lemonade, tacos by the sea shore, farmers' markets and artisan fairs, and yes... even a beach day.
Even the weather seems to be in denial. It's been delivering day after day of brilliant blue skies and intense heat that feel more like the dog days of summer than the season's last gasp. Somehow it feels like we've crammed more summer into this one long weekend than we did into the entire month of July.
Summer Strawberries and Seashells
Not quite cookies and not quite cakes, madeleines are a buttery seashell-shaped treat that's usually flavoured with nothing more than a wisp of vanilla or lemon.
But just like these last few days of summer, these strawberry lemonade madeleines go big with lots of bright lemon zest and tidbits of fresh local strawberries, as a tribute to two of my very favourite summertime flavours.
(Sadly, these are probably the last strawberries of the season... sigh.)
The madeleines are absolutely delicious on their own, with a fresh and intensely fruity flavour, and crispy buttery edges. Still, I couldn't resist upping the ante by dipping them into a brilliant pink strawberry-scented glaze. It adds both colour and sweetness for that last little bit of oomph. Because if there's anything this last long weekend deserves, it's some serious oomph!
These are best savoured in the late summer sunshine, with a big tall glass of iced tea (or a pot of hot tea, if that's more your thing... I won't judge).
There will be plenty of time to catch up with fall over a big pumpkin spice latte and some fresh-baked muffins... eventually. But first, let's just hang onto this ever-so-perfect summer (and these tasty little madeleines it inspired) just a little while longer.
More Creative Madeleine Flavours to Bake Right Now
For those of you who are ready to embrace the colder weather, these Spicy Chocolate Madeleines might be more your cup of tea (or cup of cocoa, as the case may be). And for those of you who are just craving a fun and unique twist on the madeleine, here are a few more inspired ideas that you can bake up:
And if you're hankering for a little more lemony goodness, check out these posts from my fellow Cookie of the Month bloggers:
//
Print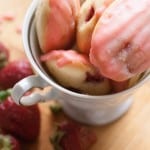 Strawberry Lemonade Madeleines
---
Author:

Total Time:

1 hour 10 mins

Yield:

2

4

1

x
Description
These buttery seashell-shaped pastries are scented with bright sunny lemon zest and sweet fresh strawberries to capture the essence of summertime in every single bite.
---
Madeleines:
3

large eggs, at room temperature

⅔ cup

sugar

2 tsp

lemon zest
Pinch salt

1 ¼ cup

flour

½ tsp

baking powder

9 tbsp

unsalted butter, melted and cooled to room temperature

½ cup

chopped fresh strawberries
Strawberry Lemonade Glaze
¾ cup

powdered sugar

2 tbsp

freshly-squeezed lemon juice

1 tbsp

strawberry puree
---
Instructions
Brush the madeleine mold with melted butter, making sure to coat all the nooks and crannies of the shell shape. Lightly dust with flour and then tap off the excess. Place in the freezer to chill while you prepare the batter.
Make the Madeleine Batter:
Using a mixer, beat the eggs, sugar, lemon zest and salt for 5 minutes, until pale yellow and thickened.
Sift the flour and baking powder into the eggs, a little at a time, folding in as you go.
Fold the butter into the batter, a few spoonfuls at a time. Continue folding for a few more strokes, until all the butter is incorporated.
Cover the bowl with plastic wrap and chill for at least 1 hour. (The batter can rest for up to 12 hours at this point.)
Bake the Madeleines:
Preheat the oven to 425F.
Fold the strawberries into the chilled batter. Drop a spoonful of batter into each indentation, just enough to fill it about ¾ full (I used 2 scant tbsp for a full-sized madeleine pan). Do not spread.
Bake in preheated oven for 8-10 minutes, or until the edge are a pale golden brown and the middle springs back to the touch. Transfer to a wire rack to cool for a few minutes.
Make the Glaze:
While the madeleines are cooling, whisk together the icing sugar, lemon juice and strawberry puree to make a smooth glaze.
Once the madeleines are cool enough to handle, dip them into the glaze, seashell side down. Return to the wire rack to let the glaze set up. Eat immediately (they're best the day they're made), or store in an uncovered container for up to 3 days.
Prep Time:

1 hour

Cook Time:

10 mins

Category:

Dessert