The toughest part about blogging about seasonal food is trying to keep up with the ever-changing seasons - especially this time of year, where it seems like everything suddenly comes to a peak all at once in a frantic rush of peaches and plums and tomatoes and blueberries and corn.
Winter feels like a muddle of root vegetables and winter squash so neverending that I can't even bear to look at yet another sweet potato by the time February rolls around.
Summer, on the other hand, flies by in a blink-and-you'll-miss-it kaleidoscope of fresh fruits and vegetables.
I inevitably find myself racing to eat my fill of all these beautiful late summer ingredients, and to share as many recipes as I can in order to show off my favourites before they're gone again.
In particular, this summer I've been knee-deep in fresh Ontario peaches, which are probably the best they've been in recent memory - sweet, tart, near-effervescent and so juicy they're unbearably messy to eat.
I've been eating them out of hand pretty much non-stop, though I did restrain myself just long enough to fill up jars of peach jam for the pantry and stash a couple bags of peach segments in the freezer so that I can keep enjoying them long after the season is done.
You'd think I'd be heartily sick of peaches after all that, but that's the furthest thing from the truth. I plan on eating them night and day until the very last basket disappears from the produce department.
But before that sad day comes to pass, I couldn't resist waving one last goodbye to late summer by nestling the last of my precious peaches between layers of sweet oatmeal crumbles with sweet blueberries for an easy dessert.
These Blueberry Peach Oat Crumble Bars are exactly the way I want to remember this summer. Each bite encapsulates everything that the season is about - sweet and tangy and a little bit messy.
//
Print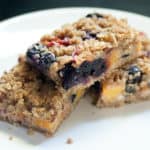 Blueberry-Peach Oat Crumble Bars
---
Total Time:

40 mins

Yield:

1

2

1

x
Oat Crumble Base and Topping
½ cup

butter, softened

½ cup

brown sugar

1 ½ cups

quick-cook oats

½ cup

whole wheat flour

½ cup

all-purpose flour

1 tsp

lemon zest

¼ tsp

cinnamon

¼ tsp

salt

¼ cup

finely chopped pecans

2 tbsp

melted butter
Blueberry-Peach Filling
2

large ripe peaches, pitted and finely chopped

1 cup

fresh blueberries

2 tbsp

sugar

1 tbsp

cornstarch

¼ teaspoon

salt
---
Instructions
Preheat oven to 350. Line an 8x8" square baking dish with parchment paper, leaving an overhang on both sides.
In a large mixing bowl, cream together softened butter and brown sugar. Stir in the oats, flours, lemon zest, cinnamon and salt to make a soft, crumbly mixture.
Scoop 1 ½ cups of the crumble into the prepared baking dish, and press down firmly into an even base. Stir pecans into the remaining crumble, and set aside.
In a mixing bowl, combine the peaches, blueberries, sugar and cornstarch, and stir until the fruit is evenly coated. Spoon onto the prepared crust.
Sprinkle the reserved crumble onto the fruit, and drizzle with melted butter. Bake in preheated oven for about 30 minutes, or until topping is golden brown.
Let cool in the pan for 30 minutes, then carefully lift out using the edges of the parchment and set onto a wire rack to cool completely before cutting into bars.
Prep Time:

10 mins

Cook Time:

30 mins