Guess what? It's time for another Secret Recipe Club reveal! (Note: We would have also accepted "chicken butt" as an answer.)
I was super-excited to learn my assigned blog for November is The Inquiring Chef, because I've had it saved on my newsreader for the past few months.
Meet This Month's Blogger
The blogger behind The Inquiring Chef is Jess, an American expat living in Thailand. My favourite thing about her blog is the beautiful photos and stories about her life overseas. They make me want to immediately hop on the next flight to Bangkok, just so I can experience (and eat) all the wonderfulness of Thailand firsthand.
Not surprisingly, along with all of her stories about life in Thailand, Jess also shares a lot of Thai recipes on her blog. I already have several of them bookmarked for a rainy day. 
And by that, I meant a metaphorical rainy day rather than a literal one. Because, as it turns out, mother nature had other plans in mind.
Even though I had every intention making one of her delicious curries, my best-laid plans were foiled by a rain-soaked weekend that preceded the arrival of Hurricane Sandy. (Which, thankfully, didn't hit Toronto nearly as hard as it did in New York or New Jersey.)
The Joys of Pantry Cooking
The original recipe I picked out had a few ingredients that I don't normally have on hand, but the beauty of living in Toronto is that you can buy pretty much anything if you're willing to travel.
The problem is that the weather wasn't really conducive to a cross-town trip to the Asian supermarket. This was a day for hiding out indoors wearing comfy pajama pants, watching silly movies on the TV, counting raindrops on windowpanes and sipping on big mugs of hot tea. Bundling up and braving the driving cold rain, on the other hand? No thanks.
So I went with Plan B, because thankfully I had almost everything on hand to make her recipe for chickpea and sweet potato curry. Hurray for my well-stocked pantry!
(Seriously, I'm downright obsessive about keeping a full pantry. I get twitchy when I've got less than three kinds of pasta on hand. I'm basically one large bag of flour away from having my own TLC series.)
In a rather serendipitous way, this curry turned out to be the perfect antidote to a cold, grey, miserable rainy day. We ladled it onto a fluffy pile of brown basmati rice and curled up on the couch with a non-stop stream of True Blood on the TV to keep us company.
How I Made this Recipe my Own
The biggest change I made to the original recipe was to add the spices to the browned onions and potatoes instead of toasting them dry, because I was working with relatively fresh spices.
That said, if you're not sure when you bought that bag of garam masala, you may want to change up the order and toast your spices for a minute in a dry pan before adding the rest.
I also used a whole can of chickpeas (because who doesn't love chickpeas!) and used a full 19oz can of tomatoes (since 15oz aren't sold here in Canada).
Lastly, I added a hefty pinch of cayenne pepper at the end since we prefer our curries on the spicy side. That's entirely optional, though.
The Verdict
I'm not going to pretend it's on par with the curries we can get at our favourite Indian place, most likely because it doesn't contain a staggering amount of ghee.
However, it is an absolutely delicious and belly-warming option if you're in the mood for a quick vegetarian meal.  And given the lack of ghee, it's also a much healthier option!
It's like they say... when life hands you lemons, make lemonade.
And when it hands you crappy fall weather, make a big pot of this curry and throw some True Blood on the TV. (Also, make yourself a promise that once the sky clears, you'll go out and buy the ingredients for that delicious-looking Thai eggplant dish you bookmarked.)
//
Print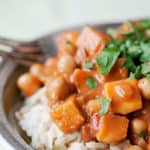 Chickpea and Sweet Potato Curry
---
Author:

Total Time:

35 mins

Yield:

4

1

x

Diet:

Vegetarian
Description
This vegetarian curry comes together in a flash using (mostly) pantry ingredients. Serve it with freshly cooked brown rice or oven-warmed naan for an easy weeknight meal.
---
1 tbsp

vegetable oil

1

medium onion, finely chopped

1

medium sweet potato, cut into

½

-inch cubes

1 tsp

garam masala

1 tsp

paprika

2 tbsp

Indian curry paste (or curry powder)

1

clove garlic, minced

1 tsp

minced fresh ginger

2 tbsp

tomato paste

1 cup

vegetable broth or water

½ cup

coconut milk

1

can (540 ml / 19 oz) canned chickpeas

1

can (540 ml / 19 oz) whole tomatoes, drained and roughly chopped
Salt, to taste
Cayenne pepper, to taste

1 cup

plain yogurt, for garnish
---
Instructions
In a large saucepan set over medium high heat, saute onion and sweet potato in vegetable oil until potato becomes tender, 8-10 minutes, reducing heat if onions begin to brown. Add garam masala, paprika and curry paste, and continue cooking for about 1 minute, or until fragrant. Add garlic, ginger and tomato paste and cook for 1 minute longer.
Add broth, coconut milk, chickpeas and tomatoes. Bring mixture to a boil, then reduce heat to low. Allow to simmer for about 10-15 minutes, or until sauce is thickened and potatoes are very tender. Remove from heat. Taste and adjust seasoning with salt and/or cayenne pepper to taste.
Serve immediately with warm naan bread or ladle onto on a bed of cooked rice. Garnish with a dollop of yogurt and a sprinkle of cilantro, if desired.
Prep Time:

10 mins

Cook Time:

25 mins

Category:

Main

Method:

Stovetop

Cuisine:

Indian