I am of the firm opinion that every girl (and, for that matter, every boy) ought to have at least one ridiculously easy yet incredibly delicious dessert in their arsenal.
You know, that one ever-so-reliable stupidly-easy totally-foolproof sort of dessert - the kind you can whip up for last-minute dinner guests, or just because it's been a crappy day and you need a little something sweet.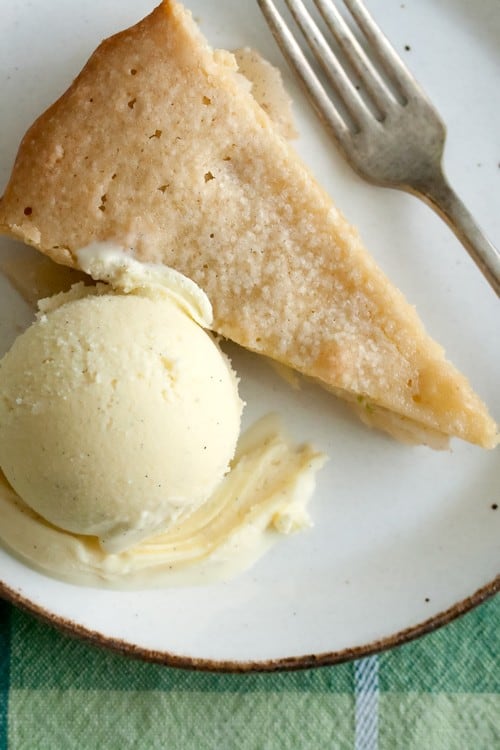 Over the years, I've accumulated a few of these recipes.
Sometimes it's a custardy clafoutis made with seasonal fruits or berries, particularly when stone fruits are at their midsummer best.
Sometimes it's my mother's favourite standby, an Impossible Lemon-Coconut Tart, perhaps with a puddle of raspberry coulis if I'm feeling particularly retro.
And sometimes, it's Ligita's Quick Apple Cake, which is probably the single best thing in Richard Sax's you-must-go-out-and-buy-a-copy-of-this cookbook, Classic Home Desserts.
Despite its name, this dessert isn't really a cake in the usual sense of the word - if you were to make a Venn diagram of desserts, you'd find it in the middle point where pie, cobbler, and cake all intersect, in a special little category all its own.
The beauty of this dessert is its utter simplicity.
It starts with an entire stick of butter, which is gently cooked down into a foamy, nutty brown elixir that gives the cake a beguiling depth of flavour. (yes, a *whole* stick... suck it up and do a few extra minutes on the treadmill tomorrow).
The butter is then mixed with flour, sugar and eggs to make a thick unleavened cake batter, which is then blanketed over a layer of thinly sliced fruit tossed with a little sugar and spice. That's it. That's all.
While the original is absolutely lovely and well worth making, particularly if you have some firm tart apples on hand, I think this pear variation might actually be even better.
The soft, almost-too-ripe pears that are abundant at this time of year pair beautifully with the nutty flavour of the browned butter cake, which is further enhanced by just a dab of warm vanilla extract.
And because I do so adore how pears and cardamom go together, it's my spice of choice for this variation, though the original cinnamon would do just as well if you're not a fan of cardamom.
Served warm from the oven, it's an absolutely perfect fall dessert, from the melting soft fruit filling to the sparkling sugar-crusted topping.
Add a large dollop of whipped cream or a scoop of very good vanilla ice cream to each plate, hand out the forks, and brace yourself for the compliments.
And if anyone asks, tell them it was really, really, really hard to make.
After all, what's the good in having a ridiculously easy dessert recipe in your arsenal if you can't brag a little?
Print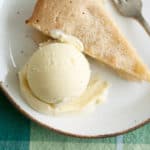 Brown Butter Pear Cake
---
Author:

Total Time:

55 mins

Yield:

8

1

x
Description
The browned butter gives the otherwise simple batter a beguiling depth and complexity - the end result is part pie, part cake and all delicious. Best when served warm with a scoop of rich vanilla ice cream.
---
Filling:
3

large ripe Bosc pears, peeled, cored and thinly sliced

2 tbsp

sugar

1 tsp

lemon juice

½ tsp

ground cardamom
Cake:
½ cup

unsalted butter

¾ cup

+

1 tbsp

sugar

¼ tsp

vanilla extract

2

eggs, lightly beaten

1 cup

flour, sifted

¼ tsp

salt
---
Instructions
Preheat the oven to 350F. Generously butter an 11-inch glass or ceramic pie dish.
In a mixing bowl, gently toss the pears with sugar, lemon juice and cardamom. Arrange into an even layer in the prepared pie dish.
In a small saucepan set over medium-high heat, melt the butter and cook until golden brown, about 7-10 minutes (watch it carefully to ensure it doesn't burn). Remove from heat immediately, and set aside to cool for 5 minutes.
Scrape the browned butter and solids into a mixing bowl. Stir in the ¾ cup sugar and vanilla, then add the eggs one at a time, stirring well to incorporate between additions. Add the flour and salt, and fold in until just barely combined. Spoon the batter evenly over the pears, then smooth the top to make an even layer. Sprinkle with the remaining tablespoon sugar.
Bake in preheated oven until top is golden and filling is bubbly, about 30 to 40 minutes. Let cool in the pan on a wire rack until just warm, then slice into wedges and serve with dollops of whipped cream or very good vanilla ice cream.
Prep Time:

15 mins

Cook Time:

40 mins