Would you believe it's Secret Recipe Club time again? It's hard to believe October is here already. (And boy, did fall not waste any time in announcing its arrival this year - it's been fiendishly cold outside all weekend, and the autumn colours are in full swing already.)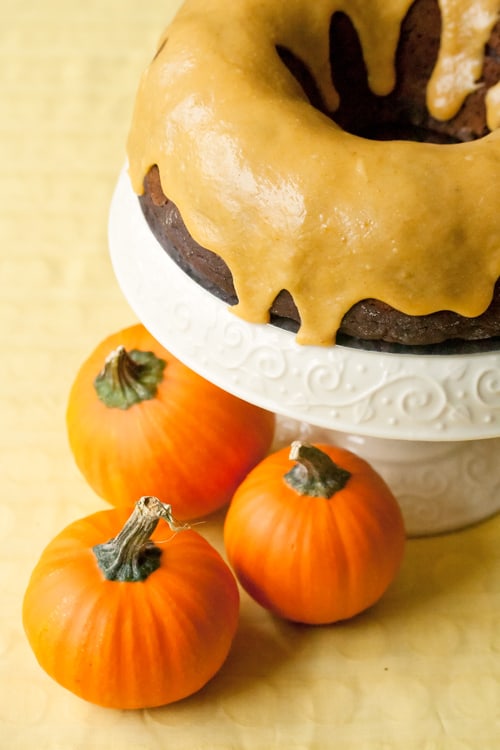 This month, I was assigned to Kate, who blogs over at Kitchen Trial and Error.
I first discovered Kate's blog through the SRC, where her mad photography skillz pretty much guarantee that her post is one of the first I check out in each month's blog hop.
While Kate only started blogging in 2010, she's been regularly posting at least twice a week for the whole time, which means there are still plenty of delicious recipes to choose from. (And, BTW, she's even managed to keep up this pace after having her first daughter last June... so obviously, on top of having mad photography skills, she's got some mad organizational skills too!)
I had totally planned on making something healthy when I first browsed through Kate's blog looking for my pick, but despite all my best intentions of making something good-for-me, I just couldn't pass up her recipe for a Pumpkin Chocolate Spice Bundt Cake.
I couldn't help it, really. I'm kind of having a love affair with all things pumpkin at the moment - I've been buying pumpkin muffins and pumpkin breads on my coffee breaks, decorating the house with adorable mini-pumpkins, devouring Pumpkin-Pecan Granola by the handful, and have already consumed enough Pumpkin Spice Lattes to float a small boat. In other words, I'm totally obsessed.
And since Canadian Thanksgiving happened to be the weekend just before this month's reveal, I figured I could make it part of our Thanksgiving supper and enlist our unsuspecting human guinea pigs guests to help us eat it all (and possibly take some leftovers home with them).
Unfortunately, my oh-so-clever plan failed, since the in-laws had to bail on dinner due to a rather nasty flu, leaving only my mother to help us get through the cake. And yes, there's quite a bit left over, sitting on the kitchen counter as I type this, taunting me with its pumpkin-and-chocolate deliciousness.
I followed the cake recipe pretty much to a tee, but decided to replace the pumpkin buttercream with a simpler browned-butter glaze, since I didn't really feel like fussing with a buttercream icing on top of all our other Thanksgiving preparations. It adds a nice toasty-caramel sweetness to the cake, which isn't all that sweet on its own.
Thankfully, this cake is really delicious, so it's no big sacrifice to eat an extra slice or two. It's tender and moist, with a deep, dark chocolatey flavour with just a hint of pumpkin and spice.
In fact, come to think of it, this cake is actually pretty healthy.
I didn't frost it with buttercream, the cake itself is relatively low-fat, and it's full of healthy ingredients like milk and eggs and flour. And didn't I read somewhere that spices are full of antioxidants and other healthy benefits?
In fact, there's a whole darn can of pumpkin in this cake, which means it basically counts as a vegetable. Right? Right?
I think I'm going to go cut myself another slice right now. It's lunchtime, after all.
(Why yes, I can rationalize anything. Why do you ask?)
//
Print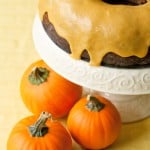 Iced Pumpkin Chocolate Spice Bundt Cake
---
Author:

Total Time:

1 hour 30 mins

Yield:

1

6

1

x
Description
Moist, tender and chocolatey with a hint of pumpkin spice and a sweet browned butter icing, this beautiful bundt is the perfect way to celebrate the arrival of fall.
---
Pumpkin Chocolate Spice Cake
1 ¾ cups

all purpose flour

1 cup

sugar

¾ cup

unsweetened cocoa powder

1 ½ tsp

baking soda

1 ½ tsp

baking powder

½ tsp

ground cinnamon

½ tsp

ground ginger

¼ tsp

ground nutmeg

⅛ tsp

ground cloves

¼ tsp

salt

1 cup

buttermilk

1

can (15 oz) pumpkin puree (reserve

2 tbsp

for icing)

¾ cup

dark brown sugar

1

egg

1

egg white

¼ cup

vegetable oil

¼ cup

light corn syrup

1 tbsp

vanilla extract
Browned Butter Pumpkin Glaze
2 tbsp

butter

2 tbsp

pumpkin puree

1 tbsp

heavy cream

½ tsp

vanilla extract

¼ tsp

nutmeg

2 cups

icing sugar
---
Instructions
Bake the Cake:
Preheat oven to 350F. Generously butter a bundt pan, then lightly dust with flour, tapping to shake out the excess.
In a large mixing bowl, whisk together the flour, sugar, cocoa, baking powder, baking soda, spices, and salt.
In a second bowl, whisk together buttermilk, pumpkin and brown sugar until smooth. Add the whole egg and egg white, and mix until smooth. Add oil, corn syrup, and vanilla. and whisk until smooth.
Gently fold the wet ingredients into the dry ingredients, being careful not to overmix (it's okay if there are still a few floury streaks in the batter). Pour into the prepared bundt pan, and smooth out into an even layer.
Bake in preheated oven for 1 to 1 ¼ hours, or until a skewer inserted into the middle of the cake comes out with a moist crumb. Let cool in the pan for 15 minutes, then gently remove the cake from the pan and let cool completely on a wire rack, about 2 hours.
Make the Glaze:
In a small saucepan set over medium-high heat, melt the butter and cook until golden brown. Remove from heat immediately.
In a small mixing bowl, whisk together browned butter, pumpkin puree, cream, vanilla and nutmeg. Sift in the icing sugar, and whisk until smooth. The glaze should be fairly thick, but still pourable. (If it's too thick, add more cream by the teaspoon until it loosens up. If it's too runny, add more icing sugar by the tablespoon until it thickens up.)
Immediately pour the warm glaze onto the cooled cake, letting it drape softly over the sides. Let stand for 30 minutes to allow the glaze to set, then serve.
Prep Time:

15 mins

Cook Time:

1 hour 15 mins

Category:

Dessert

Method:

Baked

Cuisine:

American