Time for another instalment of the Secret Recipe Club! This month, I was assigned to My Hobbie Lobbie, a blog by Trisha, who recently moved from Mumbai to Sydney.
I was already pretty familiar with Trisha's blog from previous SRC reveals, and coincidentally enough, she was assigned to my blog for last month's reveal, so I was thrilled to be able to return the favour so soon.
Picking This Month's Recipe
I knew almost right off the bat that I'd be making one of the more traditional Indian recipes in Trisha's repertoire, mostly because I adore Indian food but rarely ever make it at home.
It wasn't an easy choice, though, considering her recipe index is an eclectic mix that literally covers everything from Goan-style fish stew to British-style fish n' chips!
It was the gorgeous pan-fried Aloo Parathas that caught my eye, though.
One of my favourite aspects of Indian food is the never-ending variety of flatbreads, both plain and stuffed. And while I've tried my hand at making simpler breads like naan and chapati at home, I figured it was time to venture forth and try something a little more advanced.
How I Made This Recipe My Own
Since I'm not all that familiar with Indian food, I didn't stray too far from the original recipe - at least, not nearly as much as I usually do.
I did substitute part of the whole wheat flour for regular all-purpose flour, since I find it tends to result in a better texture than whole wheat on its own, and I also swapped out the ghee for coconut oil to make these vegan (and slightly healthier, too).
I used a single fiery green bird chili for a subtle heat, but next time I may double up on the chili to give them a little more kick.
Other than that, though, the recipe below is exactly the same as Trisha's. I mean, why improve upon perfection?
The Final Verdict
Let me tell you, these are most definitely perfection.
The pairing of paper-thin golden brown speckled dough and tender spiced potatoes is a match made in heaven, and makes these little flatbreads almost substantial enough to be a meal in and of themselves. (In fact, Trisha says she serves these for breakfast with lots of butter and hot black coffee. Sounds good, right?)
In my case, though, I decided to serve them with a pumpkin and black-eyed pea soup for a rainy day supper.
They're not exactly quick or easy, but they're worth every bit of effort required to prepare, especially since the leftovers keep very well and warm up nicely in the oven.
In case you're really feeling adventurous, I should point out that Trisha also has recipes for Methi Paratha stuffed with fenugreek leaves, and Gobhi Parathas stuffed with grated cauliflower, both of which are on my must-try list.
//
Print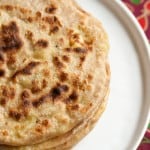 Aloo Parathas (Indian Potato Flatbread)
---
Author:

Total Time:

50 mins

Yield:

1

2

1

x
Description
These delicious Indian-style flatbreads are stuffed with a spicy potato filling and pan-fried until golden-crisp on the outside and tender on the inside.
---
Paratha Dough:
2 cups

whole wheat flour

1 cup

all-purpose flour

½ tsp

salt

1

-

1 ½

cups water
Potato Filling:
1

medium baking potato, peeled and diced

1

medium onion, finely minced

1

green chili, finely minced

2 tbsp

finely chopped fresh cilantro

¼ tsp

turmeric

¼ tsp

ground cumin

¼ tsp

amchur (dry mango) powder (optional)
Salt, to taste
For Frying:
---
Instructions
Prepare the Dough:
In a large mixing bowl, combine flours and salt. Add the water, ½ cup at a time, stopping as soon as the dough comes together - it should be soft and pliable, but not sticky at all. (You might need to add a little more water or flour to achieve the right consistency.)
On a clean work surface dusted with flour, knead the dough for about 5 minutes or until then shape into a ball. Cover with a damp cloth and set aside to rest while you make the filling.
Prepare the Filling:
In a large pot of boiling salted water, cook the potatoes until fork-tender, about 15 minutes. Drain and let cool for 5 minutes.
In a large mixing bowl, mash the potatoes, then add the onion, chili, cilantro, turmeric, cumin and amchur, if using. Taste and adjust the seasoning with a little salt, if needed.
Shape the potato mixture into balls about the size of a ping pong ball.
Assembly:
Divide the dough into 12 equally-sized pieces, and roll each one into a ball.
On a lightly floured work surface, roll out a dough ball into 4" disc. Place the disc on the palm of your hand, and brush lightly with a few drops of coconut oil. Place a ball of filling in the centre, then bring the sides of the dough together to cover the filling and pinch together to seal tightly. Roll gently between the palms of your hands to shape into a ball again, and set aside. Repeat with the remaining dough and filling.
Roll out the balls into thick discs, about 6" wide each, being careful not to break the dough to expose the filling inside.
Heat a heavy-bottomed skillet over medium-high heat. Place one of the parathas in the skillet and cook, shaking the pan occasionally to make sure it isn't sticking, until the bottom is covered with light golden-brown spots. Turn over and cook the other side until it's also speckled with light golden-brown spots.
Brush the top of the paratha with a little coconut oil, then flip over and repeat on the other side. Turn over one last time and cook for about 30 seconds.
Repeat this process with the remaining parathas, keeping them warm in the oven between batches. Serve immediately.
Notes
This recipe can also be used to make plain parathas by simply omitting the filling - Trisha recommends serving the plain version with jam, cheese or scrambled eggs.
Prep Time:

40 mins

Cook Time:

10 mins

Category:

Bread

Cuisine:

Indian