One of the hardest parts about saying goodbye to summertime is the knowledge that it'll be months before I get to eat another fresh ripe tomato.
At the risk of sounding like a snob, I rarely ever buy fresh tomatoes between October and July.
I refuse to acknowledge the impostor off-season tomatoes - the pale, tasteless, strangely mealy specimens that the supermarket seems to feel are a viable substitute for the flavourful tomatoes of late summer.  
Sure, they're technically related, but then again, so are dollar store chocolate bars and Valhrona.
That doesn't mean my winters are long and lonely and tomato-free, of course.  I've got my stockpile slow-roasted plum tomatoes in the freezer to add to soups and stews, and my pantry is piled high with tins of good-quality tomatoes for throwing into various cooked dishes.
And when the craving for a raw tomato really hits, I've got cherry tomatoes, which thankfully seem to be immune to the bland-winter-tomato phenomenon.
Here, they're the basis for a quickie cherry tomato pasta sauce that can be whipped up on the busiest of weekdays.  
I like to add slices of cooked smoked sausage to make it a little more substantial, but the basic sausage-free version is mighty fine if you're in a meatless kind of mood or if you just don't have any sausage on hand.
I tossed with batch of sauce with casarecce, a twisty sort of shape that has handy little nooks and crannies for the sauce to settle into, but pretty much any short chunky pasta will do - penne, rigatoni and fusilli have all made an appearance at once point or another. Heck, even linguine will do in a pinch.
This is the most unfussy of meals, after all, so it would be rather counterproductive to send you running to the store for just the right shape.
Once you've settled on a pasta, the rest is as simple as it gets - fry up some sausage slices until they're crisp and browned, add paper-thin slivers of garlic, tumble in a couple of containers of sweet cherry tomatoes that sear and eventually burst (albeit sometimes with a little help from a wooden spoon) to create a thick sauce, and then finish with just a sprinkling of chopped parsley for a fresh, green counterpoint.
It's still no substitute for a perfectly ripe late-summer tomato, but it's not all that bad for a mid-winter pick-me-up. Anyway, any complaints you might have will be washed away in a gentle post-carb afterglow once you've polished off your first bowl (especially if you pair it with a glass of red wine, for good measure).
//
Print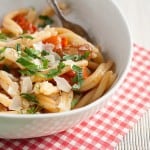 Easy Cherry Tomato Pasta
---
Author:

Total Time:

20 mins

Yield:

4

1

x
Description
This super-simple dish takes just a few ingredients to make, and comes together in the time it takes to cook the pasta. For a vegetarian-friendly version, simply omit the sausage (it's still plenty delicious without).
---
2 tbsp

good-quality olive oil

2

fully cooked smoked sausages, sliced (optional)

4

cloves garlic, sliced paper-thin

½ tsp

hot pepper flakes

2 pints

ripe cherry tomatoes

1

pound pasta (any short chunky shape will do, like penne or rigatoni)

¼ cup

fresh basil, chopped
Salt and pepper
Fresh chopped parsley (for garnish)
Grated Parmesan cheese (for garnish)
---
Instructions
In a large skillet set over medium-high heat, saute the sausage slices in olive oil for 5 minutes, or until nicely browned.
Stir in the garlic and pepper flakes. Continue sauteing for about 1-2 minutes, or until the garlic starts to take on a little colour. Add the tomatoes and cook, covered, for 10-12 minutes or until the tomatoes start to burst, shaking the pan occasionally.
Meanwhile, cook the pasta in a large pot of boiling salted water as per package directions until al dente. Scoop out 1 cup of cooking water and reserve, then drain the pasta.
Using the back of a wooden spoon, break up the tomatoes. Add a half cup or so of cooking water to the pan to loosen up the sauce, then add the hot pasta and basil. Toss to combine, adding a little more pasta water if things don't look quite saucy enough. Season to taste with salt and pepper.
Serve immediately with a sprinkling of fresh parsley and Parmesan cheese.
Prep Time:

5 mins

Cook Time:

15 mins

Category:

Main