Life is full of difficult choices.
Picking between the chicken or the pasta on the airplane (they're both bad). Vodka or gin in your martini (because both at once would be gross). Ordering just one dessert at the restaurant (they're all awesome). Choosing just one New Kid on the Block as your official celebrity crush (as long as it's not Joey, because your best friend called dibs on him first).
Thankfully, that's not the case with these Pumpkin Cheesecake Swirl Brownies.
These babies let you have pumpkin cheesecake and fudgey brownies, all in one delicious bite. No choosing.
If they gave out Nobel prizes for baking, I'm sure these would be right at the top of the list for giving indecisive people around the world their own dessert.
Fudgey Brownies Plus Creamy Cheesecake: A Match Made in Heaven
The brownie half is dense and fudgey and deeply chocolatey, just like a proper brownie ought to be.
And the pumpkin layer is subtly spicy and not too sweet, and a Halloween-perfect shade of bright orange.
Either one of these layers would be perfectly good on its own, but once they're swirled together, they're doubly delicious (and a whole lot prettier, to boot).
How to Make Perfect Swirled Brownies
I know the marbling makes these look really complicated, but I promise it's actually surprisingly easy to achieve.
In fact, the only trick to achieving the perfect marbling is to know when to stop.
First you start by randomly spooning on big fat dollops of the two batters into the pan. Next, you use a sharp knife to swirl them using a wide zig-zag sort of motion - first from side-to-side, then up-and-down.
And once you've completed both of those steps, you put your knife down and call it a day. Don't give in to the temptation to keep swirling your knife around, or else you'll end up with a muddled mess.
Cheesecake Swirl Brownies are All Treat, No Trick
Thankfully, there aren't really any tough choices as far as these brownies are concerned.
Well... maybe just one. You'll have to decide between making just the one batch, or using up the whole package of cream cheese and make it a double.
(I think we all know the answer to that one, though.)
A Baker's Dozen of Halloween Treats
These gorgeous brownies are just one of 13 super-spooky Halloween-themed sweets and treats created especially created for you by some of the coolest bloggers I know.
(And no, we didn't actually plan on having 13 recipes... it's just a total coincidence, which is even more spooky. OooooooOOOOooOOOooh.)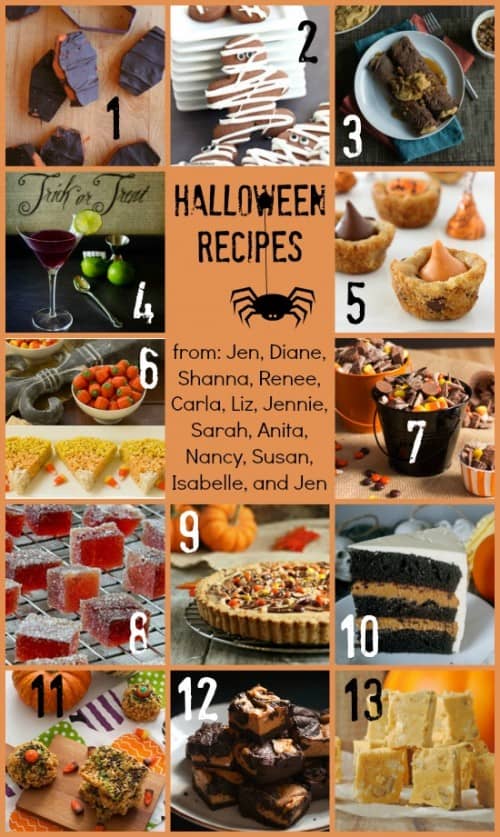 1. Butterfinger Bark from Jen's Favorite Cookies
2. Chocolate Pumpkin Spice Cut-Out Cookies from Created by Diane
3. Chocolate Crepes with Pumpkin Butter Filling and Spiced Maple Pecan Syrup from Pineapple and Coconut
4. Vampire Delight Martini from Magnolia Days
5. Pumpkin Spice Kiss Cookie Cups from Chocolate Moosey
6. Rice Krispie Candy Corn from That Skinny Chick Can Bake
7. Chocolate Peanut Butter Halloween Puppy Chow from Messy Baker
8. Homemade Sour Patch Kids from What Smells So Good
9. Reese's PB&C Pretzel Crust Pie from Hungry Couple NYC
10. Chocolate Pumpkin Layer Cake from Gotta Get Baked
11. Pumpkin Rice Krispie Treats from Girl in the Little Red Kitchen
12. Pumpkin Cheesecake Swirl Brownies from Crumb (that's me!)
13. Pumpkin Pie Fudge from Juanita's Cocina
//
Print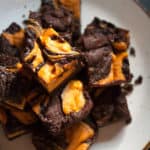 Pumpkin Cheesecake Swirl Brownies
---
Author:

Total Time:

50 mins

Yield:

1

6

1

x
Description
It's tough having to choose between fudgey brownies and tangy pumpkin cheesecake, which is why these bars are so awesome - it's like having both at the same time!
---
Brownie Base:
½ cup

unsalted butter, cut into cubes

4 oz

unsweetened chocolate, roughly chopped

1 cup

brown sugar
Pinch of salt

2

eggs

2 tsp

vanilla extract

⅔ cup

flour
Pumpkin Cheesecake Swirl:
½

package (4 oz) cream cheese, at room temperature

3 tbsp

sugar

½ cup

canned pumpkin puree

1

egg

½ tsp

vanilla

2 tbsp

flour

1 tsp

ground cinnamon

¼ tsp

ground nutmeg (fresh, if possible)
---
Instructions
Make the Brownie Base:
Preheat oven to 350F. Line an 8-inch square baking pan with parchment paper or greased foil.
In a small saucepan set over medium-low heat, melt the butter and chocolate together until smooth, stirring constantly. Remove from heat and scrape into a medium mixing bowl. Stir in the sugar, vanilla and salt, then beat in the eggs one at a time, mixing well after each addition. Stir in the flour and mix until just barely combined.
Prepare the Pumpkin Swirl Batter:
In a second mixing bowl, beat together cream cheese and sugar until combined. Stir in the pumpkin, egg and vanilla, and beat until smooth. Stir in the remaining ingredients, and set aside.
Assemble the Brownies:
Spread half of the brownie batter into the prepared baking pan. Drop alternating spoonfuls of the pumpkin filling and the remaining brownie batter onto the brownie layer. Run a sharp knife through the batter in a zig zag sort of motion to swirl the brownie batter and pumpkin filling together.
Bake in preheated oven until the edges are set and the middle is still a little wobbly, about 25-30 minutes. Let cool in the pan about 15 minutes, then use the edges of the parchment to lift out the brownies and transfer to a wire rack to cool completely.
Cut the cooled brownies into squares, and store in an airtight container for up to 3 days (assuming they last that long).
Prep Time:

20 mins

Cook Time:

30 mins

Category:

Dessert