Yes, this is the third recipe for sticky gingerbread I've posted on this blog.
I know. I have a bit of a problem.
For the past few years, baking up a big pan of gingerbread on a rainy day and then sitting down to enjoy a still-warm-from-the-oven slice and a big mug of tea has become something of a fall ritual.
After all, what's not to love about a big fat hunk of British-style gingerbread?
I'm endlessly fascinated with the way it contradicts itself. It's simultaneously densely thick and pillowy soft, sticky but not messy, simple and homey but with a surprisingly complex flavour that perfectly balances between sugar and spice.
This year's version is a Pumpkin Spice Gingerbread that starts off with my basic recipe and sprinkles in a generous dash or two of pumpkin spice, thus bringing together my two autumnal obsessions into one convenient format.
The pumpkin flavour in the finished cake is quite subtle, more of a whisper than a shout, but it gives the finished cake an incredibly tender, moist crumb.
(I mean, look at those slices - even with the sharpest knife in my kitchen, it refused to slice cleanly!)
I may have inhaled two pieces still warm from the oven, and then two more for breakfast the very next day. For testing purposes, of course.
I may have also brought the rest to work, so that my coworkers could help make sure I wouldn't eat more. Also for testing purposes, because sometimes it's good to have a second opinion.
And I may have eaten the one piece that was left over after all my coworkers helped themselves. Just to be really, really sure that the last piece was just as good as the first, because that's also a very important QA test.
And I may have absolutely no regrets about any of the above.
On that note, I'll be checking myself into rehab for my sticky gingerbread problem. Or maybe the nearest Weight Watchers meeting. I'm still trying to decide.
//
Print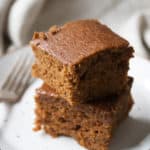 Sticky Pumpkin Gingerbread Cake
---
Author:

Total Time:

1 hour 15 mins

Yield:

1

8

1

x
Description
This is a classic British style gingerbread - super gooey, deliciously tender and subtly spicy - but with a pumpkin-spice twist that's perfect for fall.
---
1 cup

cooking molasses

½ cup

golden syrup

½ cup

packed dark brown sugar

½ cup

butter

½ cup

water

2 ½ cups

flour

1 ½ tsp

baking soda

2 tsp

ground ginger

1 tsp

ground cinnamon

½ tsp

ground allspice

½ tsp

ground nutmeg

½ tsp

salt

¼ tsp

ground cloves

2

large eggs

1 cup

canned pumpkin puree

½ cup

milk

½ tsp

vanilla extract
---
Instructions
Preheat the oven to 325F. Line a lightly buttered 9"x12" baking pan with parchment paper.
In a medium-sized saucepan set over low heat, combine the molasses, sugar, golden syrup, butter and water. Cook, stirring frequently, until the butter is melted and the mixture is smooth. Remove from the heat, and set aside to cool until just barely warm to the touch.
In a large mixing bowl, sift together the flour, baking soda, ginger, cinnamon, allspice, nutmeg, salt and cloves.
Pour the cooled molasses mixture into a second large mixing bowl. Add the eggs, one at a time, whisking well after each addition. Add pumpkin, milk and vanilla extract, and stir until completely combined. Lastly, add the dry ingredients, stirring just until the mixture comes together (the batter will look fairly runny and a little lumpy, but resist the urge to add more flour or to continue stirring - this is exactly how it's supposed to look).
Pour the batter into the prepared pan and bake in preheated oven for 55-60 minutes, or until the top is springy to the touch and a toothpick inserted into the centre of the cake comes out with a moist crumb. Let cool in the pan for 15 minutes, then lift out using the parchment and transfer to a wire rack to cool completely.
Serve at room temperature or slightly warmed, perhaps with a generous dollop of whipped cream if you're thusly inclined.
Notes
Choosing the Right Molasses: I originally tested this recipe using cooking molasses, a blend of blackstrap and fancy molasses, which gives the gingerbread a slightly deeper, darker flavour. However, you can also use fancy molasses for a lighter flavour. Just avoid pure blackstrap molasses - based on reader feedback, they're very overpowering.
What's Golden Syrup? This classic British ingredient is one of the holdovers of Canada's colonial past. You'll usually find it in larger grocery stores near the maple syrup and honey in the breakfast area or next to the molasses in the baking section, though sometimes it also pops up in the International Aisle along with other British imports. In a pinch, golden corn syrup makes a pretty decent substitute.
Prep Time:

15 mins

Cook Time:

60 mins

Category:

Dessert