Rapini and I got off to a rough start. Back in my elementary school days, we just didn't get along... I felt that rapini was much too bitter and aggressive to be my friend, and I'm pretty sure rapini decided I was an unadventurous snob. My mother tried her best to get me to give rapini another chance, but I stuck to my guns. No play dates for me and rapini, and that was that.
Rapini and I crossed paths again in a little Italian restaurant many years later, and finally settled our differences over a crisp thin-crust pizza loaded with nuggets of spicy fennel-laced sausage and dollops of melting Gorgonzola.
Chalk it up to a newfound maturity, or maybe just to the candlelight and a half-litre of house red that went right to my head, but on that magical night I decided to let go of my old prejudices and embrace rapini as an ally. The brash bitterness that had turned me off all those years ago was actually quite appealing, especially now that we had sausage and Gorgonzola to smooth the way. It was the beginning of a beautiful friendship.
The trick with rapini, as it turns out, is to pair it up with strong flavours that can stand up to its bitter edge.
I still find that it comes on too strong when served on its own, but when put together with spicy Italian sausage, the combination is unbeatable - the bitterness of the rapini and the fatty, spicy meatiness of the sausage have a symbiotic relationship, which each one bringing out the best in each other while cutting through some of the less desirable characteristics.
No wonder the combination is so well-loved in Italian cuisine.
The other trick is to buy rapini as young and fresh as possible, when it's eager to please and full of zip, and cook it as soon as possible to make the most of that freshness - rapini quickly ages into a cranky, bitter old man, which doesn't help its reputation one bit.
To prepare, cut two inches off the bottom of the stalks, which tend to be tough and fibrous, then quickly blanch or steam until stalks are a bright emerald green and tender-crisp. Before serving, toss with a little garlic toasted in olive oil and a squeeze of lemon juice, and lots of salt and pepper.
Here, I've gone one step further and combined our dynamic duo of rapini and sausage with some garlic, olive oil and hot pepper to make a classic pasta dish. It's quick and simple, yet utterly satisfying because it combines comforting carbs with the spicy, bold flavours that I always find myself craving at this time of year.
Add a crusty loaf of bread with garlic butter and a glass of your favourite everyday red wine, and you've got yourself an enjoyable weeknight dinner in under 30 minutes.
Even if you're not a rapini fan, you owe it to yourself to give him a second chance and try this dish out... trust me, he's actually a pretty interesting guy once you get past that whole bitterness thing.
//
Print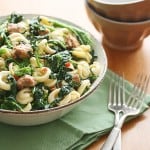 Spicy Sausage and Rapini Pasta
---
Author:

Total Time:

30 mins

Yield:

6

1

x
Description
This classic Italian pasta dish pairs bitter rapini greens with spicy Italian sausage for a spicy and satisfying weeknight meal.
---
1

bunch rapini, roughly chopped

1

lb orecchiette or cappeletti pasta

2 tbsp

olive oil

1

lb Italian sausage, casings removed

1

red hot chile pepper, seeded and minced

2

cloves garlic, minced

½ cup

grated Parmesan cheese
---
Instructions
In a large pot of boiling salted water, blanch the rapini until stalks are bright green and tender-crisp, about 3-4 minutes. Don't drain - you'll need that cooking water shortly. Instead, use a slotted spoon to fish out the rapini and quickly transfer to an ice-water bath to stop the cooking process.
Stir pasta into the rapini cooking water, and cook as per package directions until al dente (usually about 9-10 minutes). Reserve 1 cup of cooking liquid, then drain the pasta into a colander. Set aside.
In a large, deep skillet, heat the oil over medium-high heat. Add sausage and cook for about 8-10 minutes or until golden brown and cooked through, breaking up into bite-sized chunks with a wooden spoon as you go. Stir in garlic and chile pepper, and continue cooking for 1 minute or until fragrant.
Add cooked rapini and pasta, and toss to combine. Stir in reserved cooking liquid, a few spoonfuls at a time, until the pasta is lightly coated but not too saucy. Sprinkle with Parmesan, and season to taste with salt and pepper.
Serve right away with shakers of parmesan and dried chile flakes to allow guests to garnish as they like. Perfect with a full-bodied dry red wine and a loaf of crusty Italian-style bread.
Prep Time:

10 mins

Cook Time:

20 mins

Category:

Main