I'm notorious for crying at the drop of a hat.
I bawl at sad movies. Ditto on season finales for my favourite shows. No matter how many times I've watched it, the last 10 minutes of Six Feet Under gets me every. single. time.
I sometimes even cry just because we're out of chocolate.
I think the other night may have been a first for me, though. I found myself sobbing out loud at the sight of a commercial for fall clothing.
Can you blame me, though?
I mean, one of the models was wearing a coat. A COAT.
I guess I'm just not ready to let go of summer quite yet.
In fact, I plan on doing the exact opposite. I'll be grabbing these last few weeks of summer with both hands and hanging on as tightly as I can. There will be plenty of time for sweaters and tights and, yes, even coats once October comes around.
So right now, it's all about the peaches. This year's crop is especially fantastic - they're juicy and sweet and bursting with flavour, and I just can't get enough of them
A Midsummer's Night Pizza
Determined to make the most of those glorious peaches, I decided to pair them up with a handful of complementary ingredients to make a pizza worthy of a late summer evening.
It's the perfect blend of sweet and salty and savoury, with sweet juicy peaches, creamy bocconcini, garlicky basil pesto, salty prosciutto and peppery arugula.
And because I couldn't stand the idea of missing even one minute of the beautiful evening sunshine while I was busy preparing dinner, I decided to cook the whole thing on the grill.
Grilling is a brilliant way to achieve the perfect thin-crust pizza at home, because a grill can reach much higher temperatures than a home oven. Plus, as a bonus, it adds a hint of smoky flavour that no oven can ever replicate, and won't heat up your kitchen on a hot summer night.
Choosing the Right Dough for Your Grilled Pizza
I fully admit to cheating a little and using a store-bought pizza dough.
I actually do it pretty often if I get a last-minute craving for pizza - it's quick and easy, and delivers delicious results with a minimum of fuss.
That said, if you do want to make your own and are organized enough to plan ahead, I highly recommend Jim Lahey's no-knead pizza dough, which is quite possibly the best dang dough I've ever made at home.
Hey, I'm all for taking shortcuts sometimes, especially when they allow me to get a precious few more minutes of summer sunshine.
It'll be gone before we know it, after all.
More Sweet-and-Savoury Ways to Enjoy Peaches
While it's hard to argue that the best way to enjoy a peach is eaten straight out of hand, preferably with a stack of napkins to catch the juice as it dribbles down your arm, there are lots of other ways to enjoy this iconic summer fruit.
If you're feeling savoury, try these:
And if you're feeling sweet, allow me to suggest these:
//
Print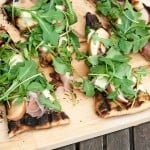 Grilled Peach, Prosciutto and Bocconcini Pizza
---
Author:

Total Time:

20 mins

Yield:

4

1

x
Description
Celebrate the summer with these grilled pizzas topped with creamy bocconcini, sweet juicy peaches, garlicky basil pesto, salty prosciutto and peppery arugula. Slice into bite-sized pieces strips for a fun summertime appetizer, or cut into more substantial slices and pair with a salad to make a main course.
---
1

lb prepared pizza dough

2 tbsp

olive oil, for brushing

¼ cup

basil or arugula pesto

1

tub (200 g) bocconcini, drained and sliced

1

large ripe peach, thinly sliced

4

slices prosciutto

½ cup

baby arugula

2 tbsp

balsamic vinegar
---
Instructions
Preheat a gas or charcoal grill to medium-high heat.
Divide the pizza dough into halves. Stretch each half into a rough oval shape, about ½" thick.
Brush the top of the pizza dough lightly with olive oil and place both pieces oiled side down on the preheated grill. Cook over direct heat for 5 minutes, or until the crusts are golden brown, checking every minute or two to ensure the dough isn't burning.
Flip the crusts over. Spoon 2 tbsp pesto onto each crust, and spread into a thin layer. Arrange bocconcini and peach slices on top of the pesto, dividing evenly between the two pizzas.
Turn off the burners on one side of the grill (or push the coals over to one side). Move the pizzas onto the indirect heat, then close the lid and continue grilling for about 5-10 minutes, or until the crust is fully cooked and the cheese has melted.
Transfer the pizzas to a wooden serving board. Tear the prosciutto into bite-sized pieces, and scatter onto the warm pizzas. Top off each pizza with ¼ cup of arugula and a drizzle of balsamic vinegar. Cut into slices and serve immediately.
Prep Time:

5 mins

Cook Time:

15 mins