True confession. I'm a total muffin fiend.
Which is strange, considering I'm rather lukewarm about cupcakes, despite the fact that they're really just cakey muffins... but then again, I'm a woman, and we women are entitled to have a few foibles. (Though I may have more than just a few foibles. I may have a LOT, in fact.)
In particular, I like chunky, substantial sorts of muffins.  Muffins that are loaded with flavour and texture, all the better to kick your tastebuds into wakefulness after a long night's sleep. Muffins like these.
They've got an addictively chewy bite, a not-too-sweet nutty flavour that's subtly spiced with cinnamon, and they're chock-full of tender apple chunks.
In other words, anything but boring. Plus they're stupidly good for you without being all in-your-face about it like a bran muffin (which, as we all know, is just a hockey puck of sawdust pretending to be a real muffin).
When Rosie from Sweetapolita mentioned on Twitter yesterday that she was making muffins with Bob's Red Mill 10-grain cereal, I realised that I'd been sitting on this post for quite some time and hadn't gotten around to sharing it yet... and since I've been rather neglectful lately, what better time than now to share?
I usually make these muffins with apple, since I usually have one or two of those kicking around in my fruit bowl for occasions such as these.
However, this recipe also happens to be a rather nice blank canvas that can be embellished in whatever way suits your fancy - switch up the apples for berries, pears, chopped dates or good ol' raisins, add a handful of nuts, change up the spices or go nuts with all of the above.
Can't find Bob's Red Mill 10-grain cereal?  You can use any of their other multigrain cereals, or just buy a different brand altogether. (Canadians, ever wonder why anyone would buy Red River Cereal?  This. This is why.)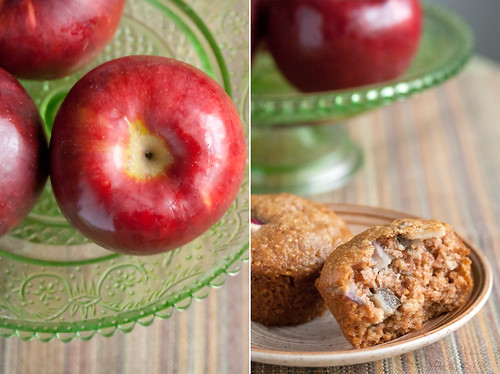 As an added bonus, these muffins freeze beautifully.
I like to bag them up in pairs, so that I can just grab them on my way out the door in the morning for a quick and healthy workday breakfast. (It helps that there's a toaster oven in the kitchenette at work to warm them up, mind you, but you can also leave them out to defrost on the counter overnight if you don't have that option.)
Obviously, though, they're never better than they are fresh and hot right out of the oven.
Which is why you should make a batch of these right now.  Seriously.
//
Print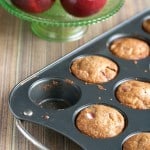 Multigrain Apple Muffins
---
Author:

Total Time:

30 minutes

Yield:

1

2

1

x
Description
Chewy, nutty and just slightly sweet, these good-for-you muffins are a great way to start off your day. Try switching up the apple with your favourite muffin mix-in, like dates, raisins, frozen berries or fresh pears... no matter what you choose, they'll be delicious!
---
1 ¼ cup

milk

1 cup

multigrain hot cereal (ie. Red River or Bob's Red Mill)

1

egg

¼ cup

honey

¼ cup

canola oil

¼ cup

unsweetened applesauce

½ tsp

vanilla extract

1 cup

flour

1 tbsp

flax meal

1 tsp

salt

1 tsp

baking powder

1 tsp

baking soda

½ tsp

cinnamon

1 cup

diced unpeeled apples
---
Instructions
In a small saucepan, heat the milk over medium heat until small wisps of steam begin to appear. Remove from heat. Stir in the cereal, and let stand for 10 minutes.
Meanwhile, preheat oven to 400F and generous butter the cups of a 12-cup muffin tin.
In a large mixing bowl, whisk together egg, honey, oil, applesauce and vanilla until smooth.
In a separate bowl, combine flour, salt, flax meal, baking powder, baking soda and cinnamon. Add to the wet ingredients, along with the softened cereal, and stir until the mixture just barely comes together (it's okay if there are a few floury streaks here and there - the key is to avoid overmixing).
Fold the chopped apples into the batter, then spoon into the prepared muffin tin, distributing the batter evenly between the cups.
Bake in preheated oven for 15 minutes, or until the muffins are golden brown and a toothpick inserted into the centre comes out with a moist crumb.
Prep Time:

15 mins

Cook Time:

15 mins