I know I just wrote an entire post about how much I dislike Toronto's cold winters, but the truth is that it's actually been an incredibly mild winter so far - aside from one or two particularly cold days courtesy of a passing blast of arctic air, the thermostat has rarely dropped below -5C, and my pretty new down parka has spent more time in my coat closet than it has out of it.
I guess that might explain why it's already mid-January and I've yet to make most of my cold-weather standbys, aside from my mom's pot roast with onions and this ragu.
A proper slow-simmered ragu is one of those rituals I normally reserve for the very coldest days of the winter, when a border of lacy frost frames the view from our bedroom window, and the chill wind sends little tendrils of cold slithering out from beneath the kitchen cupboards to tickle my toes.
On those kinds of days, the easiest way to combat the cold is to put on a pair of thick wooly socks and put a big pot of ragu into the oven to simmer away for the better part of the afternoon.
My basic ragu has evolved from Jonathan Levitt's recipe for Short Rib Ragu, which was published in the Boston Globe some years ago.  The original is deceptively simple - meaty short ribs, tomato paste, onion, garlic, good-quality tinned tomatoes and star anise.
Yep. Star anise.
As weird as it might sound, the star anise enhances the "meaty" flavour of the sauce.
(At least, that's what Heston Blumenthal says, and given that he's an insane genius when it comes to food, I'm rather inclined to believe it's true... and I can personally vouch for the fact that the final product does not in any way taste licoricy.)
Over time, I've adjusted the ingredients somewhat, and tend to vary my meat of choice depending on my mood and what happened to look good at the meat counter when I went shopping.
This version uses a bone-in pork roast, but short ribs, oxtail, veal shoulder, and even bone-in lamb stew are good choices.
Basically, you want to choose cheap, well-marbled, flavourful cuts of meat with lots of bones, the kind that are meant to be slow-simmered for hours at a time. That's because the secret ingredient in this recipe is the bones, which give the ragu a silky, rich quality that no boneless cut could ever match.
The real secret to this ragu, though, is patience.
The patience to wait to thoroughly brown the pork roast on all sides, the patience to gently saute a mixture of onions and tomato paste until the onions yield and soften, and the patience to wait a whole three hours before eating your ragu, no matter how delicious the house might smell in the meantime. (However, you do not need the patience to wait until dinnertime to have a glass of wine from that bottle you just opened... go ahead, you've earned it.)
I promise you, this recipe is worth every minute of the time it takes to prepare. There's a deeply flavourful, incredibly tender meat sauce awaiting you on the other side. Pinky swear.
And as a bonus, this recipe makes enough sauce for several dinners, which means you'll have plenty left over to store in the freezer for a wintry day.
The timing couldn't be better, either.
The local news says our little reprieve will soon be over, and we'll soon be returning to our regularly scheduled winter, snow and all.
And when it does, I'll be ready... I've got a cute new parka, a warm wooly hat, a big pail of sidewalk de-icer, a few packages of Mexican hot chocolate, and a stockpile of this Pork Ragu in the freezer. Winter? I say bring it!
Print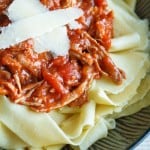 Rustic Pork Ragu
---
Author:

Total Time:

3 hours 20 minutes

Yield:

1

0

1

x
Description
Serve this rich, meaty ragu with a tangle of long, wide noodles like pappardelle or fettucine, or spoon it onto soft, creamy polenta. A sprinkling of Parmesan and a big glass of red wine are optional, but definitely recommended.
---
4

lbs bone-in pork shoulder roast
Salt and pepper to taste

2 tbsp

olive oil

2

large onions, finely minced

¼ cup

tomato paste

4

cloves garlic, minced

1 cup

dry red wine

2

cans (796mL each) Italian plum tomatoes, crushed

2

star anise pods

1

bay leaf
Cooked pasta or polenta (for serving)
Shredded Parmesan cheese (for garnish)
---
Instructions
Using a sharp knife, cut away most of the fatty layer on the top of the roast and discard, leaving just a very thin layer of fat behind. Pat the meat dry, and season generously with salt and pepper on all sides.
In a large heavy-bottomed Dutch oven, heat the oil over medium heat. Sear the pork for 3 to 4 minutes per side, or until evenly browned all over. Transfer to a platter and set aside.
Preheat oven to 250F.
While the oven preheats, add the onions and tomato paste to pot and cook, stirring occasionally, for 10 minutes or until the onion is very soft. Add garlic and continue cooking for 1-2 minutes, or until fragrant.
Stir in the red wine, scraping up any browned bits that might be left on the bottom of the pan, then add the crushed tomatoes and their juice. Return the roast to the pot. Increase the heat to high, and bring the mixture to a boil.
Wrap the star anise and bay leaf in a cheesecloth pouch, and nestle into the sauce. Cover the pot, and transfer to preheated oven to cook for 3 hours, or until the meat is very tender and falling away from the bone. Discard the star anise and bay leaf.
Transfer the pork to a cutting board and let cool for 5 minutes. Once cool enough to handle, shred the pork into bite sized pieces using two forks. Discard the bone and any gristly bits, and return the shredded pork to the pot.
To serve, ladle the ragu onto hot pasta or polenta, and top with Parmesan cheese if desired.
Prep Time:

20 mins

Cook Time:

3 hours

Category:

Mains

Method:

Braised

Cuisine:

Italian