Looking back on my childhood, I've come to realise that my mother was on the Real Food bandwagon long before said bandwagon even existed.
Oatmeal and yogurt only came in one flavour: plain. Cereal meant Rice Krispies and Cheerios - the unfrosted, unflavoured kind. Bread only came in brown, and milk only came in white. Drinks were either juice or water, and sometimes pop on a special occasion. Dessert, assuming we even had any, was fruit.
To my younger self, it seemed like my parents weren't very good at picking groceries.  Everyone else had boxes of sugary cereal, cookies and granola bars in their cupboards, a carton or two of ice cream in the freezer, pudding in their lunchbox, and a box full of Coke cans in the living room.  It just wasn't fair.
Being a somewhat clever child, I soon figured out that standing in front of the cupboards whining "I'm HUNGRY, and there's NOTHING to eat!" wouldn't magically produce individually-wrapped packets of delicious treats, and ended up devising a few semi-grab-and-go snacks I could cobble together.
My favourite snack of all consisted of a slice of toasted multigrain bread, slathered with peanut butter topped with sliced bananas and drizzled with honey.
The only problem is that peanut butter and honey have a near-magical ability to end up pretty much everywhere, no matter how carefully they're handled.  I'd inevitably find little smears on my skin, on my clothes, in my hair, on the furniture... it's a good thing our only pets were fish, because I'm pretty I'd have managed to get some on a cat or dog if only we'd had one.
These muffins, on the other hand, bundle all those sticky, gooey ingredients in a conveniently tidy and portable package, without compromising on any of the wonderful balance of sweet and nutty flavours.
I've even used a blend of white and whole wheat flours to mimic the multigrain toast of my childhood, which has the added bonus of adding a healthy boost of fiber. (My childhood self would have wrinkled her nose at the idea of a whole wheat muffin, but my adult self quite likes the added flavour and texture it adds... so there!)
The only downside is that you don't get the burst of satisfaction that comes from licking that last errant dribble of honey off your elbow, but I think that's still a pretty fair trade.
Oh, and my mother? I'm sure she'd get a giggle out of opening my pantry these days, considering it doesn't look all that different from hers. I guess we have more in common than I thought.
//
Print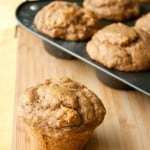 Peanut Butter Banana Muffins
---
Author:

Total Time:

35 mins

Yield:

1

2

1

x
Description
All the goodness of a peanut butter and banana sandwich with none of the gooey mess!
---
1 cup

mashed ripe bananas (

2

-

3

medium bananas)

½ cup

peanut butter

½ cup

honey

½ cup

plain yogurt

1

egg

3 tbsp

canola oil

1 tsp

vanilla extract

¾ cup

all purpose flour

¾ cup

whole wheat flour

1 tsp

baking powder

¼ tsp

baking soda

½ tsp

salt

½ tsp

cinnamon
---
Instructions
Preheat oven to 400°F. Lightly grease a 12-cup muffin tin and set aside.
In a large mixing bowl, beat together the mashed bananas, peanut butter, honey, yogurt, egg, oil and vanilla until smooth.
In a small mixing bowl, stir together the remaining ingredients. Add to the wet ingredients, and stir until just barely combined. Divide batter among the prepared muffin cups.
Bake in preheated oven for 20-25 minutes, or until a toothpick inserted into the centre of a muffin comes out with a moist crumb. Let cool in the pan for 10 minutes, then transfer to a wire rack to finish cooling completely.
Prep Time:

10 mins

Cook Time:

25 mins