My love affair with plums is already well-documented here, so I'm not going to bore you with another one of my long-winded odes to their awesomeness.
Soooo... instead, I'm going to bore with a long-winded ode to the awesomeness of clafoutis. Or, more specifically, a yellow plum clafoutis that combines two wonderful things into one perfect easy summer dessert.
Despite the fact that it's dead simple to make and incredibly delicious, clafoutis doesn't seem to be all that popular here in Canada, which is an awful shame - especially once you come to realise that it's one of the best desserts to make with the fabulous locally-grown fruits that are available at this time of year.
So... What's a Clafoutis?
Clafoutis is a classic French dessert that consists of sweet black cherries baked in a thick, eggy batter. It originally comes from the Limousin region of France, but nowadays you'll find it on bistro menus all over France once cherry season rolls around.
It's one of my favourite summer desserts for two reasons - first, because it's ridiculously easy to make, and second, because its simplicity allows the fruit to be the star of the show.
While cherries are the traditional choice, a delicious clafoutis can also be made with blueberries... or raspberries... or apricots... or peaches... or... well... you get the picture. Basically, as long as it's in season and it's a soft fruit of some sort, it's fair game.
Clafoutis vs. Flaugnarde
If we want to get all technical about it, only the cherry-based dessert is truly a "clafoutis", while its non-cherry brethren should be referred to as "flaugnardes".
However, since I've yet to meet a non-francophone who can wrap their tongue around "flaugnarde", I'm going to completely ignore the proper taxonomy and call it a clafoutis anyways.
Also, clafoutis is way more fun to say. So there.
Why Plums are Perfect for Clafoutis
For this clafoutis, I decided to use yellow plums, because a pile of them caught my eye as I walked by the greengrocer's stand the other day and I couldn't resist their gorgeously bright canary yellow colour.
Because yellow plums have a tendency to be quite tart even when fully ripe, I've boosted the sweetness of the batter to compensate, and also add a dusting of icing sugar to finish it off.
The end result is a fluffy sweet (but not too sweet) batter dotted with astringently tart plums, with neither one dominating over the other. Not bad, considering it took me all of 10 minutes to assemble, and that's counting the time needed to halve and pit the plums.
If you're a clafoutis afficionado, you'll probably notice that I've made a few other changes to the usual recipe, because I wanted to capitalize on the fact that plums play along so well with nutty flavours - for one, I added a generous dose of almond extract to accompany the usual vanilla, and also switched out the melted butter for roasted hazelnut oil to add another layer of nutty flavour.
Needless to say, please use melted butter if you're not a weirdo like me who likes to keep a bottle of hazelnut oil in the fridge for just these sorts of occasions. :)
//
Print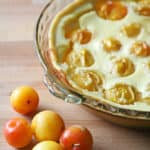 Yellow Plum Clafoutis
---
Author:

Total Time:

50 mins

Yield:

6

servings

1

x
Description
This classic French dessert is typically made with fresh cherries, but it works just as well with other stone fruits... like, say, these sweet/tart yellow plums that are one of the first varieties to hit the market in the summertime.
---
3

eggs

1 cup

milk

2 tbsp

hazelnut oil (or melted butter)

1 tbsp

brandy

1 tsp

almond extract

½ tsp

vanilla extract

½ cup

+

1 tbsp

sugar, divided

¼ cup

flour

8

-

10

small yellow plums
---
Instructions
Preheat oven to 375F. Lightly butter a 9" deep-dish pie plate or an 8x8 baking dish, then dust bottom with 1 tbsp sugar.
In a large mixing bowl, whisk together eggs, milk, hazelnut oil, brandy, almond extract and vanilla extract. Add flour and remaining ½ cup sugar, and beat until smooth and lump-free.
Halve and pit the plums, and arrange them onto the prepared baking dish, cut side down. Pour in the batter, doing your best to avoid disturbing the arranged fruit.
Bake clafouti in preheated oven for 35-40 minutes, or until the batter is set around the edges and just slightly wobbly in the middle. Let cool for 10-15 minutes, then serve warm with a light dusting of icing sugar.
Prep Time:

10 mins

Cook Time:

40 mins

Category:

Dessert

Method:

Baked

Cuisine:

French