After a frustratingly long and often way-too-cold winter, it finally feels like spring might be on its way, and I for one couldn't be any more delighted.
The tulips and daffodils are tentatively peeking up from the garden beds, the robins are chirping merrily in the trees, and slowly but surely the evening light lingers just a little later each night.
And as always seems to happen this time of year, I find myself craving all the flavours I associate with spring.
I want fresh, green flavours like asparagus and artichoke, the freshness of citrus, and sweet maple syrup. Most of all, though, I find myself dreaming of that bright astringent pop of rhubarb.
Giving Coffee Cake a Fresh Makeover for Spring
Conveniently enough, my hankering for rhubarb just happened to coincide almost exactly with National Coffee Cake Day. Clearly a sign from above, right?
So to celebrate, I took my favourite recipe for a classic, old-fashioned sour cream cake with a sweet brown sugar and cinnamon streusel and gave it a fresh new look for spring.
I started by infusing the batter with lots of bright lemon zest, and then I topped it off with a layer of chopped rhubarb before sprinkling with streusel. It's got all those spring flavours I've been craving.
It's everything a coffee cake should be. Dense and buttery, just the right amount of sweet, and loaded with all of the bright rhubarb flavour I've been craving.
This is the easy spring dessert you've been looking for, whether it's as the centerpiece to an afternoon tea break, a potluck at the office, or the sweet finale for a springtime supper.
How to Make the Best-Ever Coffee Cake
Coffee cake, as you might guess from its name, is a cake that's specifically designed to be eaten with coffee. For this reason, it's dense and sweet and rich.
Here are a few important tips to follow to make sure you get a tender and delicious coffee cake every single time:
Cream the Butter and Sugar Thoroughly: The creaming process incorporates air into the butter, which in turn makes for a light fluffy cake. so don't skimp on this step. To do this, beat the butter and sugar until they're fluffy and pale yellow before you start adding eggs. This is way easier to do with a mixer, but you can totally do it by hand using a sturdy spatula and lots of elbow grease.
Use Room Temperature Ingredients: Cold ingredients don't play well together, so make sure everything is more or less at room temperature (which in this case means around 65F). Butter should still be soft enough that you can easily press your finger into it, but firm enough to still hold its shape. If you can completely smoosh it flat, it's too warm. If you can't make an indent with your finger, it's too cold.
Don't Overmix: When combining the wet and dry ingredients, stir just until the batter comes together. It's okay if you have a few thin floury streaks or a few small lumps here and there - they'll get absorbed as the cake bakes. Too much mixing encourages gluten formation, which can give your finished cake a tough, chewy texture.
Don't Overbake: I generally test my cake about 5 minutes before the suggested baking time, just to be on the safe side. The cake is done when a toothpick inserted in the centre comes out mostly clean, with just one or two crumbs clinging to it.
Not a fan of rhubarb? No problem! This cake is equally lovely topped with sliced fresh strawberries, wild blueberries, raspberries, blackberries, or even a mix of all of the above. It's honestly that versatile!
//
Print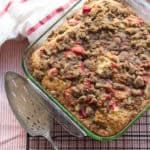 Lemon Rhubarb Coffee Cake
---
Author:

Total Time:

1 hour 30 minutes

Yield:

12

pieces

1

x
Description
The traditional sour cream coffee cake gets a fresh spring makeover with this combination of bright lemon zest and tangy rhubarb chunks under a sweet cinnamon streusel.
---
Streusel Topping:
1⁄2 cup

packed brown sugar

¼ cup

flour

1 tsp

cinnamon

2 tbsp

butter, melted
Lemon-Rhubarb Cake:
1⁄2 cup

butter, softened

1 cup

granulated sugar

2

eggs

1 cup

sour cream

1 tbsp

lemon zest

2 tsp

lemon juice

½ tsp

vanilla extract

2 cups

flour

1 tsp

baking powder

½ tsp

baking soda

½ tsp

salt

2 cups

chopped fresh rhubarb
---
Instructions
Make the Topping:
In a small mixing bowl, stir together the brown sugar, flour and cinnamon. Using a fork, stir in the butter until the mixture is crumbly. Set aside until ready to use.
Make the Cake:
Preheat oven to 350F. Lightly butter a 9x9 square baking dish.
In a large mixing bowl, beat the butter and sugar together until combined. Beat in the eggs, one at a time, then stir in the sour cream, lemon zest, lemon juice and vanilla.
In a separate bowl, whisk together the flour, baking powder, baking soda and salt. Add to the wet ingredients, and stir together until just barely combined.
Spread the batter into the prepared baking pan. Sprinkle the chopped rhubarb onto the batter in an even layer, then top with the crumb topping.
Bake in preheated oven for 65 - 75 minutes, or until a toothpick inserted into the centre of the cake comes out clean. Place the pan on a wire rack to cool off completely before cutting into squares and serving.
Notes
You can also make this cake using frozen rhubarb - just use the same amount of chopped frozen rhubarb, straight from the freezer.
Prep Time:

15 mins

Cook Time:

75 mins

Category:

Cakes
//
It's National Coffee Cake Day! I'm joining up with a few of my favourite blogger pals to share our favourite coffee cake recipes.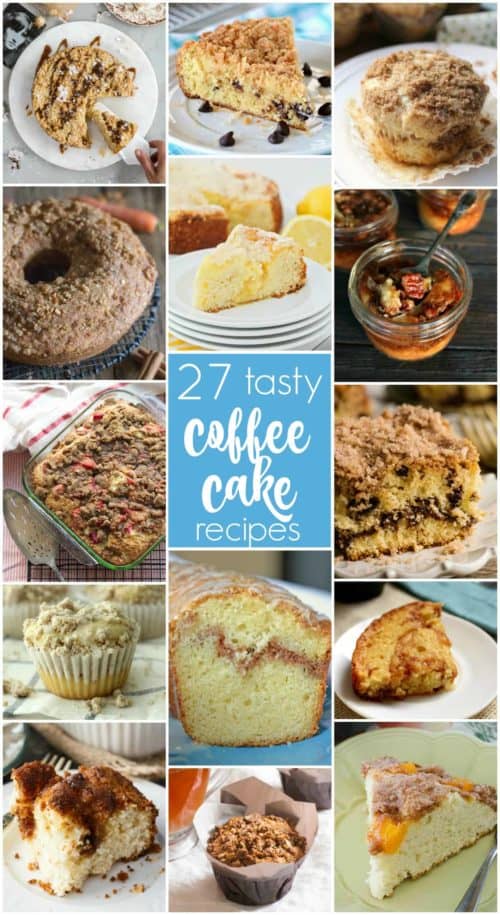 We've got 14 new recipes from the Celebrating Food crew:
And four more oldies-but-goodies from me:
And to round things out, another 9 recipes from some of my favourite bloggers: