One of my favourite parts about the dog days of summer is the all-too-brief appearance of red currants. I love their unashamed tartness, their shimmering jewel-like quality, the surprising crunch of the little seeds hiding within.
They're a little overwhelmingly sour on their own, but when added to a sweet baked treat or slowly simmered down into a brilliant red jam, they're utterly fantastic.
The only downside is that there are surprisingly few red currant recipes out there, which means I only have a handful of trusty options in my arsenal.
The most obvious route is to make a batch of red currant jam, which is what I often do. Or sometimes, if I'm feeling particularly ambitious, I bake them up into a spectacular meringue-topped red currant torte.
I've been meaning to to make red currant danishes, after having seen them pop up at the pastry counter at the O&B Canteen downtown, but I have yet to muster up the energy to spend the better part of a hot summer day pounding butter with a rolling pin and endlessly folding and rolling out dough to make homemade danishes.
(Yes, it's true... I have mile-wide streaks of laziness and impatience, which sometimes counterbalance my equally-wide streak of gluttony.)
Yogurt Cake: a simple and Elegant Red Currant Recipe
Rather than try my usual time-consuming recipes, I decided to use this particular batch of currants in a classic French-style yogurt cake, which is honestly the simplest thing I could think of to make.
The cake itself is pure simplicity. It's a pillowy-soft pale yellow cake flavoured with lemon zest and just the right amount of sweetness for my not-so-sweet tooth.
Traditionally, this cake would be baked in a round cake tin or as a loaf, but I opted to turn it into little mini-loaves instead. They're the perfect size for grabbing on my way out of the house in the morning, whether it's for breakfast or for a treat to go with my afternoon coffee. (If you don't happen to have a mini-loaf pan kicking around, a jumbo muffin tin will also do the trick.)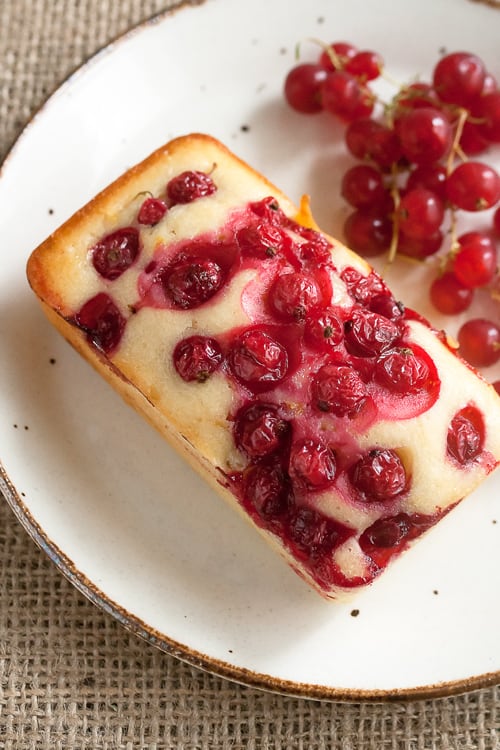 My initial plan for these loaves was to fold the currants into the batter, as I would normally do with a blueberry cake, but I worried the delicate currants might get crushed in the process.
So instead, I borrowed some inspiration from La Tartine Gourmandine's lovely red currant mini cakes, and sprinkled them onto the batter once it had been poured into the pans to create a bright scattering of scarlet polka-dots across the top of each loaf.
It's worth turning on the oven in the middle of a heat wave sometimes. :)
How to Prepare Red Currants for Baking
The hardest part about this recipe is the somewhat tedious process of picking the fragile thread-like stems from the currants while leaving the lovely red berries intact.
That said, there is a quick and easy hack to quickly red currants off the stem with minimal fuss using a simple implement that can be found in any kitchen - an ordinary table fork.
Once you've rinsed the berries clear, all you have to do is grab a single stem of currants from the top, and pull it through the tines of your fork. The berries should easily pop off the stem and drop into the bowl below, though you may need to do a little bit of cleanup to remove a few stray bits of stem. So much easier than pulling off each berry one by one!
Once you've separated the red currants from the stems, you can either proceed with the recipe, or freeze the berries to enjoy later in the season.
More Red Currant Recipes You Should Try
As I mentioned above, one of my favourite things to make with red currants is homemade jam.
I'm especially partial to David Lebovitz's recipe, which can be easily adjusted to match whatever amount of berries you've got kicking around. It's the easiest one I've found, since he starts by cooking the berries right on the stem, and then runs them though a food mill to strain out the stems and seeds, leaving behind a lovely smooth crimson-coloured jam.
If you're not partial to jam (or just have so many berries that you can't possibly make that much jam), here are a five more recipes to take advantage of your bounty:
Other Variations on This Recipe
Missed currant season? Fresh blueberries, raspberries or blackberries also work well, or even roughly chopped cranberries.
(Or heck, just skip the fruit altogether... these little cakes are perfectly lovely on their own, though definitely nowhere near as pretty.)
//
Print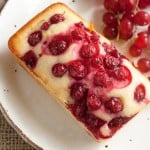 Fresh Red Currant Yogurt Cakes
---
Author:

Total Time:

40 minutes

Yield:

8

1

x
Description
A scattering of fresh red currants adds a pop of bright colour and tartness to classic French yogurt cake.
---
½ cup

plain whole-milk yogurt

1 cup

sugar

3

large eggs

½ cup

canola oil

1 ½ cups

all-purpose flour

2 tsp

baking powder

¼ tsp

salt

1 tbsp

grated lemon zest

1 cup

fresh red currants
---
Instructions
Preheat oven to 350F. Lightly grease and flour the cups of a mini-loaf pan (or a jumbo muffin tin, if you prefer).
In a large bowl, whisk together yogurt, sugar, eggs and canola oil until smooth and well blended.
Add flour, baking powder, salt and lemon zest, and stir until the batter is smooth and silky. Pour into the prepared mini-loaf tin, dividing evenly between the cups. Scatter berries on top of the batter, using around 2 tbsp per loaf.
Bake in preheated oven for 25-30 minutes, or until the edges are pale gold and a toothpick comes out clean when inserted into the centre of one loaf. (If using a muffin tin, you may need to add another 5 minutes of cooking time.)
Let cool on a rack for 20 minutes in the pan, then turn out and let cool completely before serving.
Prep Time:

10 mins

Cook Time:

30 mins