After the long, boring stretch of root vegetables and storage apples that is winter produce in Ontario, it's always a lovely day when I spot the first of the local asparagus. It's the surest sign that spring is officially upon us, and that summer's bounty isn't far behind.
The tall green stalks might just be one of my favourite of all the seasonal spring vegetables.
Left to my own devices, I could happily eat them for breakfast, lunch and dinner until the season is over without ever getting bored. (And thankfully, asparagus is versatile enough that I could probably get away with three meals a day, too!)
How to Shop for Asparagus
When buying asparagus, look for smooth, bright green, unblemished stalks and tight tips. Avoid any stalks that look too dry or split on the bottoms, or wrinkled stems - that's a sure sign that your asparagus are already well past their prime.
Despite what you may have heard, there's really no difference between thinner or thicker stalks in terms of tenderness or flavour. However, I tend to choose thinner asparagus if I'm steaming or baking, while thicker asparagus are the better choice when grilling, where their thickness helps to avoid overcooking in the high heat. And for obvious reasons, thicker is always better for making shaved asparagus, like the ones I pile on top of my Shaved Asparagus Pizza.
To store asparagus that you're not planning on eating right away, place the bunch of asparagus in the jar with the cut ends down, fill with one inch of water, cover loosely with a plastic produce bag, and store in the refrigerator. (I find it usually helps to keep the elastic band around the asparagus to hold them together in a nice tidy bundle.)
This trick will keep your asparagus fresh for about 2-3 days, but they won't keep for much longer than that, so make sure you use them within the next couple days.
Preparing Asparagus for Cooking
When you're ready to cook, give the asparagus a quick rinse and then snap or cut off the woody ends at the bottom of the stalks.
Some people say that fatter stalks should also be peeled because the outer skin gets a little tough, but I don't bother with it. It doesn't seem to make a difference, and it's a shame to throw out perfectly good asparagus when you're paying by the pound!
Asparagus, in my opinion, lends itself best to simple preparations. Most of the time, I just steam for 3-5 minutes until the stalks are bright green and tender-crisp, or toss with a little olive oil and then cook on a blazing hot grill for a minute or two, just enough to get some nice grill marks on the stems and lightly char the edges of the tips.
A dash of salt and pepper and a quick squeeze of lemon or a splash of balsamic is all it takes to finish things off.
Upgrade Your Asparagus with Gnocchi and Brown Butter
If you really must gild the lily, though, I highly recommend this quickie pasta dish that's gives an Italian classic a spring-worthy makeover.
Traditionally, gnocchi in brown butter sauce is a rich, belly-filling dish meant to offset impending winter cold. This version, on the other hand, loads up on fresh spring vegetables because it's almost summer, and bikini season will be here before you know it.
There's just enough gnocchi, butter and crisp-fried prosciutto to keep the luxurious feel of this dish, but the real star of the show is the lively spring duo of asparagus and sweet peas. A teensy squirt of fresh lemon juice is the finishing touch, to cut through the richness of the browned butter sauce.
And best of all? This combination of pillowy gnocchi, crispy-salty prosciutto and tender spring veggies might seem fancy, but it literally takes less than half an hour from start to finish. It's about as easy as dinner gets, short of ordering take-out.
It's the perfect way to celebrate the oh-so-brief Ontario asparagus season, which will be over before you know it.
//
Print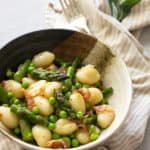 Brown Butter Gnocchi with Asparagus and Peas
---
Author:

Total Time:

30 mins

Yield:

4

1

x
Description
A fresh spring makeover for a classic Italian dish - tender gnocchi tossed with brown butter and crispy pancetta meet tender asparagus and sweet peas. It's a match made in heaven!
---
1

package (1lb / 500g) gnocchi

1 tsp

olive oil

100g

prosciutto, cut into thin strips

2

green onions, thinly sliced

1

clove garlic, finely mined

1

pound asparagus, cut into

1

" lengths

1 cup

sweet peas, fresh or frozen

¼ cup

salted butter

10

-

12

fresh sage leaves

1 tsp

fresh lemon juice
Lots of black pepper
Grated Parmesan, to garnish
---
Instructions
Cook the gnocchi in boiling salted water as per package directions. Drain and set aside.
While the gnocchi is cooking, fry up the prosciutto in olive oil in a large skillet with high sides over medium-high heat until it starts to crisp up, about 2 minutes. Using a slotted spoon, transfer to a small plate lined with paper towel and set aside, leaving as much oil in the pan as possible.
Add the green onion and garlic to the pan, and cook until fragrant, about 1 minute. Add the asparagus and peas, and saute until bright green and starting to get tender, about 2 minutes. Scrape into a bowl and set aside.
Wipe the skillet clean using a paper towel. Add the butter and let it cook, stirring occasionally, until it's foamy and a nutty golden-brown colour, about 2-4 minutes. Remove from heat immediately, and stir in the fresh sage.
Add the cooked gnocchi to the pan and toss to coat evenly with butter. Stir in the crispy prosciutto and the cooked vegetables, and sprinkle with lemon juice and lots of fresh ground black pepper. Toss until everything is evenly coated. Serve immediately with a sprinkling of grated Parmesan for garnish.
Prep Time:

10 mins

Cook Time:

20 mins

Category:

Main

Method:

Stovetop

Cuisine:

Italian