After a cooler (and wetter) than usual spring, it feels like summer weather is finally here... and with it come all my usual hot-weather cravings.
I've been making iced tea by the bucket-load, grilling pretty much everything in sight, and on days when even the grill feels like too much work, I've been assembling giant (and sometimes overly elaborate) antipasto platters.
One of my favourite additions for these platters is homemade labneh, a traditional Middle Eastern dish that's basically just good-quality yogurt that's been strained for a couple of days until it's thick and unctuous like a soft cream cheese, or left to strain even longer until it's thick enough to roll into little balls.
Personally, I like to strain my labneh until its texture is somewhere in between a dip and a spread.
I find this particular consistency makes it the perfect addition to an antipasto platter, because it can do double-duty as a tasty dip for fresh vegetables and as a spread for crackers or chunks of bread.
(And the leftovers, if you have any, are positively dreamy on a toasted bagel. It's like cream cheese, only lighter and tangier. Breakfast of champions and all that.)
How to Make Labneh at Home
All you need to make your own labneh is literally three things: good-quality yogurt, good kosher salt, and patience. From there, you can serve it just as it is, or dress it up with a drizzle of olive oil and some fresh toppings.
I usually use a good-quality cow's milk yogurt as the base for my homemade labneh, mostly because it's so readily available at the supermarket.
However, this year I decided to experiment a little by using Hewitt Dairy goat's milk yogurt instead, and let me tell you... once you go goat, you never, ummm... well, you know what I mean.
Why Goat Milk Yogurt Makes Great Labneh
I was a little leery of using goat's milk yogurt at first, because I've learned the hard way that I don't particularly like the flavour of straight-up goat milk.
However, there's something about the yogurt-making process that tames the goaty funk, and leaves just a little extra tartness that carries through to the finished labneh. Basically, if you're a fan chevre or other soft goat cheeses, you will love this.
I used Hewitt's goat milk yogurt for my little experiment, because it's readily available at several health food stores in Toronto, including the Big Carrot and Noah's.
If you can't track it down, though, feel free to use your favourite yogurt. Just make sure to use a good-quality full fat yogurt that hasn't been thickened with corn starch or gelatin, because you won't get the same gorgeously spreadable texture.
How to Serve Homemade Labneh
To make your labneh into a meal (or just a really gorgeous appetizer platter for your next party), spoon it into a pretty dish and top off as you please. A drizzle of olive oil, a sprinkling of fresh herbs or your favourite spice blend, or even a little honey or maple syrup if you feel like taking a walk on the sweet side.
Then put that dish on your favourite serving platter, and surround it with a few accompaniments. Think chunks of fresh cucumber and tomato, a little bowl of olives or pickles, and some crackers or toasted pita bread for dunking. Or, if you've gone with a sweet variation, try berries and grilled pita instead!
That's usually often enough for me to call dinner, but a few slices of dry-cured sausage or your favourite paté are also nice if you want something a little more robust.
Add a glass of wine and a shady spot in the backyard, and you've got yourself a summer spread fit for a king... or perhaps just a really lucky goatherd.
//
Disclosure: I am part of the PTPA Brand Ambassador Program with Gay Lea, and received compensation as part of my affiliation with this group. The opinions on this blog are my own.
//
Print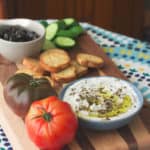 Labneh (aka Yogurt Cheese)
---
Author:

Total Time:

48 hours

Yield:

1 cup

1

x
Description
Labneh is as easy to make as it is delicious! I like the extra-tangy flavour that comes from goat's milk yogurt, but the same technique works beautifully with any kind of full-fat plain yogurt.
---
1

container (500 g) Hewitt's goat milk yogurt

½ tsp

kosher salt

1 tbsp

good-quality olive oil
Za'atar Topping:
2 tsp

good-quality olive oil

1 tsp

za'atar
Pistachio-Lemon Topping:
3 tbsp

chopped pistachios

½ tsp

lemon zest

2 tsp

good-quality olive oil
Tzatziki-Style Topping:
¼ cup

finely chopped Greek cucumber

1

clove garlic, finely minced

1 tbsp

finely chopped fresh mint

1 tbsp

finely chopped fresh dill
---
Instructions
Line a fine wire-mesh strainer with two layers of cheesecloth and place over a large bowl.
Sprinkle the yogurt with salt, and then spoon into the prepared strainer. Gather the edges of the cloth and lay them over the yogurt so that it's completely covered.
Transfer the bowl to the refrigerator, and let it drain for at least 24 hours (but ideally, closer to 48-72 hours). You should have around 1 cup of liquid in the bowl, and the remaining yogurt should be the consistency of a soft cream cheese.
Twist up the cheesecloth to form a parcel, and gently squeeze to extract just a bit more moisture. Scoop the finished labneh into a pretty dip bowl if you're serving right away, or transfer to an airtight container and refrigerate for up to a week.
To serve, drizzle the labneh with olive oil, then sprinkle with your toppings of choice.
Prep Time:

48 hours

Category:

Appetizer