Now that the weather's properly warmed up, I seem to be on a bit of a burger binge.
Every week, I've thrown some kind burger on the grill - regular ol' beef burgers, rosemary-scented lamb burgers, curried chicken burgers, and my newest favourite, these wonderful turkey burgers flavoured with fiery jerk sauce.
The Inspiration for this Recipe
The inspiration for this recipe came by way of a bottle of banana ketchup I brought home from my trip to Puerto Rico back in April.
I didn't even know that ketchup could be made with anything but tomatoes, but as it turns out, you can use all sorts of other fruits.
It was love at first sight. As soon as I tasted the sweet and spicy bright yellow sauce in a little shop in Old San Juan, I knew I needed to take some home to slather onto a jerk-flavoured burger.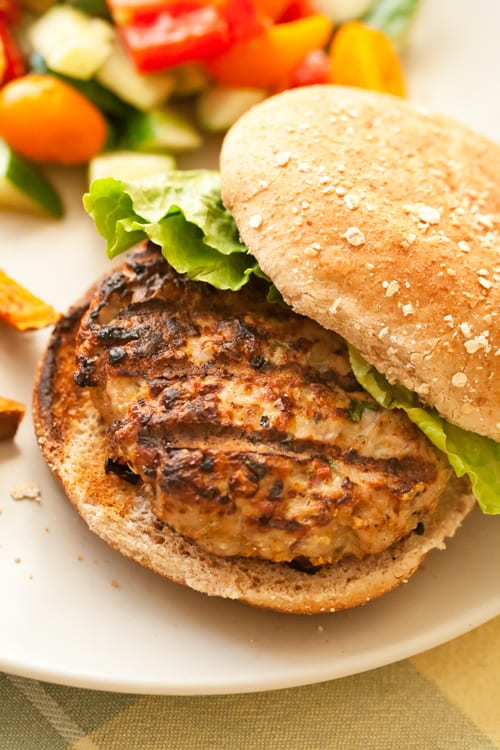 Nevermind that my suitcase was bursting at the seams, or that it was stupidly overpriced because we were in a touristy area. That ketchup was coming home with me.
And I'm ever so glad I grabbed it, because the combination of jerk burgers and banana ketchup is exactly as glorious as I assumed it would be.
Obviously, I assume that most of you don't have the option to stroll down to Old San Juan just to pick up a bottle of ketchup, but never fear - you should be able to pick some up at your local West Indian market, or you try making your own.
(...or just skip it and use your favourite ketchup, or some mango chutney, or pretty much any other sweet-and-sour-and-spicy condiment you happen to favour.)
How to Serve Jerk Turkey Burgers
For best results, round out the meal with a fresh salad and a big pile of sweet potato fries.
Admire all the pretty colours on your plate. Pretend they're an intentional homage to the bright pastels of Old San Juan, or perhaps some other brightly-coloured Caribbean island that your heart holds dear.
Then crack open a beer, find a sunny spot to kick back, and eat your dinner while picturing waves crashing onto sandy beaches and palm trees swaying in the balmy breeze beneath a bright blue sky.
Granted, it's not quite as relaxing as a West Indian vacation, but it's also a heck of a lot cheaper (and way less fattening). :)
My Secret Ingredient for Juicy Burgers
One last note... You'll probably notice I'm using oatmeal instead of the usual bread crumbs in this recipe. I know this might seem a little weird, but I actually do this quite often with burgers and meatloaves.
That's because the oatmeal soaks up all the juices, which makes for a juicier and more flavourful burger, and blends right into the burger without any noticeable oatmealy taste or texture.
Plus, it also adds a healthy dose of heart-healthy fiber, which is always a plus in my books.
That said, if you are feeling a little skeptical, feel free to substitute with an equal amount of panko or breadcrumbs. To each their own, after all!
//
Print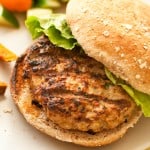 Jerk Turkey Burgers
---
Author:

Total Time:

25 mins

Yield:

4

1

x
Description
These fiery hot burgers deliver all the deliciousness of Jamaican jerk chicken, but with a fraction of the effort. Serve with a big dollop of banana ketchup and sweet potato fries for an island-inspired twist on the usual burger and fries dinner.
---
1

lb lean ground turkey

2

-

3

tbsp Jamaican-style jerk paste

¼ cup

quick-cook oatmeal

1

egg, lightly beaten

¼ cup

finely chopped red onion

¼ cup

finely chopped cilantro
Pinch salt and lots of black pepper
Toppings:
Banana ketchup
Leaf lettuce
Tomato slices
Avocado slices
---
Instructions
In a large mixing bowl, combine all ingredients. Using hands, mix together until the seasonings are evenly distributed, then divide into four equal parts and shape into ¾" thick patties.
Preheat a lightly oiled grill on High heat. Arrange the patties on the grill, and cook for about 5-7 minutes per side or no longer pink in the middle. (For those of you with a meat thermometer, you should be aiming for an internal temperature of 165F.)
Serve immediately on toasted buns with toppings of your choice.
Prep Time:

10 mins

Cook Time:

15 mins