A couple of weeks ago, I came home from a weekend trip in Ottawa to find a goodie basket had been dropped off by the wonderful folks at EarthFresh Foods, filled with everything I'd need to participate in the 2012 Klondike Rose Foodies Contest.
The challenge? To create an original recipe highlighting their Klondike Rose potatoes, a delicious yellow-fleshed potato with bright pink skin and a buttery, slightly sweet flavour.
I decided I wanted to make a recipe where the delicious flavour and texture of the potatoes could really shine through: a potato salad.
Not just any ordinary potato salad, though, but a summery version that embodies everything that's wonderful about this time of year.
How to Make a Contest-Worthy Potato Salad
Most potato salads aren't very interesting. They're just a mushy mess of overcooked potatoes loaded down with heaps of mayonnaise and with little else to liven things up besides chopped celery or hardboiled eggs.
In other words, beige, boring and bland bland bland.
(Though I'm not judging you if you happen to like this kind of potato salad. You do you! But I'm trying to win a contest here.)
A contest-worthy potato salad needs to be the exact opposite of bland, which is why I've gone in the exact opposite direction.
First, I've swapped out the heavy mayo with a zippy mustard-and-herb vinaigrette that lets the naturally sweet flavour of the Klondike Rose potatoes shine through. Then, to break up all that boring beige, I've added purple spring onions and red peppers for pops of bright colour and flavour.
Get Your Grill On
Since BBQ season is in full swing, I decided I'd switch things up a little by grilling all of the vegetables for my salad.
As it turns out, the Klondike Rose potatoes are perfectly suited for grilling. Just a few minutes on a hot barbecue brings out their natural sweetness, and adds a subtle smoky flavour.
Same goes for the spring onions and red peppers, which take on sweet and smoky flavours all their own from being lightly charred on the grill.
If you don't have access to a grill, you can get similar results by roasting all of the veggies under a hot broiler until they're nicely browned, though they won't get quite the same smoke-kissed flavour as you get from the barbecue.
What to Serve With Grilled Potato Salad
Standard-issue church lady potato salad, this ain't. It might not fit in at a church basement potluck, but it's just perfect for a sunny summer evening in the backyard.
The obvious choice of accompaniment is something else you can throw onto the grill at the same time as the rest of your ingredients.
Personally, I'm partial to a juicy grilled steak, though we've also served it up with Mennonite smoked pork chops from the farmers market. And if you're grilling for a crowd, it's also quite delicious with plain ol' burgers and hot dogs.
For that matter, I wouldn't rule out the church basement potluck, because I'm pretty sure it would be a hit there as well.
Trust me. Next time you're in the mood for potato salad, put away the mayonnaise jar and fire up the grill instead.
You'll be ever so glad you did.
Disclosure: In exchange for my participation in the Foodies for Klondike Rose Challenge, I was provided with a basket of ingredients and a grocery gift card by EarthFresh.
//
Print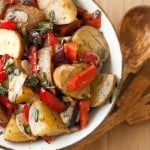 Grilled Potato Salad with Charred Onions and Peppers
---
Author:

Total Time:

1 hour 45 mins

Yield:

4

1

x
Description
Grilling takes ordinary potato salad to the next level. A tangy mustard and herb vinaigrette pairs perfectly with the smoky and sweet flavours of charred spring onion and roasted peppers.
---
Vinaigrette:
¼ cup

apple cider or white wine vinegar

2 tbsp

olive oil

2 tsp

Dijon mustard

2 tbsp

finely chopped fresh basil

1 tbsp

finely chopped fresh thyme

1

clove garlic, pressed or finely minced
Salt and pepper to taste
Salad:
2.5

lbs Klondike Rose potatoes

1

large red pepper, cut into quarters

1

bunch spring onions or green onions

2 tbsp

olive oil
Salt and pepper
---
Instructions
Prepare the vinaigrette:
In a small bowl, whisk together all of the ingredients until emulsified. Season to taste with salt and pepper. Set aside.
Prepare the salad:
Bring a large pot of salted water to a boil.
Rinse and scrub the potatoes. Cut up into quarters (or eighths, if the potatoes are on the larger side).
Dump into the pot of boiling water and cook until just barely tender, about 5-6 minutes. Drain the potatoes and set aside.
Meanwhile, fire up your grill and preheat on high for 5 minutes or so, then drop the heat to medium-high.
Toss the green onions and peppers with 1 tbsp olive oil and season generously with salt and pepper. Arrange on the preheated grill and cook for 5-10 minutes, or until onions are lightly charred and peppers are tender-crisp, turning over every so often. Transfer to a platter.
Toss potatoes with remaining tbsp olive oil, and arrange on the grill. Cook for 10-15 minutes, or until quite soft and golden-brown all over, turning the potatoes occasionally and moving them around as needed to ensure all sides are evenly browned. Transfer to a large serving bowl.
Pour the prepared vinaigrette over the hot potatoes, and toss to coat evenly.
Trim the tops and bottoms off the onions, and brush off any charred or peeling skin from the peppers. Roughly chop, add to the salad and toss until evenly combined.
Cover bowl tightly with plastic wrap. Refrigerate the potato salad for at least 1 hour before serving, or up to 2 days.
Prep Time:

1 hour 15 mins

Cook Time:

30 mins