Poor squid. It gets such a bad rap sometimes.
I'm convinced that Jules Verne and H.P. Lovecraft probably never had good grilled squid in their lifetimes, because if they had, they'd never have used giant squid as the villains in their stories.
(Though, I suppose casting a giant chunk of angry jellied tongue or a humongous mutant broccoli in the squid's place would have presented a different set of challenges...)
In my experience, most people who say they don't like squid are basing it on an encounter with a basket of overcooked breaded calamari at a bar somewhere, a dish which has more in common with deep-fried rubber bands than it does with actual squid.
Which is a shame, because you may as well swear off fish based on a bad experience with a Filet O' Fish.
The problem is that ordering squid in a restaurant will mean one of two things - either it's sublime and tender, or it's as edible as old boot leather. That's because squid has to be cooked very very briefly or very very long in order to be edible, and anything in between ends up as a rubbery mess.
Besides, cooking squid at home is actually a heck of a lot easier than you might think. All it takes is a quick soak in a spicy marinade with some North African flavours, then an even quicker jump onto a really hot grill.
Before you know it, you'll be sitting down to a plateful of char-grilled deliciousness that bears absolutely no resemblance to a deep-fried rubber band.
Since we used small baby calamari, we threaded the bodies onto bamboo skewers to avoid any mishaps on the grill, as I'm of the firm opinion that squid belongs in my mouth and not in the coals.
However, you can just as easily prepare this recipe with full-sized squid, if that's what you can get. The bigger squid can be cooked directly on the grill, but I'd still suggest skewering the tentacles for easier grilling, as they tend to be rather slippery little fellows.
Also, I try to buy my squid pre-cleaned to save myself the headache of cleaning them myself, but if you're more of a DIY type, there's a great step-by-step tutorial for cleaning squid on Kalofagas that can help you out (along with a really great Greek-style recipe for grilled calamari, if you'd like something more on the traditional side)
//
Print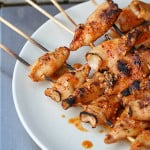 Spicy Grilled Calamari
---
Author:

Total Time:

41 mins

Yield:

4

1

x
Description
A spicy Moroccan-inspired marinade makes for a great untraditional twist to the usual grilled calamari. Make sure to serve with lots of crusty bread to mop up all the delicious sauce.
---
1

lb cleaned baby squid (tubes and tentacles)

2 tsp

smoked paprika

1 tsp

ground cumin

½ tsp

each salt and pepper
pinch cayenne

1

clove garlic, minced

1

lemon

¼ cup

olive oil
Bamboo skewers
Lemon wedges, for garnish
---
Instructions
In a large bowl or zip-top bag, stir together the smoked paprika, cumin, salt, pepper, cayenne and garlic, along with the zest from the lemon. Add ¼ cup olive oil, stirring until you have a smooth, runny paste.
Juice the lemon into a separate bowl. Spoon in 2 tbsp of the paprika mixture and stir until combined. Set aside.
Add the squid to the remaining paprika mixture, and toss to coat evenly with marinade. Cover bowl with plastic wrap (or seal the bag, if using) and refrigerate for at least half an hour to marinate.
While the squid is marinating, soak the skewers in cold water to prevent them from charring, and get the grill started so that it has time to preheat.
When ready to cook, gently thread the squid bodies and tentacles onto skewers (I like to use two skewers to prevent the food from spinning around, but it's not totally necessary).
Place the skewers directly onto the preheated grill, and cook for about 2-3 minutes per side or just until the squid turn opaque. Remove from heat right away, and drizzle with the reserved marinade. Garnish with lemon wedges. Serve piping hot with a loaf of crusty bread to mop up the sauce.
Prep Time:

35 mins

Cook Time:

6 mins

Category:

Main