This is a super-special edition of Recipe Rewind, because a certain someone (ie. me) just celebrated a birthday. My thirty-second birthday, actually, which isn't a particularly special or significant number... but hey, since when do I need an excuse to celebrate?
Since I'm firmly entrenched in my early 30s now, I guess that means I'm officially a grownup, not that I particularly feel like one on most days. (Except when I catch one of the neighbourhood kids running across my lawn, that is.)
Anyway, it only seemed appropriate that I should celebrate with a cake that is as un-grownup as I am.
My mother doesn't remember where this recipe originally came from because the original is long gone. Like many of my childhood favourites, it exists only as a battered index card covered in my mother's precise handwriting. (Considering doctors are notorious for bad handwriting, my mom's is surprisingly tidy and legible.)
Since my internet searches came up dry and no one outside my family has ever heard of a marshmallow cake, I figured it was important to share this with the world, lest it that one little index card somehow disappear... because if it did, the magic of marshmallow cake would be forever lost.
The funny thing is that my mother swears she only made it a handful of times at most, and yet, one whiff of the pineapple-and-sherry aroma of the filling is enough to send me on a nostalgic trip of Proustian proportions. It's like my childhood is contained somewhere in that smell - jelly shoes, skinned knees, Cabbage Patch Kids, scrunchies and all.
I love everything about this cake, from its kitschy garnish of canned pineapple slices and maraschino cherries, to its sweet marshmallow filling, and right on down to the graham cracker crumb crust that holds it all up.
It's like a magical unicorn of a cake that sits somewhere between pineapple upside down cake and cheesecake, but with a light fluffy texture that is totally unexpected.
Whatever its mysterious origins, one thing's for sure: this cake was most definitely born in the 1970s, just like disco music, shag rugs and yours truly. It may not be all trendy or hip any more, but then again, I'm pretty sure I'm not all that trendy and hip any more either.
Now get off my lawn, you darn kids!
//
Print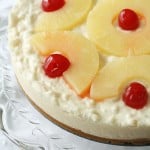 Gateau aux Guimauves (aka Mom's Marshmallow Cake)
---
Author:

Total Time:

1 hour 15 mins

Yield:

8

1

x
Description
This cake is a masterpiece of 1970s kitsch, just like disco music, shag rugs and yours truly. It combines a fluffy marshmallow filling flavoured with sherry, a graham cracker crumb crust, and a delightfully retro garnish of canned pineapple slices and maraschino cherries.
---
Marshmallow Filling:
1

bag (8 oz) mini marshmallows

½ cup

+

4 tbsp

sherry, divided

½ cup

pineapple juice

1

pkg (½ oz) unflavoured gelatin

1 ½ cups

whipped cream
Graham Crust:
2 cups

graham cracker crumbs

¾ cup

melted butter

2 tbsp

sugar
Topping:
Pineapple slices
Maraschino cherries
---
Instructions
Prepare the Filling:
In a saucepan set over medium-low heat, combine the marshmallows, ½ cup sherry and pineapple juice. Cook, stirring occasionally, until melted. Remove from heat.
In a small bowl, sprinkle gelatin onto remaining 4 tbsp sherry. Stir until combined. Add to the hot marshmallow mixture, stirring until the gelatine is completed dissolved. Set aside to cool.
Make the Crust:
In the meantime, prepare the crust by mixing together the graham cracker crumbs, butter and sugar in a large mixing bowl. Press the mixture evenly into the bottom of a lightly greased 8" springform pan.
Once the marshmallow mixture has cooled to room temperature, gently fold in the whipped cream. Pour the mixture into the prepared crust, smoothing off the top with a spatula.
Garnish with pineapple slices and maraschino cherries in a decorative pattern. (It might be tempting to skip the topping, please don't... it not only gives the cake its mega-kitsch flair, but also provides a much-needed dose of acidity that keeps the cake from being overwhelmingly sweet).
Chill for at least 1 hour before serving to allow the filling to set completely. Before serving, run a knife along the edge of the cake and then carefully unlatch and remove the springform.
Prep Time:

1 hour

Cook Time:

15 mins

Category:

Dessert