It's hard to believe we're already past the midway mark for this 12-day series, but here we are on Day 7!
If you're wondering about what I've been doing with all these holiday treats, don't worry... I haven't been indulging in a month-long sugar high, though I have definitely enjoyed my fair share of cookies over the last few weeks.
Normally I'd have taken everything to the office to share with coworkers, but since that's not an option I'll be running around town today dropping off care packages on friends' doorsteps instead, sharing in the Christmas cheer.
---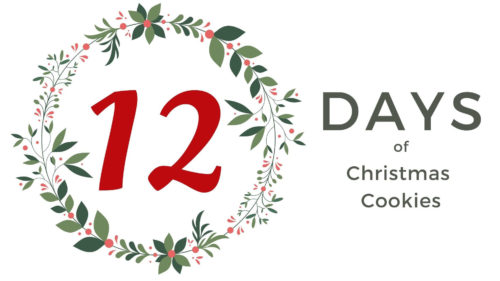 This year, I want to help you get into the holiday spirit with a little something I'm calling the 12 Days of Christmas Cookies.
From December 14 to 25, I'm posting a new holiday cookie recipe each day. Did you miss one? You can catch up on my Christmas Cookies page.
---
Okay, so you probably noticed that today's recipe isn't actually a cookie, but I'm making an exception because it's a perfect addition to a Christmas cookie assortment, and also makes a wonderful last-minute gift if you need something sweet.
Meet the Brigadeiro, Brazil's Favourite Sweet
Brazilians have a notorious sweet tooth, but there's no treat that's quite as beloved as the brigadeiro, as gooey truffle-like candy made from condensed milk and cocoa.
These bite-sized sweets fall somewhere between fudge and truffles, but with a gooey texture that's reminiscent of a soft caramel.
The traditional version is made with just four ingredients - condensed milk, butter, cocoa and a coating of chocolate sprinkles. In recent years, though, gourmet brigadeiros have become quite popular, with shops selling brigadeiro made with everything from white chocolate to nuts to fruits.
Given that it's nearly Christmas, I could resist giving the classic a downright festive makeover by adding a splash of peppermint extract and a coating of crushed candy canes. It'll have you singing Noite Feliz! (That's Silent Night in Portuguese, in case you're curious.)
How to Make Perfect Brigadeiro
While this sweet treat is dead simple to make using basic pantry ingredients, there are a few tips you'll want to keep in mind to guarantee absolute perfection.
Don't Stop Stirring: The brigadeiro mixture is very sticky and sweet, so it's critical to stir constantly as it's cooking. A silicone spatula is your friend here - make sure to keep the mixture moving, covering the entire surface of the pan (including the corners where things have a tendency to get caught).
Know When to Stop Cooking: As the mixture cooks, you'll see the texture slowly change from runny to fudge-like. You'll know it's ready when it's thick and glossy, and when the mixture takes a second or two to fill the gap when you scrape the spatula along the bottom of the pan.
Chill, Then Roll: Once it's cooked, the mixture needs to cool to room temperature. I like to set the pan aside to cool at room temperature for an hour, but you can scrape the mixture into a dinner plate and chill for 30 minutes if you want to speed things up. Butter your hands before rolling to keep the mixture from sticking, and roll immediately in your coating of choice before the surface sets up.
Use Good Quality Ingredients: There's only four ingredients in this recipe, so you need to make each one count. Make sure you're using good cocoa powder and real chocolate sprinkles. You can find both at any specialty baking supply shop, or a high-end supermarket.
Variations on this Recipe
Traditional Brigadeiro: Omit the peppermint extract, and roll the balls in chocolate sprinkles.
White Chocolate Brigadeiro: Omit the peppermint extract, and substitute ½ cup finely chopped white chocolate for the cocoa powder.
Bailey's Brigadeiro: Substitute1 tbsp Irish Cream liqueur for the peppermint extract.
Coconut Brigadeiro: Omit the peppermint extract. Substitute powdered coconut milk for the cocoa, and roll the balls in flaked coconut.
Dulce de Leche Brigadeiro: Omit the peppermint extract. Substitute a can of dulce de leche for the condensed milk and powdered milk for the cocoa. Roll the balls in flaked coconut or ground almonds.
//
Print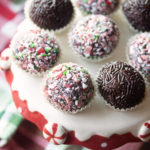 Candy Cane Brigadeiros
---
Description
These Brazilian sweets fall somewhere between truffles and fudge, but with a gooey texture that's closer to a soft caramel. This particular version gets an extra boost of festive cheer thanks to a splash of peppermint extract and a crushed candy cane coating.
---
1 tbsp

butter

1

can (300ml / 14 oz) sweetened condensed milk

¼ cup

cocoa powder

½ tsp

peppermint extract

Crushed candy canes or chocolate sprinkles for coating
---
Instructions
In a small saucepan set over low heat, melt the butter, then stir in the condensed milk and cocoa powder. Cook, stirring continuously, for about 15 minutes or until the mixture is thick and glossy. Test by scraping a spoon through the middle of the pan - it should take a second or two for the mixture to fill in the space.

Immediately remove from heat, and stir in the peppermint extract. Set aside to cool to room temperature, about 1 hour.

Using lightly buttered hands, scoop out tablespoonfuls of the mixture, and shape into balls. Roll in crushed candy canes or chocolate sprinkles. Serve immediately, or place in an airtight container and chill until ready to serve.
Notes
Storage: Brigadeiros will keep for up to one week in the fridge in an airtight container, or up to 3 months in the freezer. If freezing, thaw out overnight in the fridge before serving.