It's baaaaaaaack! (And by that, I mean the Secret Recipe Club.)
The group took a little break over the holidays to give everyone some breathing room, but by the time January rolled around, I was totally raring to go. I just get such a kick out of seeing whose blog I get and then trying to find just the right recipe to make.
Meet This Month's Blogger
Good things come to those who wait, because my assignment for February turned out to be Aly from Cooking in Stilettos.
Aly's a Louboutin-wearing, pug-owning, crockpot-loving, burn-up-the-dance-floor kinda gal from Philly. She's also a total hoot if you've ever had the pleasure of chatting with her.
There are tons of amazing recipes on Aly's blog, so I knew it was going to be a tough decision to narrow things down to just one choice. As it is, I've got at least five more recipes bookmarked for another day!
However, the weekend I cooked and photographed this dish, the Polar Vortex decided to show up for another visit, so the weather kind of ended up making my mind for me. Cold weather always gives me an instant craving for belly-warming comfort food, and her recipe for Braised Short Ribs looked like just the thing.
How I Made This Recipe My Own
The biggest change I made was to adapt this recipe into a stovetop braise, rather than using a slow cooker like Aly does.
That wasn't entirely intentional, to be honest. I'm pretty sure the cold must've frozen my brain, because it was mid-afternoon when I suddenly remembered that I'd need 6 hours to prepare this in the slow cooker. And since I'm not a fan of eating dinner at 9pm, taking the stovetop route was pretty much a no-brainer, since it shaves off a couple hours from the cooking time.
(Also, as a bonus, Aly's recipe does most of the initial prep in a Dutch oven anyway, so doing the whole thing on the stovetop means one less pot to wash at the end. Less dishes is always a win in my books.)
As always, I ended up making a few more changes to the recipe as I went along.
I used only a half-cup of flour because that turned out to be more than enough to coat all of my shortribs, and I threw in some finely chopped celery to the vegetable base to make it into a traditional mirepoix.
Oh, I also added some thick-sliced double-smoked bacon to the mix, because... well... bacon.
In Praise of Braises
I know people tend to be scared off by braises because they take so gosh-darned long to cook, but there's usually less than half an hour of active work involved.
Once that's out of the way, the dish just spends a few hours simmering away on the stovetop, filling your house with the most delicious of aromas while you devote yourself to more important things.
You'll need to hang out at home for the next little while, but there's plenty you can do around the house. Read a good book, knit up a new scarf to ward off the cold weather, catch up on your favourite TV show, or (if you really must) get some housework done.
And when you return to your kitchen a few hours later, what awaits you is a bubbling pot of pure deliciousness, just waiting to be spooned onto a golden-yellow mound of creamy polenta for a hearty Saturday-night supper.
The Verdict
On a comfort food scale of 1 to 10, these shortribs score an 11.
They're rich and hearty with a flavourful gravy that warms you right down to your toes, and so tender you can practically eat them with a spoon. They go perfectly with polenta, but if you're feeling particularly lazy, you can also serve them straight-up with a hunk of crusty bread for mopping up the sauce.
Like I said earlier... good things come to those who wait, and these short ribs are certainly no exception.
//
Print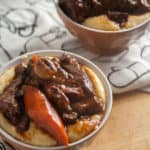 Red Wine Braised Short Ribs
---
Author:

Total Time:

5 hours 30 mins

Yield:

6

1

x
Description
These slow braised short ribs are serious wintertime comfort food - deeply satisfying, belly-warming, and stick-to-your-ribs filling. Serve on top of creamy polenta or cooked egg noodles.
---
½

lb thick-cut bacon or pancetta, diced

4

lbs bone-in beef short ribs, cut into

3

-

4

" lengths

1 tsp

salt

1 tsp

fresh ground black pepper

1 cup

flour

3 tbsp

olive oil

3

large carrots, peeled and cut into

1

" pieces

1

large yellow onion, finely diced

2

ribs celery, finely diced

4

cloves garlic, minced

1

bottle (750ml) full-bodied red wine

1

can (6 oz.) tomato paste

3

sprigs fresh thyme

2

sprigs fresh rosemary

1

bay leaf

1 cup

beef stock
---
Instructions
Meanwhile, in a large mixing bowl, season the short ribs with salt and pepper, then add flour and toss until coated on all sides.
In a large heavy-bottomed Dutch oven set over medium-high heat, heat the olive oil. Add bacon and fry until crisp, about 5-7 minutes. Using a slotted spoon, remove from pan and set aside.
Shake the excess flour from the short ribs and, working in batches, add to the pan and sear on all sides until well browned, about 3-5 minutes per side. Remove from pan and set aside.
Reduce the heat to medium, and add the onions, carrots and garlic to the pan. Cook, stirring occasionally, until the onions are soft and golden, about 10 minutes.
Pour in the wine, scraping the bottom of the pan to loosen up all the delicious browned bits, then add the remaining ingredients and bring to a simmer. Return the short ribs and bacon to the pan, then reduce the heat to low and simmer, covered, for 4 ½ to 5 hours or until the short ribs are very tender and falling off the bone. Discard then herb sprigs and bay leaf.
Serve immediately, with a creamy polenta or lots of mashed potatoes to soak up the sauce.
Prep Time:

30 mins

Cook Time:

5 hours