Some flavour combinations are so deeply embedded in our collective psyches that it's almost impossible to think of one without the other. Milk and cookies, bacon and eggs, banana and chocolate, ham and cheese.
The grandaddy of them all, though, is so universal that it's been condensed down to a simple TLA (that's a three-letter acronym, if you're not up on your tongue-in-cheek corporate jargon).
That's right. I'm talking PB&J.
Peanut BUtter and Jelly Meets Thumbprint Cookies
Peanut butter and jelly is a flavour combination so legendary that it has not one, but two songs written about it... though you probably only know the second one if you grew up in Canada.
So when I found out the theme for April's Cookie of the Month club was peanut butter, I knew this was my chance to pay homage to this classic pairing in cookie form.
These Peanut Butter and Jelly Thumbprint Cookies have a sweet chewy peanut butter base, and a generous dab of glossy purple concord grape jelly in the middle.
It's all the goodness of an old-school PB&J sandwich, only with way more visual appeal and way less mess.
The Best Jam for Your Peanut Butter and Jelly Thumbprints
As far as I'm concerned, the only option if you want to get that classic PB&J flavour is concord grape jelly.
However, you can totally customize these lovelies with whatever flavour jam or jelly you happen to be partial to. Strawberry and raspberry are both lovely choices, but you can go a little crazy and try apricot or marmalade instead.
And yes... like all cookies, they're absolutely perfect with a big tall glass of milk.
How to Make Perfect Thumbprint Cookies
There are a few simple rules to follow to achieve the ultimate thumbprint cookie:
Work with room-temperature dough: Room temperature dough is softer, so it'll roll into a smoother ball that holds its shape when you make the indentations.
Make a deep thumbprint (but not too deep): The cookies will flatten out a little as they bake, so use the tip of your thumb (or the back of a wooden spoon) and press straight down to make a deep, narrow indentation rather than a wide, shallow one. This helps to prevent the cookies from spreading too much, and also ensures you still have a good-sized indent to fill with jam.
Don't scoop them out too big: Resist the urge to make these super-sized - the bigger the cookie, the more it will spread out as it bakes. Your dough balls should be just a little over an inch wide, which is roughly the size of a large gumball. (Or, even better, use a #50 cookie scoop for perfect portion control.)
Looking for more PB-inspired goodies? Check out these posts from my fellow Cookie of the Month bloggers:
//
Print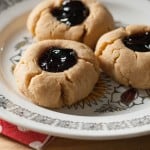 Peanut Butter and Jelly Thumbprints
---
Total Time:

24 mins

Yield:

3

6

1

x
Description
These pretty little thumbprint cookies pack all of the goodness of an old-school PB&J sandwich, but with way less mess. Best enjoyed with a tall glass of cold milk (obvs).
---
2 cups

flour

1 tsp

baking soda

½ tsp

baking powder

½ tsp

salt

½ cup

butter, softened

1 cup

granulated sugar

½ cup

packed brown sugar

2

eggs

1 cup

creamy peanut butter

2 tsp

vanilla extract

1 cup

grape jelly or raspberry jam
---
Instructions
Preheat oven to 375F. Line 2 sheet pans with parchment paper.
In a medium sized mixing bowl, combine flour, baking soda, baking powder and salt, and set aside.
In a second bowl, cream together the peanut butter, butter and sugars. Add the eggs, beating well after each addition, then stir in the vanilla extract. Add the dry ingredients to the wet, and stir just until the dough comes together.
Using your hands, roll heaping tablespoonfuls of dough into balls and arrange on the prepared sheet pans, spacing about 2 inches apart.
Use your thumb or the handle of a wooden spoon, make a deep indent in the centre of each ball. Fill with Concord Grape Jelly.
Bake in preheated oven for 7-9 minutes or until the edges are set and golden brown. Let cool on baking sheets for 5 minutes, then transfer to wire rack to finish cooling off completely.
Prep Time:

15 mins

Cook Time:

9 mins