In case it wasn't totally obvious from my blog post, I am completely over this winter stuff. Like, beyond over.
And yet, the snow keeps falling and the arctic air keeps blowing, so I'm resorting to fighting back the only way I know how... through compulsive baking.
My personal preference will always be fresh-baked bread, but I don't always have the time to hang around the house and wait for the yeast to do its thing, which is where quickbreads come in.
As you might guess from the name, they're quick, and some varieties are even quite bready.
I've yet to meet a quickbread I don't like, but my very favourite among them is Irish soda bread. That crunchy crust and tender crumb dotted with caraway seeds and raisins is just so gosh-darned good I could almost swear off yeast bread for life.
(Almost. Me and yeast breads are still totes BFFs for life.)
Crusty Whole Grain Bread - No Yeast Required!
With St Patrick's Day around the corner, the quickbread du jour at my house right now is this gorgeously hearty multigrain Irish soda bread I recently concocted by adding some multigrain cereal blend and whole wheat flour to my base recipe.
This loaf is much denser and chewier and nuttier than the original, but still has all the things I love best about soda bread, including that irresistible crunchy crust and lots of caraway and raisins for flavour.
All it takes is a few minutes and a big bowl to toss it all together, so there's no excuse to make a loaf. Like, right now.
Believe me, fresh and still-hot out of the oven with a generous spread of butter, it's about as close to heaven as you'll get without leaving your house. (Though it's also pretty good packed up in your lunch bag for a mid-morning coffee break if you have to drag your shivering cold self to work.)
It's not quite enough to make you forget about this miserable winter weather, but it sure makes it a little more bearable.
The History of Irish Soda Bread
Soda bread is actually a relatively recent addition to Irish cuisine, having been concocted in the earlier half of the 19th century with the introduction of commercially-produced baking soda (or bicarbonate of soda, as it was known back then).
It became popular because the wheat grown in Ireland is a soft wheat, which means it lacks the high gluten content that is required for baking yeast breads. However, this lower gluten content makes it absolutely perfect for baking tender quickbreads.
The leavening action in this bread comes from the chemical reaction between the baking soda and the buttermilk. Remember those baking soda volcanoes from grade school? The same principle applies here, except all the gas gets trapped within the batter, helping it to rise as it bakes.
Strictly speaking, a true Irish soda bread does not have raisins, but they're almost ubiquitous in North American versions of the recipe. Personally, I rather like the sweetness of the raisins, so I went ahead and added a handful of golden raisins to this recipe. If you're a purist, feel free to leave them out.
More Easy Breads You Can Make Without Yeast
Quickbreads are surefire winners if you're looking to whip up a loaf for dinner within the next couple of hours, or if you're short on yeast and don't want to run out to the store.
Here are a few more delicious breads that can go from bowl to oven to table in no time flat:
//
Print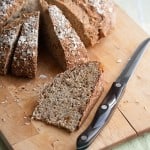 Multigrain Irish Soda Bread
---
Author:

Total Time:

1 hour

Yield:

1

6

1

x
Description
Multigrain cereal blend gives this healthier twist on Irish soda bread a crunchy, hearty texture and delicious nutty flavour.
---
1 ½ cups

all-purpose flour

1 cup

whole wheat flour

1 cup

multigrain cereal blend, like Bob's Red Mill

¼ cup

raw pumpkin seeds

¼ cup

golden raisins

1 tbsp

caraway seeds

2 tsp

baking soda

¾ tsp

salt

1 ½ cups

buttermilk

2 tbsp

honey
Topping:
1 tsp

buttermilk

2 tbsp

rye flakes or quick oats
---
Instructions
Preheat oven to 375F. Line a large baking sheet with parchment paper.
In a large mixing bowl, combine the all-purpose flour, whole wheat flour, multigrain cereal, pumpkin seeds, raisins, caraway seeds, baking soda and salt. Add buttermilk and honey, and stir until just barely combined.
Turn the dough out onto a lightly floured work surface, and knead for 2-3 minutes or until soft and elastic. Shape into a ball, and place on the prepared baking sheet.
Brush the top of the loaf with buttermilk, and sprinkle with rye flakes. Using a sharp knife, score a shallow X into the loaf. Bake in preheated oven for 45-50 minutes, or until the crust is golden-brown and a toothpick inserted into the middle of the loaf comes out clean. Let cool on a wire rack for 10-15 minutes before slicing.
Prep Time:

10 mins

Cook Time:

50 mins

Category:

Breads

Method:

Baked

Cuisine:

Irish