The past few months, I've been trying to make healthy changes in my life.
Nothing too drastic - I've cut back on coffee, eat lots more fruits and vegetables, scaled back my portion sizes, started taking the stairs instead of the elevator, and exercise more regularly in general.
Small changes, but they add up... I've lost a few pounds, and I feel a lot stronger and healthier than I did just a couple of months ago.
I've also been challenging myself to eat more meat-free meals - not because I don't like meat (quite the contrary, in fact), but because I felt like my meals were slipping into a meat-and-two-veg rut.
Meat's easy, even if you're not feeling inspired.  Just cook up a hunk of animal, add a couple of vegetables and something starchy, and voila... a balanced meal emerges.
Except it's also kind of boring, especially if it's the third time that week.
Vegetarian dishes, on the other hand, always feel more interesting to me. I suppose it's because I'm forced to fight my instinctive urge to thaw out a pork chop and call it a day, or maybe because the base ingredients like beans, legumes and tofu need to be spruced up since they're rather uninteresting in and of themselves.
Regardless of the reasons, though, I'm rather pleased with the way my little experiment has been going so far.
Take these lentil patties, for example.  I dreamed them up for the Recipe Revelations recipe contest sponsored by Canadian Lentils, and they've become an instant favourite.
Aside from being absolutely delicious, they're also incredibly healthy.
Red lentils are naturally full of fiber and iron, both of which I often don't get enough of in my day-to-day diet, along with a healthy dose of lean protein. As far as meat alternatives go, they're actually better in many ways than the real deal.
The idea behind these patties was to combine the texture of Middle Eastern falafels with the flavour of an Indian lentil dal, and I think I succeeded rather admirably.
Eaten straight out of the pan, they're delicately crunchy and golden-brown on the outside, tender on the inside, and with an earthy, slightly nutty lentil flavour accented with golden brown onion and Indian spices.
It's the spicy brick-red tomato jam that seals the deal, though. Like a traditional Indian chutney, it adds a bright sweet-and-sour counterpoint to the earthiness of the lentils, while echoing the Indian spicing with a pungent blend of cumin, mustard seed and chili flakes.
Since it's made with canned tomatoes, this jam can be made pretty much year-round, though I'd suggest swapping out for 1 lb of fresh Romas once fresh tomato season rolls around.
You'll likely have some leftovers, since the recipe makes a little over 2 cups of jam, but I think you'll find it makes a rather stellar substitute for ketchup (it's particularly kickass with oven-baked sweet potato fries dusted with a little garam masala).  In fact, you may never go back to ketchup again.
As a combination, the patties and tomato jam are surprisingly versatile.
I originally intended them to be served up together as an appetizer or small tapas/mezze style plate, but they're also substantial enough to double up as a tasty meatless main. All you need to turn them into a meal is a simple side salad for a quick lunch, or pop them in a soft bun with a generous slathering of jam for an Indian-inspired vegetarian burger.
Whether you're vegetarian, flexitarian or meatarian, I think you owe it to yourself to try these out at least once.
What have you got to lose, besides that boring ol' predictable meat-and-two-veg routine?  As far as small changes go, this one is pretty darned delicious.
//
Print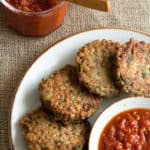 Red Lentil Patties with Spicy Tomato Jam
---
Author:

Total Time:

1 hour 15 mins

Yield:

6

1

x
Description
These dense lentil patties are crispy on the outside, soft on the inside, and generously spiced throughout - especially when topped with a dollop of brick-red spicy tomato jam.
---
Tomato Jam
2 tbsp

olive oil

2

cloves garlic, finely minced

1

shallot, finely minced

2 tbsp

grated fresh ginger

½ tsp

mustard seed

½ cup

cider vinegar

1

can (796 ml / 28 oz) plum tomatoes, drained and chopped

½ cup

brown sugar

1 tsp

ground cumin

½ tsp

red pepper flakes
Red Lentil Patties
1 ½ cups

red lentils

3 cups

water

1

onion, finely diced

2

cloves garlic, finely minced

2 tsp

garam masala

1 tsp

cumin seed

2

eggs

½ cup

flour

1 tsp

salt

1 tsp

fresh ground black pepper

¼ cup

finely chopped cilantro
Canola oil (for frying)
---
Instructions
Tomato Jam:
In a large heavy-bottomed saucepan set over medium-low heat, saute garlic, shallot and ginger in oil for 2-3 minutes, or until soft and translucent. Add the mustard seeds and continue cooking for 2 minutes, or until fragrant.
Stir in the remaining ingredients. Bring the jam to a simmer, then reduce the heat to medium-low. Cook, uncovered, for 45-60 minutes or until the jam is thickened and glossy, stirring occasionally to keep the jam from burning. (Note: Canned tomatoes can vary quite a bit in terms of liquid content, so use the texture of the jam as your guide - if it's still very runny after an hour, continue cooking until thickens up to the consistency of bottled ketchup)
Let cool, then spoon into jars and refrigerate until ready to use (or for up to 2 weeks).
Red Lentil Patties:
In a large saucepan, bring the lentils and water to a boil. Reduce the heat to low and simmer for 10 minutes, or until the lentils are very soft. Drain the lentils well.
Meanwhile, in a large heavy-bottomed skillet, saute the onion in olive oil for 5-7 minutes, or until onion is soft and golden-brown. Add garlic, cumin seed and garam masala, and continue cooking for 2 minutes or until garlic is soft and spices are fragrant. Remove from heat.
In a large mixing bowl, combine the cooked lentils, sauteed onions, eggs, flour, salt, pepper and cilantro.
In a large heavy-bottomed skillet, heat 2 tbsp canola oil over medium-high heat. Working in batches, use a ¼ cup measure to drop batter into the hot oil and flatten out into ¾" thick patties using a spatula. Fry the patties for 5 minutes per side or until golden-brown and crisp, adding more oil to the pan as necessary. (The patties are a little fragile, so be gentle when turning them over to ensure they stay in one piece.)
Serve warm or at room temperature, accompanied by spicy tomato jam.
Prep Time:

15 mins

Cook Time:

60 mins