Why, hello there, Mr Spring!
You sure are early this year, aren't you?
Not that I'm complaining, mind you... I'm loving the sunny skies and balmy weather you've brought along. It's been utterly glorious.
Outside, the scylla are blooming, dotting the front lawn with their bright blue blossoms. Crocuses in purple and white fill the beds, birds congregate in our massive silver maple tree to fill the air with cheerful songs, and the gosh-darned squirrels keep busy by digging up all my bulbs and chewing on my crocus blossoms.
Of course, Canadian weather being what it is, I know there's still a (slim) chance we might find ourselves up to our knees in snow sometime between now and the end of May.
In the meantime, though, I've been making the most of it while I can, and spring cleaning like crazy.
Doors and windows have been flung open all over the house to let out the stuffy winter air. Piles of clothing have been scattered all over the bedroom as warm corduroys and sweaters are packed away to make way for fluttery skirts and bright printed dresses. And each room has been systematically attacked in a frenzy of tidying and de-cluttering.
Rhubarb: The Quintessential Flavour of Spring
With the change in the seasons comes a change in my kitchen, leaving behind the bland, hearty flavours of winter and replacing them with the fresh, bright, palate-cleansing flavours of spring.
I'm talking about the kinds of flavours that make your tastebuds shake off their winter slumber, in anticipation of the vibrant flavours that summertime brings.
To me, rhubarb is one of the quintessential spring ingredients. Astringently tart, even when tempered with sugar, it makes sleepy tastebuds perk up and stand at attention.
To celebrate spring's early arrival, I decided to cook down the last of the rhubarb I had stashed away in the freezer into a bright pink compote, and swirled it into an Eton Mess in lieu of the traditional summer strawberries. It feels like the everything a spring dessert ought to be... bright, airy and almost ethereally light.
Giving Eton Mess a Springtime Twist
Eton Mess is a classic British dessert named after Eton College, where it's commonly believed to have originally been created.
The original version is beautiful in its simplicity. Whipped cream, crumbled meringue, and sliced strawberries, all stirred together in a glorious messy concoction.
The idea is to throw it together at the last minute, so that the different components still retain their individual qualities - chewy-crisp chunks of crumbled meringue, soft mounds of feathery-light cream and swirls of fresh fruit.
Strawberry season is still a few months away, though, so for a springtime twist I've used a seasonally-appropriate rhubarb compote. And seeing as swimsuit season is just around the corner, I decided to stray a little further from the classic by lightening up the whipped cream base with non-fat Greek yogurt, which adds a lovely tangy note and still keeps that perfect pillowy texture.
(Because let's be honest here... "pillowy" might be a good thing when it comes to desserts, but not so much when it comes to my midsection.)
So lovely to see you, Mr Spring.
I do hope you'll stay awhile, and maybe enjoy an Eton Mess or two with me.
//
Print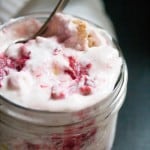 Rhubarb Eton Mess
---
Author:

Total Time:

1 hour 40 mins

Yield:

6

1

x
Description
A spring-inspired take on a British classic - stewed rhubarb, crumbled brown sugar meringue and whipped cream, all mixed together in one glorious, messy dessert.
---
Brown Sugar Meringues
2

egg whites

¼ cup

white sugar

¼ cup

brown sugar

¼ tsp

white vinegar

¼ tsp

corn starch

½ tsp

vanilla extract
Rhubarb Compote
2 cups

chopped rhubarb

½ cup

orange juice

¼ cup

sugar

1 tsp

orange zest
Yogurt Whipped Cream
1 cup

heavy whipping cream

½ cup

non-fat Greek yogurt

2 tbsp

sugar

½ tsp

vanilla extract
---
Instructions
Make the Brown Sugar Meringues (up to 2 days ahead)
Preheat oven to 250F. Line a large baking sheet with parchment paper.
Using a mixer on medium speed, whisk the egg whites until soft peaks form. Increase speed to medium-high and slowly add in white and brown sugars, one spoonful at a time. Continue beating until sugar has been completely incorporated and the whites have been beaten into stiff peaks, gently fold in the vinegar, corn starch and vanilla.
Spoon the meringue into twelve large dollops onto the prepared cookie sheet.
Bake in preheated oven for 90 minutes, or until the surface of the meringues feels dry to the touch. Turn off the oven off and leave the meringues in the oven with the door closed to cool for at least an hour, or preferably overnight.
(If making ahead, transfer the cooled meringues to a paper-lined container with a tightly-fitting lid, and store in a cool, dark place)
Rhubarb Compote (can be made up to 1 week ahead)
In a medium heavy-bottomed saucepan set over medium-high heat, combine the rhubarb, orange juice, sugar and orange zest. Bring to a boil, stirring occasionally, the reduce heat to low and simmer for 10 minutes, or until rhubarb is soft and beginning to fall apart. Set aside to cool off to room temperature (if making in advance, store in an airtight container in the refrigerator until ready to use, or for up to 1 week).
Make the Yogurt Cream (shortly before assembling)
In a large mixing bowl, whip together the heavy cream, yogurt, sugar and vanilla until soft peaks form.
Assemble the Eton Mess (at the last possible minute)
Crumble meringues into a large mixing bowl. Top with alternating spoonfuls of yogurt cream and rhubarb compote, and fold until just barely combined - the mixture should still look quite streaky and, well, messy.
Divide evenly between six dessert bowls or martini glasses, and serve immediately.
Notes
For a Passover-friendly version of this dessert, simply substitute potato starch or tapioca powder for the corn starch.
Prep Time:

10 mins

Cook Time:

90 mins