I've always had a soft spot for snacks and nibbles - things that can be grabbed by the handful and absentmindedly munched in between meals, to keep the hunger at bay.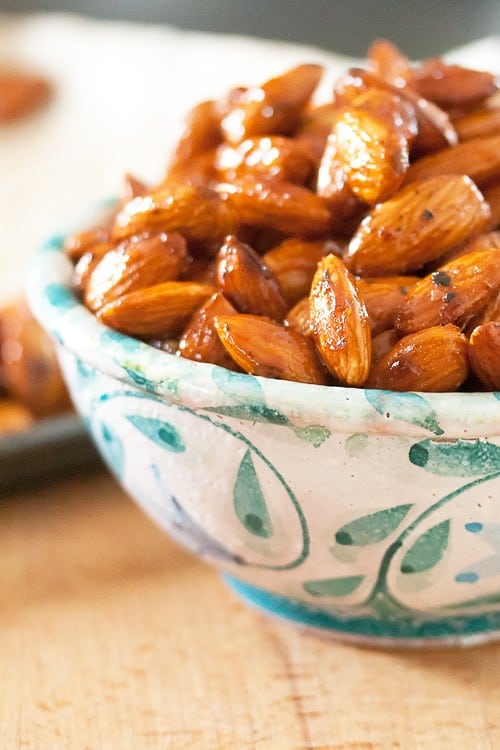 Salty things, in particular, are my weakness. While some people have a sweet tooth, what I have is most definitely a salt tooth.
I'll take the cheese plate over dessert after a fancy meal (unless there's creme brulee involved, that is), I can snarf down an entire container of olives in the blink of an eye, and I can easily make a meal from the antipasto cart at the supermarket.
(High blood pressure? What's that?)
Put all that together, and it's obvious that salty little snacky bites like these honey-coated almonds are totally my kryptonite.
So much so that, in fact, that I may have eaten one of these suckers straight off the tray as soon as they came out of the oven. I may or may not have also burned my tongue on molten-hot honey glaze. Maybe. Patience isn't exactly my strong suit. :)
So yes, I do recommend letting the almonds cool off *completely* before snagging a handful. I also recommend putting the jar on a really high shelf, so that you're not tempted to eat the whole batch in a single sitting... particularly if you're planning on serving these to guests.
No, really. I eat these so compulsively they may as well be coated in crack. (Though that may have something to do with the fact that smoked paprika qualifies as an addictive substance in my house.)
Even with a burned tongue, these are wickedly good.  They're salty and sweet and spicy and smoky all at once.
Quite honestly, if these hadn't already been earmarked for guests coming over later that day, there's a very good chance The Boy and I might have eaten the whole darn batch in a single sitting.
Lastly, I recommend putting out a very small bowl, lest your guests also find these almonds so tasty that everyone is too full to eat by the time the main course comes around.
Save the rest to snack on another day... like, tomorrow.
(Most important of all, though, I recommend not forgetting to put out the darn nuts when your guests arrive. Not that it's ever happened to me or anything.)
//
Print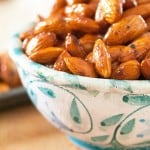 Honey-Thyme Roasted Almonds
---
Author:

Total Time:

30 minutes

Yield:

1

0

1

x
Description
These roasted almonds have a sweet, salty and smoky flavour that makes them utterly irresistible. Serve as a pre-dinner snack with an apperitif cocktail or as an accompaniment for an after-dinner cheese plate.
---
3 cups

raw almonds

2 tbsp

olive oil

¼ cup

fresh thyme, finely chopped

½ tsp

smoked paprika

½ tsp

kosher salt

2 tbsp

honey
---
Instructions
Preheat the oven to 350F. Line a large baking sheet with parchment paper or foil.
In a medium sized bowl, toss the almonds with the olive oil, thyme, paprika and salt until thoroughly coated. Spread out in an even layer on the prepared baking sheet, and bake for 15 minutes or until lightly toasted. Remove from the oven and transfer to a mixing bowl, leaving the oven on.
Drizzle honey over the almonds, and toss until evenly coated. Return the almonds to the baking sheet, spreading out in an even layer. Continue baking until almonds are toasted and golden-brown, about 12-15 minutes longer.
Let cool to room temperature, then transfer to a pretty bowl and serve. Leftovers will keep for around a week in an airtight container.
Prep Time:

5 mins

Cook Time:

25 mins