This is the time of year when our little vegetable patch goes into overdrive, leaving me with enough freshly-picked vegetables to feed a small army (or perhaps just a hungry couple of gardeners).
We slacked off a little this year, having planted just a handful of things much later than usual - just beans, tomatoes, peppers and basil for us, seeing as the big planting day we usually have in late May had to be deferred to late June, post-wedding and honeymoon.
Even so, we have beans. Oh my goodness, do we ever have beans.
The first few batches are always done as simply as possible, usually with just a little butter and salt and pepper.
After that come the fancier preparations - tossed with pistachio pesto, chilled and paired with new potatoes and a creamy dressing,
And then there's this brilliant little quickie of a side dish, which is shamelessly cribbed from a beautiful meal I once ate at Campagnolo, one of my very favourite nice-but-not-stuffy spots to grab a nice meal in Toronto. (Sadly, now closed.)
It's about as easy as they come - all you need is a sharp knife and a sizzling-hot pan to transform a handful of humble ingredients into this colourful side dish of tender-crisp beans, paper-thin slices of toasted garlic and shards of bright red hot chili.
The trick is to watch the garlic like a hawk when it first hits the pan.
It will go from that perfect toasty brown to acrid bitter black in a matter of moments, so you absolutely must remove the pan from the heat the moment the garlic starts to take on some colour.
Then immediately dump in the beans, toss everything around enthusiastically, and serve.
I like to mix wax beans and green beans, because it makes for a particularly pretty combination (and because I have both in the garden this year), but just wax or just green is perfectly fine.
It's everything I love about late summer in one bowl - bright colours, fresh ingredients, gorgeous colours and fabulous flavours.
It's also the perfect companion for the simple grilled meats or sausages that are the mainstay of my summertime diet.
I could easily eat this every night. Which is good, because at the rate our little garden is going, there's a good chance we'll be eating beans for breakfast, lunch and dinner for the next little while.
//
Print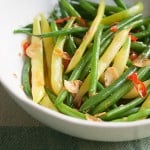 Beans with Toasted Garlic and Chili
---
Author:

Total Time:

15 mins

Yield:

4

1

x
Description
This easy summertime side dish pairs tender-crisp beans with paper-thin slices of toasted garlic and slivers of bright red chili. It's prettiest made with a mix of wax beans and green beans, but feel free to use any kind of string beans or flat beans you have on hand.
---
1

pound green beans or wax beans, trimmed

2 tbsp

olive oil

4

cloves garlic, very thinly sliced

1

medium-sized red hot chili, thinly sliced
Salt and pepper
---
Instructions
In a large pot of boiling, salted water, blanch the beans for 3-5 minutes, or until tender-crisp. Immediately transfer to an ice water bath to stop the cooking process. Drain and set aside
In a large skillet set over medium-high heat, heat the oil. Add garlic and chili, and cook until the garlic starts to turn golden brown, about 1-2 minutes. Remove from heat, and add the beans. Toss to combine, and season to taste with salt and pepper. Serve right away.
Prep Time:

5 mins

Cook Time:

10 mins

Category:

Side