The favas are back! The favas are back!
I may have done a little dance of joy when I accidentally stumbled upon a basket of fava beans a couple of weeks ago as I combed the greengrocers of Kensington Market for pizza fixin's.
Particularly because it wasn't just any basket of fava beans, either, but one that hadn't yet been picked over by the usual bevy of little old ladies of indeterminate European origin who normally congregate around the fava beans like seagulls around a french fry truck.
I nervously glanced around for signs of knee-high support hose or orthopedic shoes anywhere in the vicinity. Upon confirming the coast was clear, I swiftly filled a bag with the precious emerald-green pods before the grannies could descend upon the undefended basket.
Much to my surprise, not a single little old lady came by to muscle me out of my prime picking spot... perhaps the early start to this year's season must have caught them off-guard?
I'm not one to look a gift horse (or fava) in the mouth, though.
Back at home, I carefully extracted the beans from their velvety cocoons, ending up with just a little more than a cup and a half of plump beans.
Favas really are best in simple recipes which let their flavour shine through.
For this particular batch, that meant a quick blanching to remove the tough outer skin followed by a quick toss in hot oil with red onion, chopped mint, salt and pepper. From there, it's as simple as spooning onto thick slices of toasted bread smeared with ricotta for a quickie spring appetizer.
The payoff? A two-bite canape that's like a breath of fresh spring air, minus all the allergy-inducing pollen.
The soft creaminess of the ricotta blunts the favas' slight bitterness without overpowering it, while the mint and lemon keep everything bright and fresh and lively.
Victory never tasted so good. Better luck next time, little old ladies.
//
Print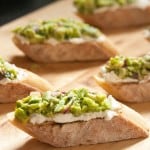 Fava and Ricotta Crostini
---
Author:

Total Time:

25 minutes

Yield:

8

1

x

Diet:

Vegetarian
Description
These simple two-bite appetizers are a great way to kick off a spring dinner party, or turn them into meal-sized open faced sandwiches by substituting thick slices of crusty Italian bread for the baguette.
---
Crostini Toasts:
2

cloves garlic, cut in half

8

slices of crusty baguette, cut ¾" thick on the diagonal

2 tbsp

olive oil
Fava and Ricotta Topping
1 ½ cup

shelled fava beans (~

1.5

lbs in the pod)

2 tbsp

olive oil, divided

¼ cup

finely chopped red onion

2 tbsp

lemon juice

½ tsp

lemon zest

2 tbsp

roughly chopped fresh mint
Salt and pepper, to taste

1 cup

full-fat ricotta cheese
---
Instructions
Rub slices of baguette with garlic cloves and brush lightly with olive oil on both sides. Lightly toast under a hot broiler (or on a hot grill, if you're thusly inclined). Set aside.
Meanwhile, in a large pot of boiling unsalted water, cook shelled fava beans until tender, about 6 to 8 minutes. Drain and let cool, then carefully peel off the tough outer skin from each bean.
Heat 1 tbsp olive oil in a medium saute pan set over medium-high heat. Saute onions for 5-7 minutes, or until soft and just starting to colour. Stir in favas and cook for another 3-4 minutes or until warmed through.
Transfer the cooked favas to a medium bowl. Toss the warm favas with remaining tbsp olive oil, lemon juice, lemon zest and mint until combined, then mash slightly with the back of a fork to create a chunky spread of sorts. Season to taste with salt and pepper.
Arrange the prepared toasts on a serving platter. Spread each slice with 2-3 tbsp ricotta, then spoon favas on top, dividing evenly among the crostini. Drizzle with a bit more olive oil, and serve immediately.
Prep Time:

15 mins

Cook Time:

10 mins

Category:

Appetizers

Method:

Stovetop

Cuisine:

Canadian