For my second mission for the Canadian Tire Kitchen Crew, I received a Kitchen Aid Stoneware 5 Piece Set. The set includes five rectangular baking dishes in a very Thanksgiving-appropriate shade of cranberry red - one large 9x13" dish, two medium 9x6" dishes and two smaller 6x4" dishes.
The dishes are all oven, microwave and dishwasher-safe, and they're pretty enough to double up as serving dishes, which means one less thing to wash after dinner. The whole set is also designed to nest together neatly for tidier storage, another bonus for those of us with small kitchens.  All in all, a handy little addition to my collection of bakeware.
Along with the set, I received a slip of paper with the following challenge:
Thanksgiving. To some, Thanksgiving doesn't really have any special meaning, and likely means a box of takeout and a phone call home.  Your mission this week is to create recipes to help such people create new traditions of their own.  From side dishes to the main event - anything goes!
So for my first recipe, I decided to tackle the centerpiece of the Thankgiving spread: the turkey.
Sure, there are plenty of other traditional dishes that some people can't imagine going without at Thanksgiving, like Aunt Mildred's green bean casserole, Aunt Gretchen's marshmallow-topped sweet potatoes and Aunt Hortense's roasted brussels sprouts.
But even Aunts Mildred, Gretchen and Hortense would have to agree that their dishes are merely supporting players for the main event - a stuffed turkey so enormous that even the stoutest of tables groans beneath its weight. You just can't have Thanksgiving without a turkey.
The thing is, when you're doing Thanksgiving dinner for just the two of you, as The Boy and I usually do, the prospect of roasting an entire turkey can be a little daunting.
There's the frantic struggle to clear a big enough space in the refrigerator to let it defrost days in advance. The alarm buzzer at the crack of dawn so that the behemoth-sized bird can be filled with stuffing and heaved into the oven to roast all day. The cavalcade of side dishes to be prepared in the meantime.
And when it's all over, there's still the leftovers. Oh yes. That neverending stream of turkey sandwiches, turkey casseroles, turkey tacos, turkey soup and turkey a la king for weeks on end, until you start to feel a little like a stuffed turkey yourself.
While I appreciate a challenge as much as the next gal, I still have my limits.
That's what makes stuffed turkey breasts so wonderful. They've got all the perks of a traditional roast turkey (unless you're one of those dark-meat-only people), and none of the drawbacks.  They're easier to carve than a turkey (just slice and go), they're , they're utterly delicious, and best of all, they're a very reasonable size even when there's just two of you.
For this recipe, I stuffed my turkey breast with a blend of traditional Thanksgiving flavours like apples, chestnuts, pancetta and sage, and finished it off sprinkle of herbes de provence.
You can find split turkey breasts in the poultry section of most supermarkets pretty much year-round, though more often than not they're sold bone-in and skin-on - I find most butchers will remove the bone for you if you ask nicely enough, or you can debone them yourself using a sharp knife and a steady hand.
With the addition of a few simple side dishes like roast sweet potatoes, baked squash and steamed green beans with a sprinkle of toasted pine nuts and dried cranberries, you'll have the makings of an easy and elegant Thanksgiving feast that everyone will be thankful for... including you, mostly because you won't be eating turkey sandwiches for the next two months.
PS - Stay tuned for part two of this mission later this week. It involves an easy Thanksgiving dessert that'll round out this meal perfectly!
Disclosure:
I was provided with compensation, including a free Kitchen Aid Stoneware 5 Piece Set, in exchange for creating this post for the Canadian Tire Kitchen Crew series.
The Kitchen Crew series highlights my stories, recipes & tips with promotional consideration made possible by Canadian Tire. If you want to uncover your kitchen's true potential, stay tuned to the Kitchen Crew for my weekly missions.
//
Print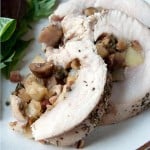 Stuffed Turkey Breast with Apples and Chestnuts
---
Author:

Total Time:

1 hour 50 mins

Yield:

4

1

x
Description
Boneless turkey breasts filled with a sage-scented apple, fennel and chestnut stuffing make an elegant (and easy!) twist on the traditional Thanksgiving turkey dinner.
---
½ cup

diced pancetta

2 tbsp

olive oil, divided

½ cup

finely diced onion

¼ cup

finely diced fennel

2

cloves garlic, minced

1

Royal Gala apple, peeled and finely diced

½ cup

cooked and peeled chestnuts, roughly chopped

5

-

6

leaves fresh sage, finely chopped

¼ cup

dry white wine or apple cider
Salt and pepper

1

boneless, skinless turkey breast half (~

2

lbs)

2 tsp

herbes de provence
---
Instructions
Preheat oven to 350F.
In a medium saucepan set over medium heat, cook the pancetta in 1 tbsp olive oil until browned and crisp, about 5 minutes. Use a slotted spoon to transfer to a small bowl, and set aside.
Add onion and fennel to the pan, and continue cooking until onion is soft and translucent, about 7-10 minutes. Add apple, chestnuts and sage, and stir in white wine or cider. Cook for 7 minutes longer, or until onions are very soft and most of the liquid has cooked off. Season with salt and white pepper to taste. Set aside to cool.
Meanwhile, use a sharp knife to butterfly the turkey breast by slicing through the middle of the breast with the knife parallel to the cutting board, almost but not all the way through, and opening up like a book.
Place the butterflied breast between two pieces of plastic wrap. Using a mallet or the bottom of a heavy skillet, flatten to ½" thickness.
Remove the plastic, and generously season the inside of the breast with salt and pepper. Spoon the cooled filling onto the left side of the turkey, then fold over the right side. Tie up with kitchen twine at 2" intervals. If any stuffing escaped during this process, simply push it back in once the turkey breast is bundled up with twine and secure the ends with toothpicks, if necessary.
Rub the outside of the roast with 1 tbsp olive oil, and sprinkle with herbes de provence and more salt and pepper. Transfer to a 9x13" baking dish, and cover loosely with foil.
Roast turkey in preheated oven for 1 hour, then increase heat to 400F and remove foil. Continue baking for 15-25 minutes longer, basting occasionally with pan drippings, until a meat thermometer registers an internal temperature of 165F and juices run clear. Let stand for 15 minutes, then cut into thick slices to serve.
Prep Time:

20 mins

Cook Time:

1 hour 30 mins

Category:

Main

Method:

Baked

Cuisine:

Canadian