If you've been anywhere near Toronto for the past few weeks, you'll know that the weather hasn't exactly been conducive to thoughts of throwing a big Cinco de Mayo party.
It's been cold. And rainy. And all kinds of blah.
So when I received a guacamole kit courtesy of Miss Ava Cado so that I could prepare for their blogger guacamole recipe challenge, I have to admit I was stumped.
Miss Cado's minions were kind enough to include pretty much everything I needed to make a kick-ass guacamole, including jalapenos, limes, onions, and (most importantly) four buttery-soft Hass avocados from Mexico.
However, they couldn't manage to send me the most critical ingredient of all... it seems that warm, sunny Mexican weather just can't be sent by courier. Though, in their defence, the did try to make up for it with a package of sunny yellow napkins.
Seeking Inspiration from the Avocado Muse
So I sat on a grey drizzly day, contemplating my avocados and waiting for inspiration to strike. I needed to make my guacamole extra-special - something appropriately celebratory to fit the Cinco de Mayo theme, and impressive enough to catch the eye of Mexico's sultry avocado ambassador, Miss Ava Cado herself.
When my attempt to play Avocado Whisperer failed to deliver inspiration, I decided it was time to bring in the big guns. I donned a sombrero, put some mariachi music on the stereo, and whipped up a blenderful of margaritas.
Maybe it's the margaritas that did it, but after a couple of drinks, inspiration finally struck. I'd make a Mexican twist on classic old-school shrimp cocktail - a fabulously creamy grilled avocado guacamole paired with jumbo margarita-marinated shrimp.
Want a More Delicious Guacamole? Grill It!
Yes, you heard me right. Grilled avocado guacamole. That wasn't a tequila-induced typo.
While avocados don't generally take well to being cooked, Hass avocados can be briefly exposed to heat without any adverse effects - which means they're an ideal choice for grilling.
The trick is to pick avocados that are just barely ripe, with a glossy dark greenish-black skin and flesh that just barely yields to pressure, and then to grill them over a medium-high flame just long enough to create a few dark brown char marks on the bright green flesh.
A Mexican-Inspired Twist on the Shrimp Cocktail
The end result of using grilled avocado is a subtly smoky and luxuriously creamy guacamole.
It's quite lovely with nothing more than a pile of tortilla chips, but it's even better paired with a quartet of jumbo shrimp. Especially when said shrimp have been grilled to pink perfection after ever-so-briefly marinating in a margarita-inspired mixture of tequila, lemon, lime, and jalapeno.
When combined, you've got yourself a wonderfully sunny twist on the shrimp cocktail. I mean, who needs cocktail sauce when you've got a gorgeous scoop of guac instead?
How to Serve Margarita Shrimp and Grilled Guacamole
For a properly festive starter to a Cinco de Mayo fiesta, fill martini glasses with a generous dollop of guacamole and carefully dangle shrimp on the rim.
Add a six-pack of ice-cold Mexican beer, some lime wedges and a basket of tortilla chips, and you've got yourself an instant Cinqo de Mayo party (mariachi band entirely optional).
Leftovers (assuming you have any) make fabulous burritos - start with a large flour tortilla, top with Mexican yellow rice, leftover shrimp, your favourite fixin's (tomatoes, olives, sour cream, cheese, etc) and a spoonful of leftover guacamole. Ole!
--
Disclosure: In return for my participation in the Guacamole Challenge, I was provided with a complimentary guacamole-making kit and ingredients by Avocados from Mexico.
For more information about Mexican avocados and other delicious avocado recipes, please visit Miss Ava Cado.
//
Print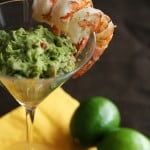 Margarita Shrimp with Grilled Avocado Guacamole
---
Author:

Total Time:

40 minutes

Yield:

4

1

x
Description
A Mexican-style twist on shrimp cocktail - grilled shrimp marinated with a margarita-inspired mixture of tequila, lemon, lime, and jalapeno paired with a subtly smoky guacamole made from grilled avocados.
---
Margarita Shrimp
¼ cup

gold tequila

1

jalapeno pepper, seeded and minced

½ tsp

salt

1

lemon

1

lime

1

lb jumbo (

16

-

20

count) uncooked shrimp, peeled and deveined
Guacamole
3

firm-ripe Mexican Haas avocados

½ cup

finely chopped red onion

4

-

6

cloves garlic, finely minced

1

jalapeno pepper, seeded and minced

2 tbsp

chopped fresh cilantro
Juice of

2

limes
Juice of

1

lemon

½ tsp

salt

1

small plum tomato, seeded and chopped (optional)
Accompaniments
Tortilla chips
Lime wedges
---
Instructions
Marinate the Shrimp:
In a large zip-seal plastic bag, combine the tequila, jalapeno and salt. Zest and juice the lemon and lime, and add to the marinade. Add shrimp. Seal the bag closed and shake to evenly coat the shrimp with marinade. Transfer to the refrigerator, and marinate for at least 30 minutes. (Warning! Do not marinate for more than one hour - any longer, and the acid from the citrus will begin turning the shrimp to ceviche).
Grill the Avocados and Shrimp:
Meanwhile, preheat a gas or charcoal grill on low heat. Lightly oil the grate.
Halve each avocado lengthwise. Remove and discard the pit. Lightly oil the cut surfaces.
Arrange the avocado halves cut side down on preheated grill. Cover and grill for about 3-5 minutes, just long enough to char marks on the avocado flesh. Transfer to a platter and set aside to cool.
Turn up the heat on the grill to high, and lightly oil the grate again.
Remove shrimp from the the marinade and arrange on the grill. Discard the marinade. Cook shrimp for about 2-3 minutes per side, or until bright pink and opaque. Transfer to a platter, and set aside until ready to assemble the cocktails.
Prepare the Guacamole:
When ready to serve, prepare the guacamole. Using a fork, scoop the avocado flesh into a mixing bowl, and mash until slightly chunky (or until completely smooth, depending on your preference). Stir in onion, garlic, jalapeno, cilantro, lime juice and salt. Add tomato, if using.
To assemble the cocktails, spoon the guacamole into four martini glasses, then dangle four shrimps from the rim of each glass. Serve with a basket of tortilla chips and extra lime wedges.
Prep Time:

30 mins

Cook Time:

10 mins