Hi folks.
That's how my Secret Recipe Club buddy for this month begins all of her posts, so it seemed rather appropriate to start off my post the same way.
If you're one of her regular readers, you've probably guessed by now... my buddy for April is none other than Kim at Cravings of a Lunatic.
True confession. I may have done a bit of a happy dance when I got my assignment, because I already read her blog on a regular basis.
I've learned a few things about Kim from reading her blog for the past year-and-a-bit. (BTW, a very happy belated blogoversary, Kim!)
First off, just like you'd expect from her opening line, Kim's posts are always friendly and genuine.
This lady totally keeps it real, and has no problem laughing at herself. Plus, she's a fellow Canadian, to boot!
Also, she loves her some horses, has a major thing for Turtles candies, knows her way around an ice cream maker and has some pretty clever uses for mason jars. Oh, and she makes a pretty kick-ass pizza, too.
I'm on a bit of a pizza kick myself at the moment myself, so I decided to recreate her Killer Spicy Pizza Dough, a kicked-up pizza base seasoned with a generous amount of Italian herbs, garlic, onion and hot chili that Kim whips up in her bread machine.
I followed the recipe fairly closely, though I had to use my stand mixer to knead the dough since we gave away our bread machine away a while ago to make room for a meat grinder (what can I say... a gal's gotta have her priorities).
I also swapped out the shortening with extra-virgin olive oil, and added dried marjoram and grated parmesan to the mix just for the heck of it.
I used the first half of the dough to make some spicy calzones stuffed with hot salami, red peppers, mushrooms, olives and arrabiata sauce, and then baked up the second half a couple of days later into the de-lovely pizza pictured here.
In both cases, we were really happy with the results.
The crust was beautifully crusty on the outside and pillowy soft on the inside, and the flavour was nothing short of amazing thanks to all the baked-in herbs and spices (especially the heat from the whopping tablespoon of red pepper flakes!).
It's so good, in fact, I'm half tempted to eat on its own next time, maybe with just a smidge of garlic butter and a dusting of parmesan. Can you say seriously kick-ass soft breadsticks? Yes. Definitely.
Thanks for a truly Killer Pizza, Kim!
//
Print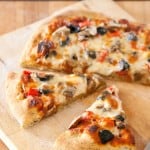 Spicy Pizza Dough
---
Author:

Total Time:

1 hour 45 minutes

Yield:

8

1

x
Description
Once you've tried this herb-and-spice filled dough, you'll never go back to plain ol' pizza crust again.
---
1 cup

warm water

2 tbsp

sugar

1 tbsp

olive oil

1 ½ tsp

instant dry yeast

1 teaspoon

salt

2 ¾ cups

flour

¼ cup

grated Parmesan cheese

1 tbsp

garlic powder

1 tbsp

onion powder

1 tbsp

oregano

1 tbsp

basil

1 tbsp

marjoram

1 tbsp

red pepper flakes
---
Instructions
In a small bowl, combine the warm water, sugar, olive oil and yeast. Stir until the yeast dissolves, then set aside to proof for 5 minutes or until slightly foamy. (If the mixture doesn't foam, your yeast is too old - toss it out and start again with a fresh packet of yeast.)
Meanwhile, combine the remaining ingredients in the bowl of a stand mixer fitted with a dough hook. Pour in the proofed yeast, and begin mixing on medium-low until the dough starts to come together. (If the dough looks dry or crumbly, add some water, a tablespoon at a time, until it comes together.)
Increase the speed to medium, and knead for 5-7 minutes or until the dough is soft and elastic.
Shape the dough into a ball, and transfer to a large lightly oiled bowl, turning the ball over to coat the entire surface with oil. Cover with a clean dishtowel and set aside in a warm, draft-free spot to rise until doubled in size, about 1 to 1 ½ hours.
Once the dough has doubled, punch down, then let rest for 5 minutes before shaping. The finished dough can be used in any recipe that calls for a regular pizza dough - you'll have enough to make two twelve-inch pizzas, or four large calzones.
Prep Time:

1 hour 30 mins

Cook Time:

15 mins