There's something about cold snowy days that makes me crave freshly-baked bread.
I suppose it's because it's the perfect excuse to stay indoors on a wintry day, while the steam from the oven fogs up the kitchen windows and gently blurs the landscape outside into indistinguishable shapes in different shades of white.
So when we returned from spending Christmas in Rhode Island to find Toronto almost knee-deep in fresh snow, I knew it was a sign I'd picked just the right recipe for this month's Secret Recipe Club post - a giant triple-loaf recipe for Limpa, a Swedish rye bread perfumed with orange, fennel and caraway seed.
Meet This Month's Blogger
The recipe comes from Ewa, my SRC buddy for January, by way of her blog Delishhh.
I discovered her blog when I first joined the Secret Recipe Club a little more than a year ago, and I've been a fan ever since.
I love her beautiful photos, and her eclectic mix of recipes that reflect her Swedish heritage, her Asian upbringing and her current life in the US.
How I Made the Recipe my Own
Needless to say, I knew right away that I had to make one of Ewa's traditional Swedish recipes.
I've been dying to get more familiar with Scandinavian food, since my experience with it is pretty limited. I'm pretty sure that my occasional forays into the Ikea cafeteria are not the most stellar example of what Sweden has to offer, no matter how tasty those little saucy meatballs might be!
For the most part, I stuck to the original recipe, though I did replace some of the water in Ewa's version with some freshly brewed coffee to give it a little extra oomph. Coffee is totally not traditional, I'm sure, but I like the way coffee adds a subtle roastiness that plays up the brightness of the orange zest.
The Final Verdict
I'm pleased to say that this bread was just the thing I needed on a cold, snowy day.
The texture reminds me a little of pumpernickel, with its thin, soft crust and dense, hearty crumb. It's also surprisingly sweet, though not so much so that it feels out of place next to a savoury dish, and the delicate citrus and licorice aroma is totally unlike the tangy (and sometimes outright sour) Eastern European ryes that I grew up on.
We devoured it still warm from the oven the first night, cut into thick slices with lots of butter alongside bowls of split pea soup.
It was equally good the following morning, lightly toasted with a generous layer of homemade whiskey marmalade with big mugs of coffee and juicy clementines on the side.
And again a little later that day, when lunchtime rolled around, sliced a little thinner and sandwiched around slices of black forest ham and gouda cheese with a dab of dill mustard.
Honestly, I can't stop eating this bread. I guess it's a good thing that this recipe makes three loaves!
From the looks of it, we'll be in for lots of cold snowy days this winter of 2013, so I'm hoping that means I'm also in for a few more afternoons spent in a warm sun-filled kitchen with fogged-over windows, nibbling on a slice of freshly baked bread slathered with as much butter as it can possibly stand.
//
Print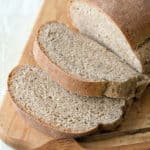 Limpa (Swedish Rye Bread)
---
Author:

Total Time:

4 hours

Yield:

3

0

1

x
Description
A traditional Swedish rye loaf - subtly sweet with hints of orange, caraway and fennel. Absolutely perfect when sliced thick and toasted, preferably with a generous slathering of melting butter or chunky orange marmalade. This recipe makes 3 large-ish loaves, so either plan to give some away or make some room in the freezer to store the extras.
---
3 cups

water

1 cup

strong brewed coffee

1 cup

sugar

1 ½ tbsp

caraway seeds

2 tsp

fennel seeds

2 tbsp

butter

2 tsp

grated orange rind

4 tsp

active dry yeast

6 cups

all purpose flour

2 cups

whole wheat flour

2 cups

rye flour

2 tsp

salt
---
Instructions
Prepare the Sponge:
In a small saucepan set over medium-high heat, bring water, coffee, sugar, caraway, fennel, butter and orange rind to a boil. Cook for about 3 minutes, or until butter is melted and sugar is completely dissolved. Remove from heat and let cool until lukewarm.
Meanwhile, stir together all-purpose flour, whole wheat flour and rye flour in a large bowl. Measure out 4 cups of this mixture into a small mixing bowl, and set aside to use in the first rise. (You should now have 6 cups of flour left in your bowl.)
Pour the cooled water and coffee mixture into the bowl of a stand mixer fitted with a dough hook. Add yeast, and mix on medium speed until well combined. Gradually add the 6 cups of flour, mixing until you have a very soft and elastic dough.
Scrape the sponge into a large lightly buttered mixing bowl, and cover with a clean dishtowel. Place in a warm, draft-free spot to rise until double in size, about 1 ½ hours.
First Rise:
Once the sponge has doubled in size, punch the dough down and knead in the salt and reserved 4 cups flour using your hands or a stand mixer fitted with a dough hook. Dough should feel smooth and elastic.
Transfer the dough to a large lightly buttered bowl and let it rise again until it doubles in size, about 1 hour.
Shaping and Second Rise:
Once the dough has once again doubled in size, transfer to a clean, lightly floured work surface and knead for 2-3 minutes or until smooth.
Divide the dough into 3 equally-sized pieces, and shape each one into a chubby oval loaf roughly 10" long. Arrange the loaves on a large cookie sheet lined with parchment paper (don't worry if the loaves are very close together - this is fine).
Cover with a clean dishtowel, and let rise again for about 30-45 minutes, or until roughly doubled in size. It's okay if the sides of the loaves are touching by this point.
Baking the Bread:
Shortly before the loaves are done their second rise, preheat oven to 350F.
Bake the loaves in preheated oven for 1 hour, or until tops are dark brown. If the crust starts to brown too quickly, tent with foil for the last 15 minutes of the baking time to avoid burning.
Let cool for 5 minutes, then transfer to a wire rack to cool completely (or dig in while the bread is still warm, if you don't want to wait that long.)
Prep Time:

3 hours

Cook Time:

1 hour

Category:

Bread