I discovered anise hyssop quite by accident last summer, when I picked up a small seedling of Blue Flame Hyssop at the local garden centre. I was lured by the promise that it would be tough enough to survive the combination of shade and neglect that is my garden, and its pale purple blooms.
A year later, my little seedling has grown into a sprawling metre-tall bush beside my front door.
For most of the summer, it cheerfully greets me each morning with a wave of its feathery spears of lavender-blue flowers, filling the air with the happy buzzing of the local bumblebees who can't resist its sweet smell.
Even then, it was only a couple of months ago that I realised exactly just how lucky I'd gotten with this little gem.
As I was snipping off a few sprigs of hyssop to use in the backdrop for a Blackberry-Verbena Soda, the air filled with a heady scent of black licorice. Immediately, a little voice in my head whispered "Something that smells THIS delicious has got to be edible, right?" (Because apparently my brain is always in search of new things to eat, even when I'm gardening)
Anise Hyssop: The Incredible, Edible Herb
A little research on the internet quickly confirmed my suspicions.
As it turns out, anise hyssop (or licorice mint, as it's sometimes called) is an indigenous North American plant that was appreciated by Native Americans as a breath freshener and medicinal herb.
It thrives in a variety of growing conditions, is a favourite with our friendly neighbourhood pollinators, and happily blooms from July through to the last frost.
But best of all, it's both the leaves and blossoms of the hyssop are completely edible, with a flavour that's best described as anise with a hint of mint, which means that hyssop can be used almost anywhere you'd use basil, mint or tarragon.
Giving Homemade Ice Cream an Herbal Spin
For this recipe, I've used hyssop leaves to infuse the milk for a blueberry ice cream that echoes the lavender-blue colour of the hyssop blossoms, adding a shot of bright green Pernod liqueur for an extra anise-scented boost.
It's a really lovely combination. In fact, the scent of the custard was so mouthwateringly licoricy that I found myself hovering over the ice cream maker with spoon in hand like an anxious bumblebee buzzing around a hyssop blossom, waiting for my first taste.
I'm not ashamed to admit that the bowl in these photos lasted all of two minutes after I finished taking my shots. It's seriously good stuff.
What to Do if You Can't Get Hyssop
Obviously, it would be silly of me to expect everyone to plant hyssop in their yard just to make this recipe (though I certainly wouldn't discourage it, either).
If you have an herbalist in your neighbourhood, you may be able to find some dried hyssop there.
And if not, you can also substitute another licorice-scented herb, like tarragon or Thai basil, for a slightly different flavour profile.
If you're interested in learning more about this under-appreciated herb, here are a couple of very informative posts over on Chow and Healthy Green Kitchen.
//
Print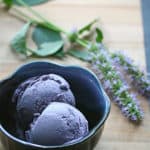 Blueberry-Hyssop Ice Cream
---
Author:

Total Time:

3 hours 40 mins

Yield:

1

0

1

x
Description
This brilliantly purple ice cream pairs fresh blueberries with anise hyssop, a native North American herb that has pale purple blossoms and a sweet licorice flavour. If you can't find hyssop, substitute any other licorice-scented herb, such as Thai basil or tarragon.
---
2 cups

milk

1 cup

roughly chopped anise hyssop leaves

2 ½ cups

fresh blueberries, washed and picked over

2 tbsp

lemon juice

1 cup

heavy cream

¾ cup

sugar

6

egg yolks

2 tbsp

anise liqueur, such as Pernod
---
Instructions
In a small saucepan, bring milk to a simmer over medium-high heat. Remove from heat. Add the hyssop leaves, then cover and let steep for about 30-45 minutes.
Meanwhile, combine the blueberries and lemon juice in a second saucepan, and bring to a boil over medium-high heat. Cook for 5 minutes, or until the blueberries begin to burst and release their juices. Puree with an immersion blender, then set aside to cool to room temperature.
Once the milk is sufficiently infused, strain out the hyssop leaves and discard. Stir in cream, and bring to a simmer again over medium-high heat.
Meanwhile, in a large mixing bowl, whisk together egg yolks and sugar. Ladle in a small amount of the warm milk mixture, whisking vigorously to keep the eggs from curdling. Slowly pour in the remainder of the warm milk, one or two ladlefuls at a time, whisking constantly as you go.
Once all the milk has been incorporated into the eggs, pour mixture back into the saucepan. Cook over medium heat, stirring constantly and scraping the bottom of the pan, until mixture thickens enough to coat the back of the spatula (a silicone spatula is your best friend when it comes to custard-making - if you don't have one, get one. It's worth it). Remove from heat.
Pour the blueberry puree through a sieve into a clean bowl, pressing on solids with back of a spoon. Stir in the custard and Pernod, then cover with plastic wrap. Chill custard in refrigerator for at least 2-3 hours to ensure it's thoroughly chilled before pouring into your ice cream maker and freezing as per manufacturer's instructions.
Prep Time:

3 hours 30 mins

Cook Time:

10 mins

Category:

Dessert