Inspiration can be a funny thing, sometimes.
Random flavour combinations have a habit of getting stuck in my head, rattling around in my brainpan until they blossom into full-blown cravings, sometimes transforming along the way into something quite different than the original inspiration.
Take these Fig and Black Pepper Biscotti, for example.
It all started with a gorgeous Fig and Black Pepper Latte that the de-lovely Kris at 80twenty posted on her blog just a few short weeks ago.
Into my head it went, bouncing along my synapses, evolving as it went from Kris's soothing creamy latte to crisp biscotti dotted with chunks of fig and just the subtlest dash of black pepper.
Why biscotti, instead of all the other possibilities my work-addled brain could have dreamed up? Damned if I know.
What I do know, however, is that this may be the only biscotti recipe I ever make from now on, because it's a positively brilliant combination of flavours.
Part of the reason that the combination works so well is that biscotti dough is something of a blank canvas when it's stripped down to its most basic components of flour, sugar, baking soda, salt and egg, which means that the real star of the show is all the other stuff that gets mixed in.
In this case, that means it's all about the almost-savoury blend of orange zest, crushed fennel seed and black pepper that flavours the dough, contrasting against the natural honey-like sweetness of the Black Mission figs.
The resulting cookies are wonderfully crisp (all the better to go with a strong espresso), and subtly spiced with a gentle peppery heat that first hovers on the edge of awareness before building up to a warm tingle. They're not spicy, per se, so much as they are spiced.
I've yet to get around to trying that Fig and Black Pepper Latte, but if it's half as good as the cookies it inspired, it's gotta be worth it. (Especially if I manage to save a couple of these biscotti to dunk in it!)
//
Print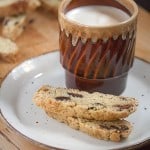 Fig and Black Pepper Biscotti
---
Author:

Total Time:

50 mins

Yield:

3

6

1

x
Description
These biscotti pair the natural sweetness of black mission figs with the gentle warmth of black pepper in a crisp dunkable cookie.
---
2 ½ cups

all-purpose flour

¾ cup

sugar

2 tsp

fresh ground black pepper

1 tsp

baking soda

½ tsp

kosher salt

1 tbsp

fennel seed

1 cup

coarsely chopped dried figs

3

eggs

1 tablespoon

orange zest

1 tsp

vanilla extract

2 tbsp

heavy cream
---
Instructions
Preheat oven to 350F, and line a large baking sheet with parchment paper.
In a large bowl, combine flour, sugar, pepper, baking soda and salt. Stir until evenly combined.
Using a mortar and pestle, crush the fennel seeds. Add to the dry ingredients along with the chopped figs, and stir until combined.
In a small bowl, beat eggs, orange zest and vanilla extract until frothy. Pour into the dry ingredients and combine until you have a loose, crumbly dough. Turn out onto a clean surface and, using your hands, knead lightly until you have a soft, cohesive dough.
Working on a floured surface, shape the dough into 2 logs, each about 14 inches long. Place the logs on the prepared baking sheet and press down until ½ inch high. Brush the tops with heavy cream.
Bake the biscotti in preheated oven for 25-30 minutes, or until just barely browned. Remove from oven and let stand for 5-10 minutes or until cool enough to handle. Reduce oven temperature to 325F.
Using a serrated knife, cut the cooled logs into ½" thick slices on the diagonal (you should have around 36 slices). Arrange the slices on the baking sheet, cut side up, and return to the oven to bake for 15 minutes or until crisp and lightly golden brown.
Set the biscotti on a wire rack to cool completely, then pack in an airtight container. If stored in a cool dry spot, these cookies can keep for several weeks, though they'll probaby get gobbled up much faster than that
Prep Time:

10 mins

Cook Time:

40 mins
//
Welcome to the last day of Cookie Week, hosted by Kim of Cravings of a Lunatic and Susan of The Girl In the Little Red Kitchen! We've teamed up with 10 other talented bloggers to bring you five fantastic days of cookie recipes to get you in the holiday spirit. We hope you've enjoyed this week as much as we did.
Take a look at today's posts for nine great reasons to bust out the butter and sugar this weekend: