I first discovered crema catalana in a trendy tapas bar in Barcelona. Our waiter announced its arrival with a dramatic rolling "r" (so that it sounded something like "crrrrrrrrrema catalana") and a flourish of his arms, before setting down on the table a simple terracotta ramekin of custard topped with a shell of caramelized sugar.
I was a little dubious at first, despite our waiter's showmanship. This looked far too much like an ordinary, run-of-the-mill creme brulee - and while I'm a big fan of creme brulee, I hadn't travelled all the way to Spain to eat something I'd already eaten a hundred and one times before.
Thankfully, my dismay only lasted as long as it took to tap my spoon through the hard shell of burnt sugar.
Being wrong as never so delicious as that first bite of creamy custard laced with shards of broken caramel. It was sinfully rich, subtly spiced with vanilla and cinnamon, and scented with the barest hint of citrus. This was to creme brulee as Scherezade is to Reading Rainbow - similar, perhaps, but a million times more exotic.
I fell head over heels in love on that sultry Spanish evening, and much to my delight, it turned out that I wouldn't have to hop the next flight to Barcelona the next time I got a craving - as it turns out, all the ingredients I need to assemble a crema catalana are usually found kicking around in my cozy Canadian kitchen.
(Not that I'd mind an excuse to go back to Spain, of course, but my paycheques aren't quite large enough to accomodate regular transatlantic voyages.)
The best way to get an evenly caramelized layer of sugar on your crema catalana is to use a mini blowtorch, which you can buy from most kitchen supply stores. However, if you don't want to channel your inner pyromaniac or don't have room for another gadget in your kitchen, just place the custards on a baking tray directly under a hot broiler for just a few seconds - just make sure you watch them like a hawk, because they'll go from golden to charred in an instant!
//
Print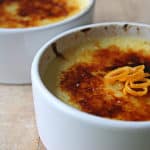 Crema Catalana
---
Author:

Total Time:

43 minute

Yield:

4

1

x
Description
Spain's answer to creme brulee, Crema Catalana has a subtly sweet custard scented with citrus and cinnamon under a crunchy layer of caramelized sugar.
---
1 ½ cups

milk

½ cup

heavy cream
Zest of

1

orange and 1 lemon, cut into wide strips

2

cinnamon sticks

4

egg yolks

¼ cup

sugar

3 tbsp

sweet sherry (optional)

1 tsp

vanilla extract

Topping:

2 tbsp

sugar
---
Instructions
In a small saucepan, combine the milk, cream, lemon and orange zests, and cinnamon sticks. Bring to a simmer over medium heat, then remove from heat and set aside to infuse, covered, for 30 minutes.
Meanwhile, preheat oven to 300F and boil a kettleful of water.
Strain the infused milk, and discard the solids. Pour the milk back into the saucepan and bring to a simmer once more over medium heat.
In a mixing bowl, lightly beat the egg yolks, sugar, sherry (if using) and vanilla extract. Slowly pour the hot milk into the egg mixture, whisking briskly as you go to keep the eggs from curdling.
Set four one-cup ovenproof ramekins into a deep baking dish. Evenly distribute custard between the ramekins. Place dish in preheated oven, then carefully fill with boiling water until it comes halfway up the sides of ramekins, being careful not to get any water into the custards.
Bake in preheated oven for 40 minutes, until custard is barely set around the edges and a little wobbly in the middle.
Remove ramekins from the baking dish, cool for a few minutes, then place in the refrigerator to cool completely, about 2 hours.
Before serving, sprinkle ½ tbsp sugar onto each ramekin. Using a small blowtorch held about 2" away from the surface of the dish, work the flame over the sugar to caramelise, making sure not to linger too long over a single spot to ensure a nice even caramelization. (Or if you don't have a torch, you can also place the sugar-topped custards under a hot broiler for 30-45 seconds, or as long as it takes for the sugar to melt into a thin layer of golden-brown caramel)
Serve right away, accompanied by a dramatic flourish of the hands and your best attempt at a Spanish-style rolled "rrrrrr".
Prep Time:

2.5 hours

Cook Time:

40 mins

Category:

Desserts

Method:

Baked

Cuisine:

Spanish