Oh hey there. I know it's been quiet around these here parts lately.
It's not that I haven't been writing. I've started and discarded a dozen drafts, but somehow, I just can't find something to say.
I suppose I could just skip the words, share a bunch of pretty pictures and jump straight to the recipe, but that seems to defeat the purpose somehow.
I could write about the weather, especially since spring has finally arrived in Toronto, in all its grey soggy glory. But that's kind of a cop-out. I mean, isn't that what we Canadians always talk about when they have nothing else to say?
I could write about work, but I'm pretty sure no one cares about the endless round of conference calls and emails and word-wrangling that is my nine-to-five.
Honestly, I only know a handful of people who actually find telecom policy interesting, and most of them happen to work with me already.
(And besides, this is my happy place where I get to write about fun stuff people actually want to read about... or at least, I hope that's the case.)
I could write about some cute thing my cats did recently, or the latest place I went to eat, or the latest trashy romance novel I just read, but there's really not much to say about all of the above.
Clearly, my life is desperately in need of excitement... only, I'm kind of enjoying this uneventful little interlude, even if it gives me absolutely nothing interesting to write about.
In the meantime, please accept these delicious buckwheat waffles as my apology. They're sweet and nutty and crisp, and when topped with a combination of boozy macerated strawberries and a drizzle of sweet maple syrup, they're just about the best possible way to kick off a lazy weekend.
(Plus, unlike most buckwheat waffle recipes, this one can be whipped up pretty much last minute... which is nice when you can't be bothered to plan ahead.)
Hm. I guess there might be some perks to having an unexciting life.
After all, it does leave more time to make (and eat) waffles.
//
Print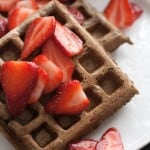 Buckwheat Waffles with Macerated Strawberries
---
Author:

Total Time:

35 mins

Yield:

4

1

x
Buckwheat Waffles:
1 cup

buckwheat flour

1 cup

all-purpose flour

2 tbsp

sugar

1 ½ tsp

baking powder

½ tsp

baking soda

½ tsp

salt

½ tsp

ground cinnamon

1 ½ cups

buttermilk

1

large egg

2 tbsp

canola oil

1 tsp

vanilla extract
Strawberry Topping:
1 pint

fresh strawberries, sliced

2 tbsp

brandy (or any other liqueur of your choice)

1 tbsp

sugar
Maple syrup, for drizzling (optional)
---
Instructions
In a large mixing bowl, whisk together the all-purpose and rye flours, baking powder, baking soda, salt and cinnamon.
In a second bowl, whisk together the buttermilk, egg, canola oil, and vanilla extract. Add to the dry ingredients, and whisk into a smooth batter. Set aside to rest for 15 minutes. Let the batter stand, uncovered, 20 minutes.
Meanwhile, in a second mixing bowl, toss the strawberries with brandy and sugar. Cover and set aside to let the berries macerate.
Preheat your waffle iron as per the manufacturer's directions. Spoon in batter (the amount will vary, depending on your waffle maker's capacity), and use a spatula to spread the batter into an even layer.
Cook for about 5-8 minutes per batch, or until the waffles are crisp and golden-brown. Repeat until all of the batter is done.
To serve, arrange waffles on plates, and spoon the macerated berries overtop. Dig in and enjoy, or finish with a drizzle of maple syrup for extra sweetness.
Prep Time:

25 mins

Cook Time:

10 mins

Category:

Brunch