There are two kinds of people in this world. There are people who have rhubarb plants and don't know what to do with their bounty, and those who don't and end up squabbling the last few limp stalks left at the greengrocer's during the all-too-brief season.
Growing up, I was the first kind of people... my sister and I would grab a stalk or two of fresh rhubarb from the patch in the backyard and cluster around the sugar bowl, taking turns dipping our rhubarb into the bowl and gnawing on the sugary ends.
These days, though, I pretty much have to beg, borrow or steal to get my hands on rhubarb once the season rolls around (all two weeks of it, that is).
At $2.50 for a small parcel of stalks, this is hardly a treat to be squandered in front of the sugar bowl. Nay, this is a rare delicacy, gentle reader, to be gazed upon in awe and treated with the reverence it deserves.
Sometimes it is paired with strawberries to make a delicate fruit crisp, sometimes it's transformed into a syrup to turn into homemade sodas, but my favourite option right now is to let it play the starring role in a moist, crumbly loaf laced with ample amounts of ground ginger, a natural complement to rhubarb's tang.
Still, after many years of living in the land of have-nots, I'm ready to make the transition back to the realm of the haves.
I've got the perfect spot in the backyard designated as a future rhubarb patch... and if all goes according to plan, by this time next year, I'll be happily ensconced in front of the sugar bowl once more with a fresh stalk of rhubarb to gnaw on.
//
Print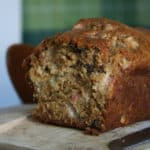 Rhubarb Loaf
---
Author:

Total Time:

1 hour 10 minutes

Yield:

1

loaf

1

x
Description
This moist, crumbly loaf makes the most of fresh rhubarb season. Warm ginger and cinnamon balance out the natural tanginess of the rhubarb, while chopped nuts add a lovely crunch.
---
⅔ cup

brown sugar

½ cup

butter, softened

1

egg

1 cup

milk

1 tbsp

vanilla extract

1

lemon, zested and juiced

2 ½ cups

flour

3 tbsp

ground ginger

1 tbsp

baking soda

½ tsp

baking powder

¼ tsp

cinnamon

¼ tsp

salt

1 ½ cups

chopped fresh rhubarb

½ cup

chopped pecans or walnuts

¼ cup

brown sugar
---
Instructions
Preheat oven to 350 degrees.
In a medium bowl, cream together brown sugar and butter. Add egg and beat until smooth.
Stir in vanilla and milk.
Zest and juice the lemon. Stir the zest into the wet ingredients, and set aside the lemon juice (it will be used to make a glaze for the finished loaf).
Sift together the flour, ginger, cinnamon, baking soda, baking powder, and salt in a separate bowl. Add the wet ingredients and stir until just combined. Fold in the rhubarb and nuts.
Pour the batter into a greased loaf pan and bake in preheated oven for 1 hour, or until a toothpick inserted into the centre comes out clean.
While the loaf if baking, stir together the reserved lemon juice and ¼ cup brown sugar in small saucepan. Bring to a simmer over low heat and stir until sugar is dissolved. Remove from heat and set aside to cool.
As soon as the loaf comes out of the oven, drizzle the lemon syrup all over the top. Place the loaf pan on a wire rack, and allow to cool off completely before transferring to a serving plate. Leftovers will keep for 3-5 days if wrapped tightly in foil or stored in an airtight container.
Prep Time:

10 mins

Cook Time:

1 hour

Category:

Desserts

Cuisine:

American