Mayonnaise belongs in many things. It's perfectly delicious squiggled onto Mexican street corn, stirred into deviled eggs, mixed into tuna salad, spruced up into tartar sauce for my fish and chips, or in a little cup beside a big basket of crispy golden fries.
But mayonnaise in a potato salad? Not so much.
I probably just have a bad case of PSPTSD (Potato Salad Post-Traumatic Stress Disorder) brought on by one too many bland mushy straight-from-the-tub deli aisle potato salads, but my hatred of mayo-based dressings on potato salads borders on the irrational.
Want Tastier Potato Salad? Skip the Mayo!
All apologies to the potato salad purists, but I firmly believe a tangy vinaigrette is a much better choice for showing off the delicate sweetness of tender new potatoes.
My kind of potato salad is tossed with a well-balanced vinaigrette with a good dose of acidity.
It's bright. It's fresh. And the flavours are anything but bland.
All of those things are especially true in this version, which adds a big handful of chopped herbs for freshness, thinly sliced radishes for a little extra crunch, and two kinds of mustard for a zippy punch of flavour.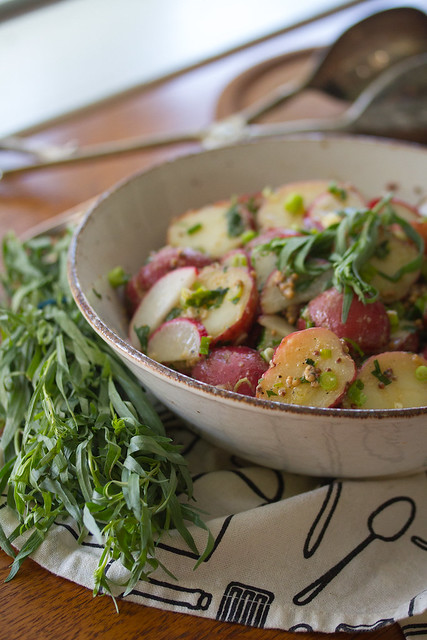 Choosing the Right Potatoes for Potato Salad
The other essential element of this salad? The potatoes themselves.
Save the russets for mashing or baking, and reach for the tender baby potatoes instead. They'll hold their shape better, and won't dissolve into a mushy mess once they're tossed with dressing.
Personally, I like the waxy red-skinned potatoes look in the bowl against the flecks of green herbs and the bright pink radishes, but yellow-fleshed Yukon Golds or even fingerling potatoes are an equally good choice. Or use a multicoloured medley, if you're feeling extra-colourful.
And, because it's mayo-free, it can handle a little hot weather without turning into a ticking time bomb of potential food poisoning... meaning it's perfect for potlucks and summer barbecues.
Perfect for Potlucks and Picnics
This is my go-to party potato salad for a few reasons. The first is because it's just straight-up delicious, and everyone loves it. The second reason is that it's mayo-free, which means it can be left out for a little while without worrying about spoilage.
The most important reason, though, is that it can be made well in advance because actually benefits from spending a couple of hours (or even better, a full day) hanging out in the fridge, so that all of the flavours get a chance to mingle and soak into the potatoes.
Serve it alongside grilled pork chops or chicken breast, or stir in a little cubed ham to turn it into a light main course.
Bring it to your next summer potluck. Pack it in your picnic hamper and take it out for a Sunday afternoon drive.
Just make it, already. Trust me, you'll never go back to mayo again.
//
Print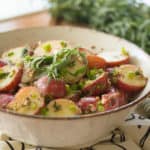 Mustard-Tarragon Potato Salad
---
Author:

Total Time:

25 mins

Yield:

8

1

x
Description
Forget those gloppy mayonnaise-based dressings... a flavourful herb-and-mustard vinaigrette is just the thing to show off the delicate sweetness of baby potatoes.
---
1 ½

lbs baby potatoes, halved

1 tbsp

apple cider vinegar

2 tsp

grainy old-fashioned mustard

2 tsp

Dijon mustard

½ tsp

kosher salt

½ tsp

fresh ground black pepper

½ cup

olive oil

5

large radishes, thinly sliced

2

green onions, thinly sliced

¼ cup

chopped fresh tarragon

¼ cup

snipped fresh chives
---
Instructions
Boil the potatoes in salted water for about 15 minutes, or until fork-tender but not falling apart. Drain and set aside to cool for 5 minutes while you prepare the vinaigrette.
In a small bowl, whisk together the cider vinegar, mustard, salt and pepper. As you continue to whisk, slowly drizzle in the olive oil, and continue whisking until the vinaigrette is smooth and emulsified.
Transfer the still-warm potatoes to a large mixing bowl, and pour over the vinaigrette. Stir to coat evenly, then set aside to cool to room temperature.
Once the potato salad has cooled, add the radishes, green onions, tarragon and chives, and stir to evenly distribute the herbs. Serve immediately, or cover and chill for up to 3 days.
Prep Time:

10 mins

Cook Time:

15 mins

Category:

Side