The magic of Christmas is that certain things I honestly couldn't care less about the rest of the year suddenly become a have-to-have obsession.
Glace cherries are probably at the top of the list - normally, I could take them or leave them, but around this time of year I just can't get enough of the shimmering ruby globes.
So for Day 10, I'm paying homage to the crowning jewel of my holiday pantry with super-chocolatey thumbprint cookies filled with dark chocolate ganache and topped with a single perfect glace cherry.
---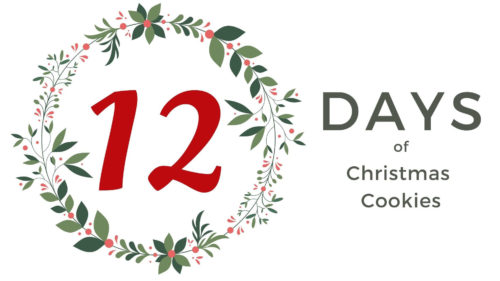 This year, I want to help you get into the holiday spirit with a little something I'm calling the 12 Days of Christmas Cookies.
From December 14 to 25, I'm posting a new holiday cookie recipe each day. Did you miss one? You can catch up on my Christmas Cookies page.
---
Chocolate and Cherry = True Love
Chocolate and cherry have always been one of my favourite holiday pairings, going back to my formative years, where the single cherry cordial in the box of chocolates was a hotly contested prize.
(Though I have since learned that you can buy an entire box that's entirely made of cherry cordials. What a world we live in, huh?)
These cookies capture everything that I loved in those cherry cordials, in a gorgeous two-bite package. The cookies are soft and deeply chocolatey, which is enhanced by a creamy dark chocolate ganache that's spooned into the middle. The finishing touch is a single perfect glace cherry.
You'll want to use a good-quality cocoa powder and dark chocolate for these, to make sure the cookies are as perfectly chocolatey as possible.
Glace cherries are usually sold in the baking aisle or the bulk store around the holidays. If you can't find them, you can substitute pitted maraschino cherries or splurge on some fancy amarena cherries.
How to Make Perfect Thumbprint Cookies
There's not much to making a beautiful thumbprint cookie, but there are a few tricks to keep in mind to achieve Instagram-worthy results.
Rolling and Shaping: You want your dough to be quite thick but still soft and malleable, kind of like a Play-Doh consistency. Roll into smooth balls, making sure there aren't any cracks or wrinkles in the surface.
Making the Indentation: To make the thumbprints, gently poke a hole about ½" deep in the middle of each cookie using your thumb or the handle of a wooden spoon. The back of a teaspoon measure works as well, so long as you have round measuring spoons. If the dough cracks, just push it back into shape.
Chill Thoroughly: The dough has to be well chilled before baking to ensure it holds its shape and doesn't spread too much while it's baking. Otherwise, you run the risk of losing those indentations you worked so hard to make!
Re-Shape After Baking: Speaking of those indentations, they often puff up slightly while baking, so you'll want to use the spoon handle (or measuring spoon) to push them back in.
Cool Before Filling: As tempting as it is, let the cookies cool completely before filling. Go easy on the ganache - you don't want to overfill.
Variations on This Recipe
While I think this combination of chocolate and cherry is about as close to perfection as it gets, here are a few ways to transform the same fudgey chocolate base cookie with different fillings and garnishes.
Peppermint Thumbprints: Stir ½ tsp peppermint extract into the chocolate ganache, and swap out the cherries for a sprinkling of crushed candy cane.
Double Chocolate Thumbprints: Substitute 50g chopped white chocolate for the dark chocolate in the ganache. Omit the glace cherries.
Turtles Thumbprint Cookies: Roll the cookies in ½ cup very finely chopped pecans instead of sugar, and fill with dulce de leche instead of ganache.
//
Print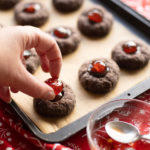 Chocolate-Cherry Thumbprint Cookies
---
Author:

Total Time:

1 hour 29 minutes

Yield:

2

0

1

x
Description
Soft chocolatey thumbprint cookies filled with dark chocolate ganache and topped with a glace cherry are the crown jewel of any holiday cookie platter. If you can't find glace cherries, you can use maraschino or amarena cherries instead.
---
Chocolate Thumbprints
1 ½ cups

flour

½ cup

cocoa powder

½ tsp

baking soda

½ tsp

salt

½ cup

unsalted butter, softened

½ cup

packed brown sugar

¼ cup

granulated sugar (plus more for coating)

1

large egg

1 tsp

vanilla extract

2 tsp

milk
Filling
50g

dark chocolate, roughly chopped

2 tbsp

whipping cream

20

glace cherries
---
Instructions
In a medium-sized mixing bowl, whisk together the flour, cocoa powder, baking soda, and salt.
In a second bowl, beat together the butter, brown sugar and granulated sugar until creamy. Add the egg, vanilla and milk, and stir well until smooth. Add the dry ingredients, and stir until the mixture comes together in a soft thick dough.
Using a tablespoon measure, scoop out dough and shape into 1-inch balls. Roll in granulated sugar to coat and place on a small baking sheet, leaving an inch of space between the balls.
Using your thumb or the end of a spatula, make an indentation in the middle of each cookie. Chill for 1 hour, or until firm.
Preheat the oven to 350F. Line a large baking sheet lined with parchment paper.
Arrange the chilled cookies on the prepared baking sheet, spacing them about 2" apart. Bake for 12-14 minutes, or until the cookies are puffed and edges are set. If the indents have puffed up slightly, use the end of a spatula to push them down again.
Allow the cookies to cool on the plan for 5 minutes, then transfer to a wire rack to cool completely before filling.
Fill the Cookies:
While the cookies are cooling, prepare the ganache. In a small bowl, microwave the chocolate and cream together on High in 30-second intervals, until melted and smooth. Set aside to cool for 15 minutes.
Once the cookies are cooled, spoon some ganache into each indentation - you want it to be mostly full, but not overflowing. Place a single cherry on top of the ganache.
Let the cookies sit for another 30 minutes before serving to allow the ganache to set up.
Recipe adapted from Sally's Baking Addiction
Notes
Storage: Finished cookies can be stored in a covered container at room temperature for up to 3 days or in the fridge for up to 1 week.
Preparing Ahead: The shaped unbaked cookies can be stored in an airtight container in the fridge for up to 3 days, then baked as usual.
Prep Time:

75 mins

Cook Time:

14 mins

Category:

Cookies

Method:

Baked

Cuisine:

Canadian