I might be jinxing myself right now, but it looks like spring is finally here... though for a while there I was starting to wonder if we were in for a years-long Westeros style winter.
Anyone who's spent a couple of years in Toronto will tell you that our springs are notoriously fickle, but this might be the first April in my 30-odd years here that within a two-week span we went from this...
...to this...
Thankfully, if the forecast is to be believed, balmy spring weather is finally here to stay.
I'm hoping that the change in the air extends to more than just the weather, because I'm having more trouble than usual in shaking off my winter blues this year.
Maybe it's this lingering pain in my back, or maybe it's the usual lack of interesting produce at the markets... but whatever it is, I've been struggling to find my rhythm in the kitchen.
I normally have no problem brushing off my failures, but even my normally foolproof recipes aren't cooperating with me.
It's hard not to take it to heart when I can't even get a simple fruit cobbler to cooperate.
It's not all bad, though. I've had a couple of successes, including these lovely little almond cookies.
They're soft and chewy and taste just like marzipan, and just the thing to use the egg whites that always seem to be kicking around in my fridge. (A common problem for afficionados of homemade ice cream.)
Plus, as a handy bonus, no flour means these cookies are gluten-free (and, incidentally, also kosher for passover if you sub the corn starch for tapioca flour or potato starch).
Paired with a shot of strong espresso, they got a long way to making me feel just a bit better about my current lack of culinary mojo.
And that pesky cobbler? It's on my list of things to tackle again. If spring can manage to rise above this miserable weather, then surely I can get this dessert to cooperate.
//
Print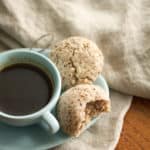 Soft Amaretto Cookies (Amaretti Morbidi)
---
Author:

Total Time:

42 mins

Yield:

3

0

1

x
Description
These traditional Italian cookies are soft and chewy and taste just like marzipan. I prefer to use unblanched almost flour for a more rustic brown-speckled cookie, but feel free to use blanched almond flour if that's what you've got on hand..
---
2 cups

unblanched almond flour

1 cup

sugar

2 tbsp

corn starch

2

large egg whites

¼ tsp

salt

½ tsp

almond extract

½ cup

icing sugar
---
Instructions
Preheat oven to 300F. Line two large baking sheets with parchment paper or silicone liners.
In a large bowl, sift together the almond flour, sugar, and corn starch.
In a second bowl, whisk the egg whites and salt until foamy and just shy of forming soft peaks. Whisk in the almond extract. Add the dry ingredients and stir until everything comes together into a soft, sticky dough, kneading with your hands if necessary.
Lightly dust your hands with icing sugar. Using a tablespoon measure, scoop out the dough and roll into 1-inch balls, dusting your hands with icing sugar as needed to keep the dough from sticking. Arrange the dough balls on prepared baking sheets, leaving an inch of space between the cookies.
Let the cookies rest for 15 minutes while the oven finishes preheating, then bake for 20-22 minutes or until the tops are crackled and dry. Let cool for 5 minutes on the baking sheet, then transfer to a wire rack to cool off completely. Store the cooled cookies in airtight containers until ready to eat - they'll keep up to 2 weeks, assuming you don't polish them off in one sitting.
Notes
If making these cookies for Passover, use tapioca flour or potato starch instead of the corn starch, and make sure your icing sugar is kosher for passover.
Prep Time:

20 mins

Cook Time:

22 mins

Category:

Dessert

Cuisine:

Italian