Honey-Ginger Salmon Skewers with Cucumber Salad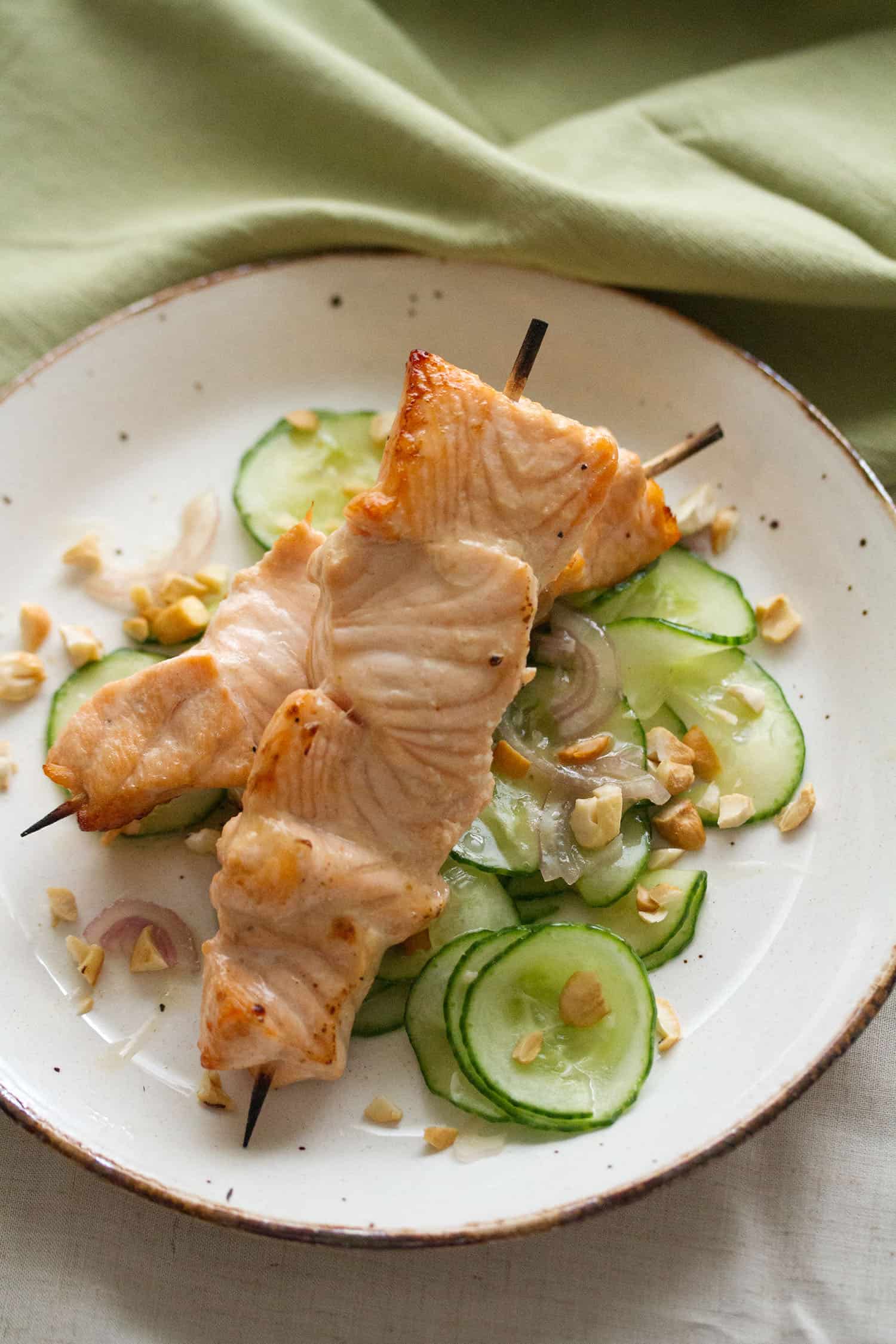 Author:
Isabelle Boucher (Crumb)
1½ lb boneless salmon filets, cut into 1" pieces
½ cup Litehouse Organic Ginger with Honey dressing, divided
1 large English cucumber, thinly sliced
1 medium-sized shallot, thinly sliced
½ cup roasted salted cashews, roughly chopped
In a medium-sized bowl, gently toss the salmon cubes with ¼ cup of dressing. Cover with plastic wrap and place in the refrigerator for 10 minutes.
Meanwhile, preheat the broiler on high. Line a large baking sheet with foil, and soak eight 6" bamboo skewers (or four regular-sized 12" skewers) in warm water.
Thread the marinated salmon cubes onto the soaked skewers. Arrange the skewers on the prepared baking sheet. Broil for 5-7 minutes, or until the salmon is opaque and flakes easily with a fork, flipping over the skewers halfway through.
While the salmon is broiling, toss together the cucumber and shallot with the remaining ¼ cup dressing in a medium-sized bowl.
To serve, divide the salad evenly between four plates. Sprinkle with cashews, then top with the salmon skewers. Serve immediately.
I used a spiralizer to create long thin spirals of cucumber, but if you don't have one, you can also use a vegetable peeler to create long ribbons, or slice into thin discs using a mandoline or a sharp knife.
Recipe by
Crumb: A Food Blog
at https://www.crumbblog.com/honey-sesame-salmon-skewers-cucumber-salad/